Mr. Kian Karim
Shipping General Manager
First of all could you tell us about your company, Lotka Group, and in particular about when your company was established. Who owns it?
Lotka Group is group of international shipping companies, including more than four different companies and more than two hundred employees that provide shipping, freight forwarding, logistics and agency services through our independent companies within Iran, Middle east and CIS countries.
The group is owned by Mokhtari's family and their background in the shipping business dates back more than fifty years, including experiences in agency of HMM, KMTC, CMA CGM, BBC, Arc line etc.
Mr. Roozbeh Mokhtari is the chairman of the group and is on the board of the Iran Shipping Association. He has held lots of different managing and consulting positions in key organizations related to the shipping industry in Iran.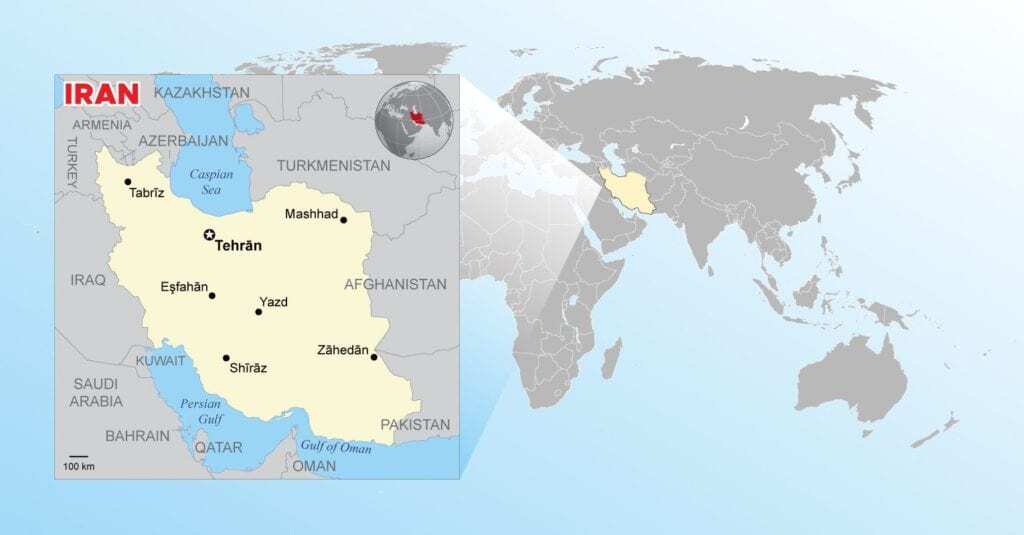 What are your main activities in shipping & logistics?
The main objective of the group is to meet all the shipping and logistics requirements of small to large customers through the use of different companies and departments within the group in Iran, the Middle East and CIS countries. So no matter if it's only one box of personal effects that should be handled door-to-door or it is oversize/overweight project cargo for national development projects that need years of study for design and implementation, Lotka can handle it all!
You can find all the activities of Lotka group as listed below:
Shipping::
Shipping Lines, NVOCCs & Feeder Agency
NVOCC & Feeder Service Operator
Ship Chartering and Brokering
Ship Agency
Logistics:
Project Cargo Logistics design, operation and management
Freight Forwarding
Customs Clearance (export, import, transit)
Land Transportation (Truck & Rail) – Import, Export, Internal and external transit
Air & Courier service
Warehousing & Port Handling
Packing
Insurance
Third-Party Logistics (3PL)
Shipping & Transportation Software development
Iran is in a very strategic location in the Middle East. Tell us about Iran as a transshipment hub and elaborate, if you will, on the possibilities for transshipment that exist via Iranian ports. Can you also provide us with some details about the ports of Iran, their locations, names etc?
Iran is the second-largest country in the Middle East, with over eighty one million inhabitants/ It borders the Caspian Sea, Persian Gulf and Gulf of Oman. Iran's neighbouring countries are Iraq, Turkey, Armenia, Azerbaijan, Turkmenistan, Afghanistan and Pakistan.
Considering the strategic location of Iran, especially in relation to CIS countries and free waterways, Iran is one of the most important transportation routes for CIS countries and Afghanistan. from March 2017 to March 2018 (last Iranian year) more than three million tones of cargo were transported via Bandar Abbas alone to other countries. That shows the important position of Iran and Bandar Abbas in transportation and logistics in the region.
Iran is one of the key players in the International North-South Transport Corridor (INSTC) established in September 2000 in Saint Petersburg by Iran, Russia and India to promote transport cooperation among the members. This corridor connects the Indian Ocean and Persian Gulf to the Caspian Sea through Iran and connects them to Saint Petersburg and Northern Europe through Russia. Now, this corridor has expanded with ten new members. These members are: Azerbaijan, Armenia, Kazakhstan, Kyrgyzstan, Tajikistan, Turkey, Ukraine, Belarus, Oman, and Syria. Bulgaria is also involved as an observer member in the corridor.
Iran has more than 20 sea ports in the north and south. The major southern sea ports in Iran are:
• Khorramshahr
• Bandar Imam Khomeni (BIK)
• Genaveh
• Bushehr
• Lengeh
• Bandar Abbas- Shahid Rajaee
• Bandar Abbas – Shahid Bahonar
• Chabahar
-and the major northern sea ports are:
• Anzali
• Amirabad
• Noshahr
Bandar Abbas Shahid Rajaee's port is the most important port in Iran. This port is located in the center of the International North-South Transport Corridor (INSTC). It has a unique geographical location, access to the open seas of the Persian Gulf, is connected to the international railway network and the silk road and benefits from modern facilities whilst being close to Kish and Qeshm free zones and ports in the Persian Gulf. All these make the Shahid Rajaee port complex a strategic and unique location to play the gateway role.
The cargo that went through Bandar Abbas Shahid Rajaee port from March 2017 to March 2018 (an Iranian year) was more than eighty seven million tons. That is more than 55 percent of total cargo throughput of all Iranian ports (Table 02). Regarding the containers transited throughout the same period, there were more than 2.6million TEU – that is more than 84 percent of the total container throughput of all the southern Iranian ports (Table 01).
Bandar Imam Khomeini (B.I.K) is located at the north-western end of Persian Gulf and the natural Khormusa waterway. With being 42 nautical miles long and 250 meters wide and with an average depth of 20 meters, this waterway provides a smooth and safe bed for sailing of various commercial ocean liners and oil tankers. Total Cargo throughput of B.I.K from March 2017 to March 2018 was more than 45 million tons – that is 29 percent of the total cargo throughput of all Iranian ports (Table 02).
Over the last two years, Chabahar port has been one of the most noted Iranian ports in the international news. Chabahar is located in east-southeastern Iran, on the Gulf of Oman and It serves as Iran's only oceanic port.

Iran, India and Afghanistan signed an agreement in 2016 to facilitate and simplify the shipment of goods to and from Afghanistan through the Chabahar port. The Ports & Marine Organization announced that since March 2018, more than €30 million have been invested in Chabahar port logistics.
In other news, the US has granted the Iranian seaport of Chabahar an exemption from its new anti-Iranian energy, banking and shipping-focused sanctions, and expects that the port will continue its operations delivering non-sanctioned goods to and from neighbouring Afghanistan.
Sanctions are imposed on Iran. How does that affect shipping and transportation?
On May 8th, 2018 the President of the United States announced the cessation of the United States' participation in the Joint Comprehensive Plan of Action (JCPOA). According to the Announcement on November 5th, the United States fully re-imposed the sanctions on Iran that had been lifted or waived under the JCPOA. This new sanction targeted the critical sectors of Iran's economy, such as the energy, shipping and shipbuilding and financial sectors.

Unfortunately, after the announcement, all shipping lines that have business with United states stopped their services to/from Iran and it highly affected the shipping and transportation through Iran and other related countries.
Comparing the Iranian ports activity of the last eight months of 2018 and 2017 shows an 11 percent decrease in throughput (from 99.66 million tons to 88.73 million tons). Regretfully, regarding container activity, the throughput difference in the same period shows more than a 27 percent decrease from 2.06 Million TEUs to 1.49Million TEUs.
Regarding the CIS transportation via Iran, unfortunately after this new sanction for many shipments, the routes have been changed to run through other countries with higher transportation costs. Some of the business has been stopped due to the tremendous transportation costs of other routes.
As mentioned, the US has apparently granted Chabahar an exemption from its sanction and if it is really to be applied then the shipping business for non-sanctioned shipments will be handled from Chabahar port. This will be a solution for Iran and CIS shipping and would bring a good opportunity for Chabahar port to be developed and to achieve a better standing within the array of Iranian ports.
How is the relationship between China and Iran concerning the Chinese belt & road initiative with railway transport to/from Asia and Middle East, CIS and Europe?
Generally, Iran and China have had very close economical relation. From March 2017 to March 2018 (the last Iranian year) Iran exported more than 35 million tons (over $9 billion) of non-oil products to China. Also, Iran imported around 4.5 million tons (over $13 billion) from China. According to images 14 & 15, China has the highest share of the Iran trade based on worth of import and export.
Iran and China have a considerable background of cooperation through the history of the Silk Road ever since ancient times. 'One Belt, One Road' has opened a new chapter in Iran-China cooperation.'"One Belt, One Road' or 'The Silk Road Economic Belt', or simply 'The new Silk Road', is a multi-billion dollar project which was proposed by China in 2013 to connect China to Africa, Asia and Europe through railways and roads.
Following the new Silk Road, in 2016 China flagged off its first direct freight train to Iran from the trading hub of Yiwu to Tehran by First Block Train, 32 Wagons / 32×40 ft.
Although Iran is one of the most strategic countries located on the Silk Road, has access to free waters through the Persian Gulf and the Gulf of Oman and is one of the most important links of CIS countries to the free waters, after the new sanction there are some uncertainty about the Iran's role in the project. Based on the news, it seems China is considering connecting to Europe by using CIS countries and the Caspian sea instead of passing through Iran, in order to to secure itself from the US sanction. This new way will brings tremendous costs and difficulties for the new Silk Road.
Tell us about your own personal background in shipping. When did you start your own career?
I entered thhe shipping industry as a sales executive in the CMA CGM agency in Iran in 2009, with a background of two years of minerals trading and with a master's degree in mining engineering.
I joined Lotka Group in 2010 as an International Transportation designer until I took the chance to be the shipping line manager of Lotka's shipping line from 2013 to 2017. Lotka Shipping Line services was only between two countries in November 2013, but less than two years later the services had been developed between fifty four sea ports in thirty two countries in Europe, North & South America, Africa & Asia. I was honored to be promoted to the title of Shipping General Manager in Blue Lotka Kish and elected as Chairman of the International Relation Committee in the Shipping Association of Iran (SAOI) from 2017.
Right now I focus on Project cargo shipments and developing new shipping and logistics divisions in the Lotka Group. Also, I'm lecturing about shipping, freight forwarding, logistics and supply chain management in the Shipping Association of Iran(SAOI), the Transportation & Logistics Federation of Iran (TLFI), the Iran Chamber of Commerce (ICC) and different related organizations.
How is best to get in touch with you?
It would be my great pleasure to help with any questions or enquiries regarding Iran, CIS and middle east shipping, transportation and logistics. I'm always available on the following contact details.
Tel: +98 21 88533015 – Ext. 320
Mobile/Whatsapp: +98 912 714 6080
Email: Kian@bluelotka.com

Address:
Lotka Building, No1, 18th alley,
Ahmad Ghasir St. (Bokharest St.),
Argentina Sq
Tehran, Iran
Postal Code: 1514846611