This week's Beyond Ports focuses on Durban and beyond. Project Cargo Weekly (PCW) spoke with Caron Harris, CEO of Forwarding African Transport Services (FATS)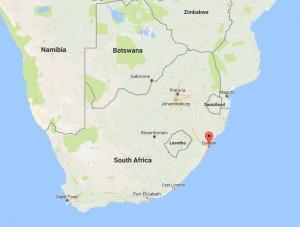 PCW: When did you establish your company in South Africa?
FATS: FATS was founded in July of 1992.
---
PCW: How many employees does FATS have and who are the owners?
FATS: We have a staff compliment of 15 and is owned by Caron Harris.
---
PCW: How is inland transport to Zambia, Zimbabwe and Botswana generally organised? By truck, train, or barge?
FATS: Inland transport to these 3 destinations as well as Malawi, Swaziland & Lesotho is most efficiently arranged by road (truck).
---
PCW: Is it possible to do customs clearance at the destination?
FATS: Destination clearance is generally undertaken by the consignees clearing agent and FATS can undertake all movement on DDU terms.
---
PCW: Which entry port in South Africa is the most ideal?
FATS: Durban is the ideal entry port into South Africa and is commonly known as the "Gateway" into Africa.
---
PCW: What kind of documents do you need in order to arrange the inland transport efficiently?
FATS: The following documents are required:
BOL
Commercial Invoice
Packing List
Consignee contact details
Destination clearing agent contact details
---
PCW: What are the advantages in doing transhipment via South Africa instead of Mozambique?
FATS:
The port of Durban is classified as the most efficient sea port in Africa thereby reducing unnecessary port delays, like congestion.
The balance of the necessary infrastructure development in South Africa like roads and telecommunications is well established and not at risk of causing delays.
---
PCW: Are there some specific aspects of onward carriage that insurance companies don't cover?
FATS: Insurance is underwritten by Lloyds of London without limitation, but needs to be applied for on a per-consignment basis.
---
PCW: What is the realistic estimated transit time from Durban port to the typical inland destinations?
FATS: Ex-Durban the transit times are as follows:
Harare, Zimbabwe – 5 days
Lusaka, Zambia – 9 days
Lilongwe, Malawi – 9 days
Gaberone, Botswana – 3 days
---
PCW: What kind of advantages do you offer in handling transhipment compared to other companies offering the same?
FATS:
FATS has been an industry leader in handling cross border cargo since its inception in 1992
FATS has strategic partnerships with transporters and border agents ensuring the seamless flow of cargo
FATS has it's own "Road Bond Facility" to facilitate Removal in bond (RIB) or Removal in Transit (RIT)
---
PCW: Do you have a few suggestions regarding the handling of projects into ZZB with transhipment via South African port?
FATS:
Ensure you plan well in advance
Be prepared
Have all your documentation in order
Ensure the consignee is ready to receive the cargo and has the financial resources to settle all destination charges
---
Interview subject: Ms. Caron Harris: Caron.Harris@fats.co.za
Caron kindly provided the following recent photos of project cargo in transit.