Project Cargo Weekly (PCW) were recently able to sit down and catch up with Michael Juhler (MJ) Global Head of Special Cargo for Maersk Line to discuss Maersk Line's current project cargo growth and strategy globally
Michael Juhler has held 7 positions at Maersk as follows:
2009 – 2010: Assistant Trade Manager, Europe – East Coast South America Trade. Maersk Line
2010 – 2011: Assistant General Manager Remote Container Management Project. Maersk Line
2011 – 2013: Personal Assistant to Global Head of Maersk Line Trade & Marketing. Maersk Line
2013 – 2014: Trade Manager, Oceania – Americas Trade. Maersk Line
2014 – 2015: Senior Consultant, Maersk Management Consulting. Maersk Group
2015 – 2016: Project Leader, Maersk Management Consulting. Maersk Group
2016 – present: Global Head of Special Cargo. Maersk Line
---
PCW – How big is the current market share of Maersk Line in the Europe-Asia trade route (roughly)?
MJ – Our capacity market share is around 21% for all cargo shipments on the Europe to Asia routes.
Maersk's Q2 2016 Strategy and Performance Report (see slide #15)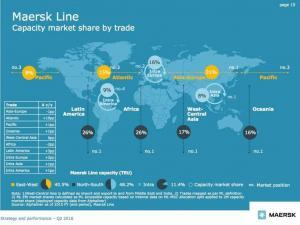 ---
PCW – How Many sailings do you have per week from Northern Europe to Asia and from the Mediterranean to Asia and vice versa from Asia to both the Mediterranean and Northern Europe?
MJ – We typically talk about sailings in the context of a specific port, but if we look at sailings on the trade, it would mean the number of services we operate: Asia-Northern Europe and vice versa 5 services; between Asia and the Mediterranean and vice versa 4 services (In addition, the Mediterranean trade also routes cargo on 3 of the above-mentioned Asia-Northern Europe services).
---
PCW – Does Maersk Line accept breakbulk cargo by container ship on this trade lane and when did Maersk in fact start focusing on this aspect of moving cargo ?
MJ – We certainly do and it represents a focused growth area for Maersk Line. Break bulk is not a new thing to us. Internally we classify Break Bulk under what we call Special Cargo, which refers to any type of cargo that requires special equipment (e.g. Open Top or Flat Rack containers). Special Cargo is then categorized into three different product types:
In gauge: cargo that fits within the size of a flat rack or open top container – i.e. it requires special equipment but doesn't displace additional slots on the vessel
Out of gauge: cargo that has wider dimensions than a flat rack or higher dimensions than an open top container, but can still be handled unitized in containers
Break bulk: cargo that exceeds the size and / or weight of the container. This is handled as non-unitised cargo with a bed of flat racks prepared, and cargo is then lifted separately and placed on the flat racks
In terms of focus we have in fact been handling special cargo for 40 years with a gradual expansion. Our focus and investment in the segment has in particular grown after the P&O acquisition in 2005. Today Special Cargo is an integrated part of our operating model and way of doing business with specialized sales people, customer service and operational staff.
---
PCW – Name the key personnel for our readers to contact if they are interested in a quote based on Maersk and they have a breakbulk or project shipment inquiry?
MJ – Maersk Line Special Cargo has set up a centralized quoting team allowing customers to easily request and receive a quote for their special cargo. The process is straight forward:
For Out of Gage (OOG):
Customer to record the necessary details

Load port name & Discharge port name
Cargo weight (Kg), height (cm), width (cm) and length (cm)
Equipment type (40' Flat Rack, 20' Open Top, 40' Open Top)

Submit details to quoting team: specialcargorates@maersk.com
Customer receives special cargo quote
For break bulk (BBK):
Customer to record the necessary details

Load port name & Discharge port name
Cargo weight (Kg), height (cm), width (cm) and length (cm)
Pictures indicating lifting points

Submit details to quoting team: specialcargorates@maersk.com
Customer receives special cargo quote
In addition to the quoting team, we have regional hubs in Europe, Asia and North America, who can assist customers with more complex enquiries and discuss long-term business opportunities. As an additional note in this regard, and symbol of our investment in Special Cargo, we will in Q4 have set up a similar team in West Central Asia.
Contact details to the current three teams are as follows:
ML EMEA Team (Located in Rotterdam)
Patrick van Lavieren
Regional Head of Special Cargo, EMEA
Mail: patrick.van.lavieren@maersk.com
ML ASI Team (Located in Shanghai)
Gary Tsang
Regional Head of Special Cargo, ASIA
Mail: gary.tsang@maersk.com
ML AMR Team (Located in Charlotte)
Bill Fentress
Regional Head of Special Cargo, AMR
Mail: Bill.Fentress@maersk.com
---
PCW – Cross trade often occurs in the current shipping environment for example a shipper is in Denmark say, production is in China but destination could be in USA where should the customer contact with Maersk., at cargo origin point, destination point or do you have a global XXL desk that focuses on such inquiries ?
MJ – The customer should always contact local Maersk Line in the country where the customer is registered, even in cases of cross trade.
Thus, if shipper is in Denmark, production is in China, and final destination is USA, then the customer should contact the local Danish Maersk Line office.
---
PCW – We understand that you are sailing in alliance with MSC did Hyundai join your alliance or not yet? If cargo is booked with Maersk Line would it be ok to be loaded on an MSC sailing or is it preferable to also physically load it on a Maersk vessel?
MJ – We can confirm that we – 2M – have signed a MoU (memorandum of understanding) with the Korean container shipping line Hyundai Merchant Marine (HMM) on HMM joining the 2M vessel sharing agreement (2M VSA) when their membership of the G6 alliance expires in 2017. The inclusion of Hyundai Merchant Marine in 2M would provide us with extended coverage and a stronger product in the Transpacific trade. We will now advance the negotiations and we do not wish to comment further until there are any substantial developments.
There is no problem in loading on an MSC vessel. These vessels are fully embedded into our standard operations and procedures in order to offer our customers the best products and highest possible service levels.
---
PCW – What is your market outlook in other words growth of trade how do you see the near future 3-5 years?
MJ – We only disclose growth outlook for the current year. We expect global container growth of around 2% for the rest of 2016
---
Michael kindly provided the following photo examples of project cargo that Maersk carried: