The Beginnings of Rickmers-Linie – When did it all Begin?
Rickmers-Line has a long history. It dates back to around 1859, when the founder of the Rickmers Shipyard in Bremerhaven (est. 1834) continued building ships without orders and began operating them himself.
Since WWII, Rickmers-Linie has continued to develop from a general cargo carrier to a specialised liner operator for the carriage of break bulk, heavy lifts and project cargo. Again, the beginning of trade operations with Asia has an impressive history, dating back to the dawn of Rickmers as a shipping company. Quite understandably, there are few documents remaining from that time, but from what is left, it is clear that Rickmers' vessels have traded with Asia from the 1860's.
Today, Rickmers-Linie's routes are far greater.
Three legs – Europe-Asia, Asia-America and America-Europe form the backbone of Rickmers-Linie's liner services. The "Round-The-World Pearl String Service", which is operated by nine identical sister vessels, has a fortnightly frequency. This service is complemented by a monthly service from Europe to the Middle East and India as well as the Westbound Round-The-World Service, connecting Asia with South America, North America and again Asia.
Rickmers-Linie Break Bulk Cargo Vessels – When were they Built and what is their Lifting Capacity?
The current fleet of nine Superflex Heavy MPC (Multi purpose carrier) class was delivered between 2002 and 2004 and boasts a maximum lifting capacity of 640 tonnes per vessel (two cranes at 320 tons each combined). The vessels are also further equipped with adjustable tween decks and dehumidifying devices in all holds.
How often do you sail from North Europe to Asian ports and from the Mediterranean to Asia?
The Round-The-World Pearl String Service has sailings twice a month, with regular departures from Hamburg, Antwerp and Genoa to a number of Asian destinations. In recent times we have increased our flexibility to also include other stops in our schedules, which includes Rijeka and Derince.
What about SOC Containers and do you provide carrier containers onboard?
Yes, we accept shippers' own containers, but we have no carrier containers on offer. Our core business is break bulk, heavy lifts and project cargo, which do not fit into containers. There are certainly always a few SOC containers on board, which usually contain accessories that belong to project cargo. Occasionally, we might also carry newly built containers from manufacturers in China to the US.
Who should you approach if you have a project cargo inquiry for shipment from North Europe to China for example and do the rates differ from office to office?
Your first port of call naturally would be to approach a person at Rickmers-Linie that you already have contact with irrespective of your location or the final destination of your cargo. However, in saying this, it would make sense for you to contact the nearest office where you are located, for example, if you are currently located in Sweden, this would be our Agency department in the Hamburg office, which is responsible for all sales in Germany, the Nordic countries and in the Baltic regions.
As all inquiries go into a central ERP system (LIMA from Softship), all offices quote the same rates (and conditions); in short, it does not matter where you send your inquiry, you will receive the same quoted prices.
To get a rate indication quickly, what details do you require?
Aside from the usual details such as (metric) dimensions and the weight of each unit, packing information, center of gravity, stackability and overstowability, we certainly need information about when the cargo is about to move as well as the POL and POD. Drawings are useful and necessary when it comes to large, heavy and oversized items that come unpacked. Of course, it is also important to note whether the cargo has any arrival date commitments from shipper's side.
What are your usual credit terms? Is it payment against release of bills of lading?
Our general payment condition is payment against release of (prepaid) Bs/L.
We understand that you have just taken over Nordana/NPC and that is now a part of Rickmers. Where can our readers learn more about this new takeover?
Yes, as of July 1, 2016, we have taken over the business of Nordana Project and Chartering, which has become a part of Rickmers Group under the new name NPC Projects. This way Rickmers Group has now both the liner and the tramp side of the project and heavy lift business on offer. This news has been reported world wide, and a number of press releases have reported on this exciting news.
Are Rickmers-Linie and Rickmers Maritime in Singapore linked together or are they separate entities? Yes, Rickmers-Linie and Rickmers Maritime are indeed separate entities. Rickmers Maritime is a fully consolidated subsidiary in the Rickmers Group's consolidated financial statements, but financially it is a self-contained independent company due to its listing on the Singapore Stock Exchange. The Trust does not own or manage any of the Rickmers-Linie MPP/Heavy-lift vessels.
Rickmers Maritime Trust has an impressive portfolio of 16 containerships, ranging from 3450 – 5060 TEU and it plans a debt exchange specifically concerning the bond issued by Rickmers Maritime, which is listed in Singapore. This plan does not refer to the bond issued by Rickmers Holding AG (the holding company of Rickmers Group) and it is listed in Frankfurt.
For Rickmers-Linie, it is business as usual. We will continue to fulfill our obligations from bookings and contracts to safely transport and deliver cargo to their respective destinations with the quality and reliability we are known for, which certainly also applies for contracts with our vendors and suppliers.
The Competition – Who are they and how do you stand out from the rest?
In general, all break bulk and heavy lift carriers are our competitors, from the North Continent to Asia in particular, but it also generally includes the box carriers.
What distinguishes us from the rest is our knowledge and expertise, especially when it comes to handling the most difficult, complex and valuable oversized and/or heavy cargo. In addition to this, within the MPP sector, it is our unique liner concept, paired with our quality and reliability.
Asian Freight Inquiries – Can anyone give the rates?
When you need to deal with inquiries in China, there are representative offices there. Although we recommend contacting the regional reps for convenience sake, it does not really matter if you contact Europe or Asia first. If you need more information regarding our sales agencies and offices, our website has all the necessary information.
Connecting Carrier Agreements – Can a project cargo load, for example from Europe to Australia, be handled under one b/l with Rickmers-Linie, and if so, where would the trans-shipment take place?
We have a connecting carrier agreement in place with Swire, which enables us to offer trans-shipment, (predominantly carried out in Shanghai) connecting our services from Europe and the Middle East/India to South East Asia and the Far East with destinations served by Swire in the Australasia regions, under Swire Bs/L. In addition to that we have a slot charter agreement in place with Bahri, which covers loading ports in the US and destinations in the Middle East regions, enabling the two parties to book cargo on the respective other party's vessels.
Apart from that, we can also sometimes offer trans-shipment solutions with local partners if necessary under Rickmers Bs/L in South East Asia or Europe.

How about South America is that a trade lane covered by Rickmers direct or indirect?
We cover South America with our Westbound Round-The-World Service, more precisely with the leg of this service from Asia to South America. This service was introduced in March 2013 and offers monthly departures from ports in China, South East Asia with calls possible in South Africa en-route to ports in Argentina and/or Brazil.
With regards to market outlook, how do you see the potential for growth in the next 3-5 years?
The present market situation is dominated by slow economic growth and overcapacities, and virtually nobody will give an outlook over such a long period of time. Current low oil prices contribute to the current market situation. Once the oil price picks up and once supply and demand will return to a more balanced situation, growth potentials will surely become visible again.
Finally about yourself, how many years have you worked in Rickmers Line, what positions have you held in the company, where did you work before if anywhere?
I have been with Rickmers-Linie for more than 20 years now. After completing my apprenticeship with Hapag-Lloyd in Düsseldorf in January I joined the Düsseldorf team of Rickmers-Linie and took care of inside sales and customer service. In April 2003 I moved to Hamburg to take over my current role in the Marketing and Sales Control Department, being responsible also for public and media relations of Rickmers-Linie, since 2013 as Team Leader Marketing and Sales Control.
Interviewee:
Marko Stampehl
info@rickmers.net
Team Leader
Marketing & Sales Control
Rickmers-Linie GmbH & Cie KG

Marko also shared the following project cargo photo, see caption for description: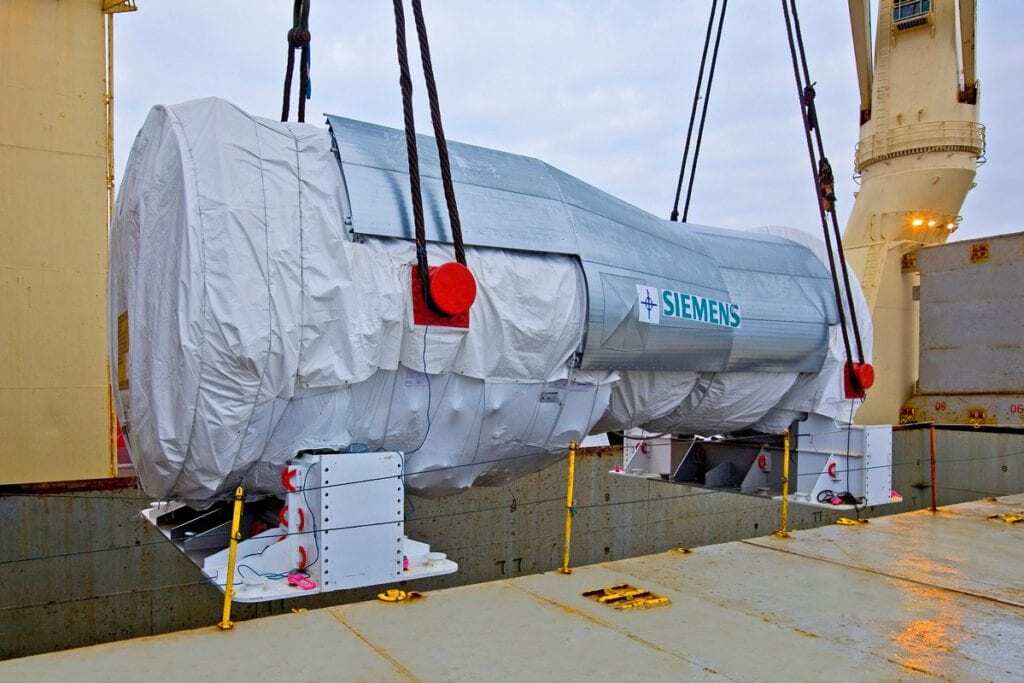 A special loading operation has taken place in Bremerhaven, involving Rickmers-Linie's MV RICKMERS HAMBURG, a 485-tonne Siemens gas turbine, a 465-tonne Siemens generator and German project freight forwarder Bertling. Not only did the operation involve the transport of the largest gas turbine ever manufactured by Siemens, it also marked the first call of this class of Rickmers-Linie ship – a 30,000dwt multipurpose heavy lift vessel – in Bremerhaven, the place where the Rickmers Group was founded in 1834. The Siemens gas turbine, which can generate up to 600 MW and has a weight of 485 tonnes, was safely loaded from a barge onto RICKMERS HAMBURG and was followed by a 465-tonne generator and accessories. The parts belong to a gas power plant project, in Hamitabat close to Lüleburgaz in the northwest of Turkey, which is scheduled to be completed by summer 2017.