Breakbulk Ship Owner CHIPOLBROK
Let's start by talking about the history of Chipolbrok. Could you give us some background information about the company and how it operates?
CHIPOBROK is a Chinese-Polish Joint Stock Shipping Co., which was founded in 1951. It was the first venture between China and a foreign country. At the time, the country was known as the People's Republic of Poland, however, as you know, it just goes by Poland these days.
The company was established in Beijing under the name Chinese-Polish Brokers SA, however today it's better known under its abbreviation, CHIPOLBROK.
It didn't take long for the company to expand. As a result their ships grew in numbers, the company extended its services from a bi-lateral carrier to a global player with five different liner services currently operated by 16 vessels. This expansion also included three new buildings between 2015 and 2016, plus another one is in the pipeline for December 2016.
The headquarter is in Shanghai being in charge for all operations out of China/Far East and branch office in Gdynia (Poland) from where all activities ex Europe and America are being controlled.
What types of vessels are operated and what is the average age of the vessels? What about the crane capacity and speed?
We are presently running three types of multi-purpose heavy geared vessels.
Three of those are the so-called "Rijeka-type". They were built in 1997 1998. They have craned up to 300mt in Gemini operation and boast a 20,150dwt with a service speed of 13,5kn. They are triple-deckers, measuring 170m in length with a maximum hatch length of 25,54m.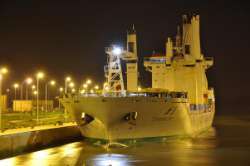 There are ten "Orkan-type" vessels, which were built between 2003-2004 and 2009-2011. Over the years they have craned up to 640mt in tandem operation and have a 30,000dwt with a service speed of 18.5kn. They have hoist-able tween decks, are 200m in length and have a maximum hatch length of 31,60m.
There are also three "Pacific-type" vessels, and in December of this year we'll be adding another one to this fleet. They were built in 2015-2016 and have up to 700mt in tandem operation with a 31,600dwt and a service speed of 16,5kn. They measure 190m in length and have a maximum hatch length of 50,56m. These ships also boast flush weather decks of 136m.
All vessels run in five global frequent liner services, but they are also available for part charter and parcels.
On the service from Europe to Asia which ports do you call at and how often do you call at ports in the Mediterranean en route to Asia, and what are the main Asian ports you stop at?
Our frequent ports in Europe are Antwerp, Hamburg, Bilbao and Porto Marghera. Upon inducement, we also call at numerous ports en route in Europe via the Suez to the Persian Gulf, India and South-East-Asia, where we call at Laem Chabang, Singapore, Ho Chi Minh City(Saigon), and later at all major Chinese ports such as Hong Kong, Huangpu, Shanghai, Xingang, Dalian (by inducement), and finally at Busan in Korea. Sometimes we also touch other Korean ports, and we also accept parcels for loading and offloading in Japan.
Our main US port is in Houston, but we also run services to the West Coast, East Coast and Central America, however, this always depends on cargo the requirements and sufficient inducement.
To call at an extra port, we require a reasonable amount of cargo / income in order to cover expenses such as harbor duties, stevedoring costs etcetera.
If a shipper is located in Germany and has cargo coming out of Italy for discharge in China for example, where can the shipper obtain the rates and are the rates offered by agents in different countries the same or do you need to shop around to get the best offer?
We have a global agency network and one branch office in Houston plus a few representative offices elsewhere, so any shipper located wherever will find one of our agents in their region; these can be found listed on our homepage.
All our agents are instructed to show us the cargo they have obtained. They are not authorised to create freight rates or offers without our written consent. Because of our flat hierarchy, each quote request will end up at the same desk to ensure all cargo is treated fairly and quoted at the same rates, dependent on the distance being travelled, the route and the actual cargo itself.
Do you accept FOB cargoes on your vessels?
We carry FOB cargo when freight payment terms are clear and we have written confirmation from receivers to cover all shipping costs against presentation of our liner B/L. This has become very important part of our activities however; the majority of cargo is still booked on a CFR basis with the usual "freight prepaid" terms.
Given your history in C-P are the two governments still financially involved in the company or is C-P strictly run on business terms and conditions?
The Ministry of Communication in China and the Ministry of Transportation in Poland equally hold our shares, but this does not mean that we are living off Government subsidies. Our shareholders, who are represented by State Secretaries, keep a close eye on all activity to ensure everything is running smoothly and we are not running at losses. When it comes to profit orientation, our organisation operates just as any other privately owned company. We keep our shareholders up to date with all the news and activity to keep them involved and informed – we believe that this is part of our company's success.
Apart from our flat hierarchy and quick decisions, CHIPOLBROK offers the most modern and sophisticated tonnage on the market at present. Of course you find vessels with higher lifting capabilities, more DWT, longer hatches etcetera, however, it's still very unique to have all of these features merged into one vessel like our new 'Pacific' style ones.
Additionally, we have given up four of our old Rijeka-type vessels to avoid another overblow of the breakbulk tonnage market. Our advantage is to be seen in our dedicated liner services that are combined with charter/parcel activities, frequent sailings, modern MPP tonnage and endless transportation facilities in the deep-sea trade, all of which results in better ships, better services, and of course better opportunities.
Can you arrange inland transportation in China (or elsewhere) on a through bill of lading via C-P?
We have our own department and sister company that offers transshipment cargo to Chinese inland ports, but also on-shore destinations; our Liner B/L covers these. We can still arrange on-carriage of awkward cargo like wind blades to BaoDing or inland destinations like Wuhan and Changshu for example.
If a person wants to get an idea of your rates, whom should they contact?
From Asia to Europe you can contact any of our local agents respectively in one of our representative offices or our Shanghai headquarters. As we mentioned previously, we also have representative agents all over Europe.
If you have questions within the US, you can contact the Houston office.
If you need more information, you can visit our homepage where all our agents' details are listed.
Can you provide a liner's containers if a ship wishes to transport a combination of cargo? And if not, do you accept SOC?
We gave up our container activities and sold all our old boxes decades ago and frankly speaking, we are happy about this after seeing all the developments in the container market during the past years. However, we still accept shippers own containers provided they have valid CSC plating. We accept any kind of SOC, including breakbulk containers. We also accept full loads of empty containers for the purpose of positioning whenever our vessels have free deck space available.
How long have you been working in the shipping industry and how long have you been associated with C-P? In what ways has shipping changed over the years?
I started out in shipping working for the Indian liner carriers back in 1977. The cooperation with C-P began in 1985 as part of Sinotrans, which in those days booked big parcels of BaoShan projects with C-P. In the early 90s, I got a leadership position in C-P's German office, where I dealt with liner cargo, parcels and chartering. After a three-year period in competitive chartering, I became a freelancer and since 2015 I have worked as C-P's Media Rep, which I love doing.
While I've been working in shipping, things have changed a lot. There is definitely more competition these days, and the incomes aren't as comfortable, especially with the devalued freights and low revenues. To be honest, there is a lot more pressure on the individual today.
On the other hand, communication is much easier. The better technology means there's no lapse in communication and it's possible to communicate with anyone 24/7. Things are much faster and more advanced, which means more and more people with academic degrees are joining the shipping world. Sometimes I feel like the old practitioners "saurians" like myself are going out of fashion, we much rarer these days – the romantic notion of the shipping world is definitely a thing of the past!
---
Interviewee:
Olaf Proes
Media Representative
o.proes@chipolbrok.com.pl
CHIPOLBROK Shanghai / Gdynia
www.chipolbrok.com.cn/chipolbrok/
A selection of photos from Chipolbrok