Interview with Mr. Björn Palm, Managing Director of Hacklin
Our readers would love to learn more about the history of your company. When did you establish Hacklin and when did you enter into feeder operation and ship ownership?
Hacklin was established in 1908. The company first started out as forwarding company. It later expanded into shipping operations in 1915 with its first own vessel s/s Birgit. Her sailing came to an end during the First World War in 1918 when she met a German submarine at sea.
During the years Hacklin has been involved with many shipping companies but today Hacklin Group is a logistics company with activities in Freight Forwarding, Project Logistics, Stevedoring and Warehousing.
Hacklin has offices in Finland, Germany (Hamburg), Russia (St Petersburg & Moscow), and China (Shanghai). The container feeder operation between Finland and Germany is the only shipping operation Hacklin is running today.
Hacklin Ltd operates its feeder traffic under the 100% owned company Hacklin Seatrans Ltd. Hacklin is the only Finnish company that has its own feeder operation.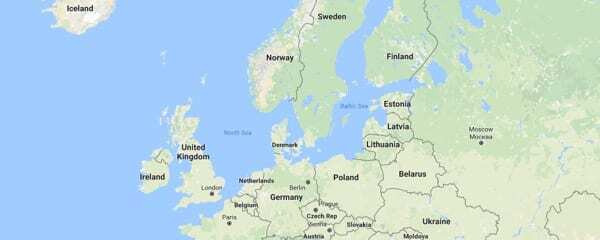 Do you accept break-bulk cargo onboard your feeder vessel?
Yes, we accept break-bulk cargo. We have welcomed this type of cargo for some time now and it's an important part of our traffic.
This photos shows what some of our break-bulk cargo looks like onboard and how it's maneuvered.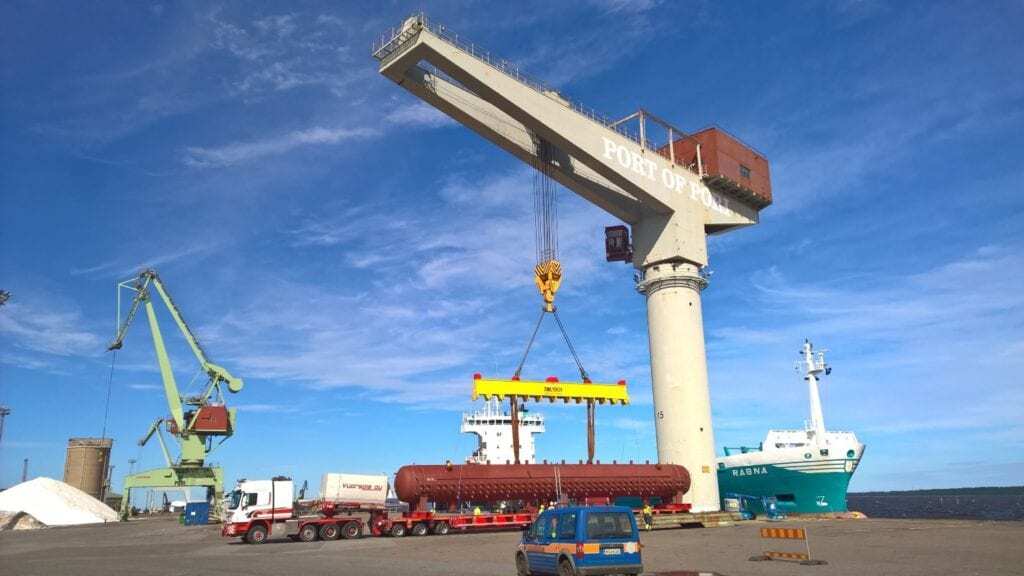 What are the transit times to Continental Europe, and which routes does your vessel typically take? What is the usual cost for this type of shipment?
We usually ship via the Kiel Canal, which can take approximately 2 to 5 days. With regards to the cost, it usually costs just under 3000€ for each direction. Because of the costs and times involved, we prefer to use the Kiel Canal when possible.
In the continent, where do you discharge the cargo? In the case of larger quantities, are you able to discharge directly onto the ongoing ocean vessels at specific terminals?
Basically, if there are enough bookings and volume, all Hamburg terminals are possible. Throughout the week, this could typically include 3-4 terminals, sometimes even 5 (SWT, CTB, CTA, EGT, CTT). SWT operates every week for its own Short Sea containers and Break-bulk.
During the winter, the temperatures known to be extremely cold in the Baltics, are your ships ice classed?
The Finnish 1A is ice classed (e3 according to Lloyds). The following photos show what some of the shipping conditions in the North typically look like during the colder months.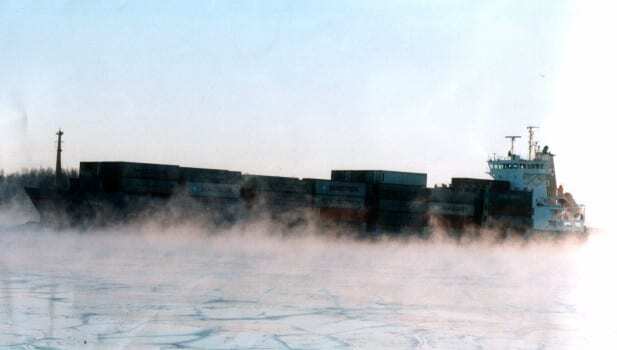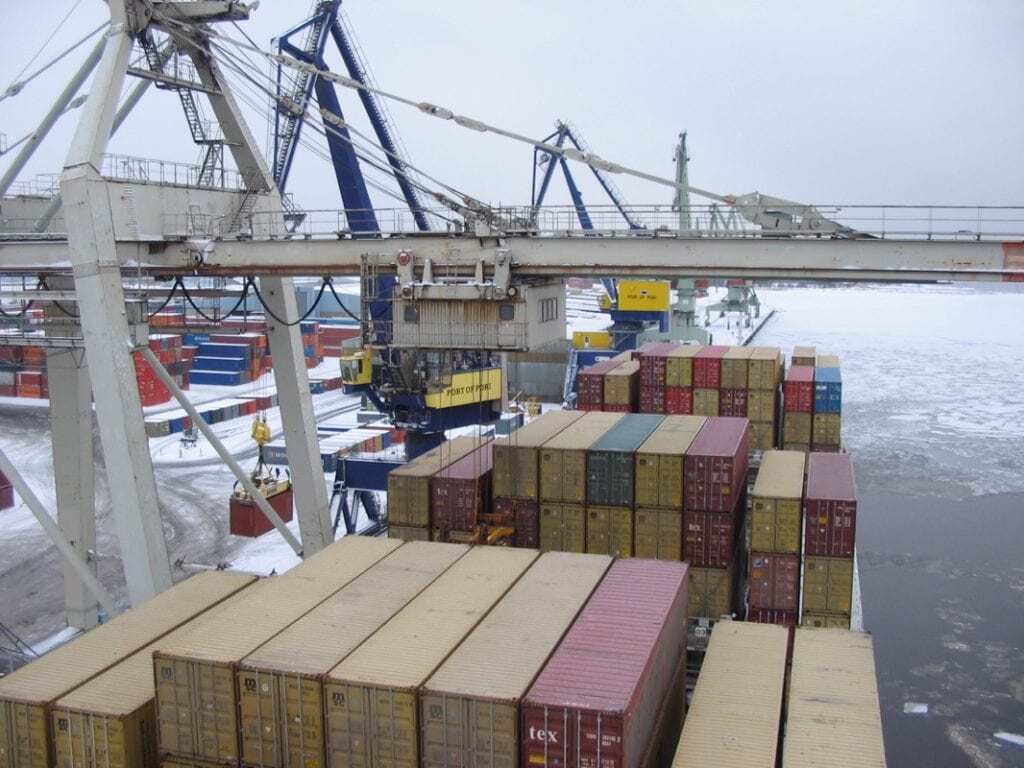 During these colder months, what kind of problems could you encounter with the cargo?
Normally, we don't experience any problems in the North due to the weather because of our experience shipping in such conditions. When it's less than -25 degrees or there are heavy winds over 20 m/s, port cranes cannot be used.
In the case of ice formulating on deck, the ship must reduce its speed. Melting the ice using steam in a port would take even longer, so there's no point speeding up.
If anyone needs freight rates from Scandinavia to the Continent or vice versa whom should they contact? If need be, is it possible to call other ports instead of your usual one?
For any freight quote queries, our customers can easily contact us via email at: pasi.aro@hacklin.fi or via telephone at: +358 50 52 59053.
Other ports on route are possible and it is not unusual to call on them as well, as long as the cargo volume is sufficient to pay the extra deviation costs. Over the last few years we've called at Sweden's east coast, Estonia, Denmark, Bremerhaven, and Rauma.
Can you accept break-bulk cargo below deck as well, and what's the TEU capacity of your feeder?
When traveling from Mäntyluoto, storing cargo under deck is possible (after part hold is without container cells and suitable for break-bulk loads =25m long).
When using deviation ports, we mainly use deck storage options due to rotation / stowage reasons.
If you have more cargo than possible to load on a certain departure, are you then able to make arrangements with other carriers, or would you insert an additional vessel in the service?
The target is to always fulfill the schedule the shipper requires, bearing in mind that a feeder service has to meet the schedule of the Ocean carriers.
If we have more cargo than the capacity of the vessel, we are able to solve that as well, depending on what kind of volume and cargo we are talking about. Part of the cargo might be allowed to be postponed by a week if necessary, and then in addition with some help of other carriers the remaining cargo can be transported on time.
Tell us a bit about yourself – when did you start in shipping and how did you end up in Hacklin?
I started in the business in a stevedoring company in the mid 1980s and was offered the position as Managing Director of a freight-forwarding group a few years later. The scope of business was freight forwarding (land, air & sea), stevedoring, warehousing and heavy lift operations with mobile cranes. In 1996, shipping activities with time-chartered vessels was added to the service. In 2003 I started my own shipping company, and then in 2011, I was offered the position as Managing Director of the Hacklin Group to further develop the business activities.
How do you think shipping has changed over the years and how do you see the future of regional shipping in the Baltics?
Having been so long in the freight forwarding business, I have seen a lot of development, which has made shipping more efficient. There's better IT for quicker communication, more advanced equipment and machines for more efficient loading, more fuel-efficient vessels, and a lot of new regulations like SECA. But perhaps it is the growth of the container volumes that is the most remarkable change in the shipping business.
Shipping will always play a strategic role for the countries around the Baltic Sea. It is still the most efficient way to move a lot of commodities especially bigger volumes, and when environmental aspects are considered shipping is the best choice.
Finally, do you accept passengers onboard, and if so, how much does it cost?
Generally, we do not take passengers on our feeder vessel, but if a colleague or customer would be interested, we could certainly arrange for them to experience life as a seaman for a few days.
Interviewee:
Björn Palm
Managing Director
bjorn.palm@hacklin.fi
Oy Hacklin Ltd
http://www.hacklin.fi/
Björn also supplied the following photos: