Q&A with Mr. Loic Pelen, Project Cargo Desk Manager at CMA CGM head office, Marseille, France
When did CMA CGM start to accept breakbulk cargo by container ship? Explain what you need from the customer in order to give a quick indication/quote.
CMA CGM started to load breakbulk & OOG shipments on container ships about 30 years ago. CMA CGM has amassed vast experience from successfully handling thousands of shipments on all continents thanks to our wide network of over 200 maritime lines calling 420 ports around the world.
CMA CGM transports all types of XXL cargo from delicate shipments such as trains, cars, and yachts; to large and heavy equipment such as turbines, engines and factory components. Our high level of specialised technical and commercial expertise enables us to load oversized and heavy lift cargo up to 500 metric tons.
In order to quickly create the best and most accurate offer for our customers, CMA CGM experts need several pieces of basic information. This basic information includes POL and POD, a description of the piece(s) including dimensions, gross weight and time of shipment. Pictures, technical drawings or lifting instructions clearly mentioning lifting points and the position of the center of gravity will also help us to study the operational feasibility on our vessels (main liners & feeders) and answer all clients' needs.
Provide details of whom to contact in Asia, Europe, Americas etc. with name/email address so that our readers can approach them directly if needed.
CMA CGM offers a network of dedicated teams of experts all around the world. They are located at Marseille Head Office in France, in Regional Offices on all five continents, and in key and strategic ports as well.
Head Office:
Regional offices:
There are many terms involved OOG, FR, OT, Breakbulk. Please explain the different terms of shipment. For example, when does a Breakbulk piece become Breakbulk and not OOG?
CMA CGM offers adapted equipment for all XXL cargo. A dedicated team of experts will guide our customers through the different loading procedures to ensure safe and secure transport. Depending on its dimensions and weight, XXL cargo will be loaded on a specific type of container.
Open Top containers: Similar in all respects to a general purpose container except that it does not have a rigid roof but may have a flexible and removable cover, supported on removable roof bows. Examples: Any cargo that can only be loaded from the top, such as light machinery, over-height cargo, etc.
Flat Rack containers and platforms: Strong based platform containers with collapsible ends (Flat Rack) or without collapsible ends (platforms). Examples: Any oversized or heavy cargo, such as cable reels, roadwork machines, factory parts, trucks, sailboats, etc.
Break Bulk cargos are loaded on a bed of Flat Racks (several assembled side by side) or Platforms, usually under deck. Examples: 120 metric ton diesel engines, 25 meter long passenger airport bridges, or 10 meter-wide catamaran. Our experts will work in close cooperation with customers on tailor made solutions when cargo does not fit into a standard container.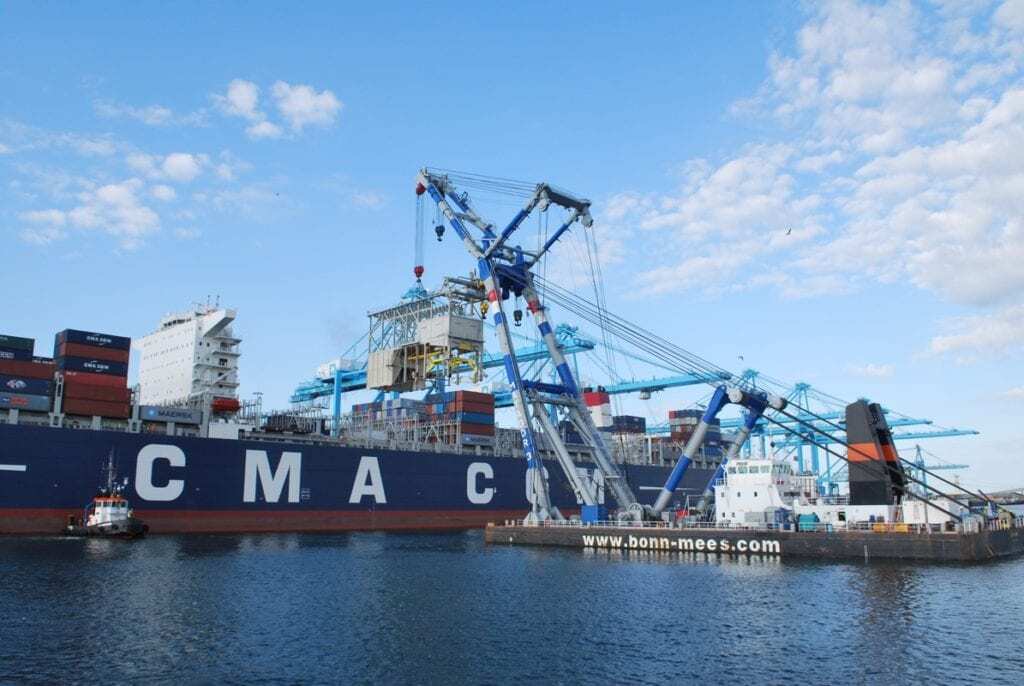 What are the main trade lanes where you accept project cargo?  Does the recently completed purchase of APL mean that you will be able to offer breakbulk cargo on APL services as well?
With more than 200 liner services ensuring regular and quick delivery, fast and reliable transit times, CMA CGM is offering worldwide coverage. The Group is present in 160 countries, through its network of 600 agencies and its 29,000 experts worldwide.
APL already has the global resources to ship special, heavy and oversized cargo safely and securely. The recent integration will allow both parties to develop new opportunities.
What kind of alliance does CMA CGM currently belong to? What happens if a customer has a breakbulk shipment and the first vessel available is a non CMA CGM owned vessel? Do your alliance partners share the same interest as you in breakbulk cargo?
On November 4th, members of the new OCEAN ALLIANCE – the CMA CGM Group, COSCO Container Lines, Evergreen Line and Orient Overseas Container Line – announced the proposed network of the largest shipping alliance in the world. The four partners will share their capacity on several routes to offer more services for their customers. Together, the partners will operate 40 services on the East-West trades with around 100 ports of call and almost 500 port pairs. Supported by a highly-efficient fleet of nearly 350 vessels with about 3.5 million TEUs in total capacity, the Alliance will comply with the requirements of global supply chains while providing higher sailing frequencies, better transit times and greater coverage in terms of loops, ports of call and port pairs.
As the main contributor to this alliance, the CMA CGM Group will have the largest share within the alliance, deploying a fleet of 119 vessels with a 35% capacity share. The Group will not only be offering more ports, direct calls and better transit times, but is also committed to providing unmatched shipping services and quality through best-in-class business operations and solutions across the group.
Thanks to full cooperation and with their agreement, we have the possibility to load our breakbulk shipments on partner's vessels.
ANL is part of CMA CGM do they accept breakbulk cargoes? Does your project cargo desk cover all the lines owned by CMA CGM?
CMA CGM offers destinations in New Zealand or Australia that use ANL services. The Group offers a global presence on all continents. CMA CGM network gathers more than 650 agencies in 160 countries. CMA CGM has grown continuously, and has been constantly innovating to offer its clients new sea, land and logistics solutions.
Give examples of some of the major shipments that you have handled by container ship.  What was the largest piece?
One major shipment handled on a CMA CGM containership was a vessel superstructure weighing 450 metric tons: our experts organized the full shipment from Rotterdam to Singapore. This very heavy piece was lifted aboard and discharged by contracted floating cranes. This exceptional shipment was awarded «Project/Heavy-lift Forwarder of the Year 2012» during the Global Freight Awards.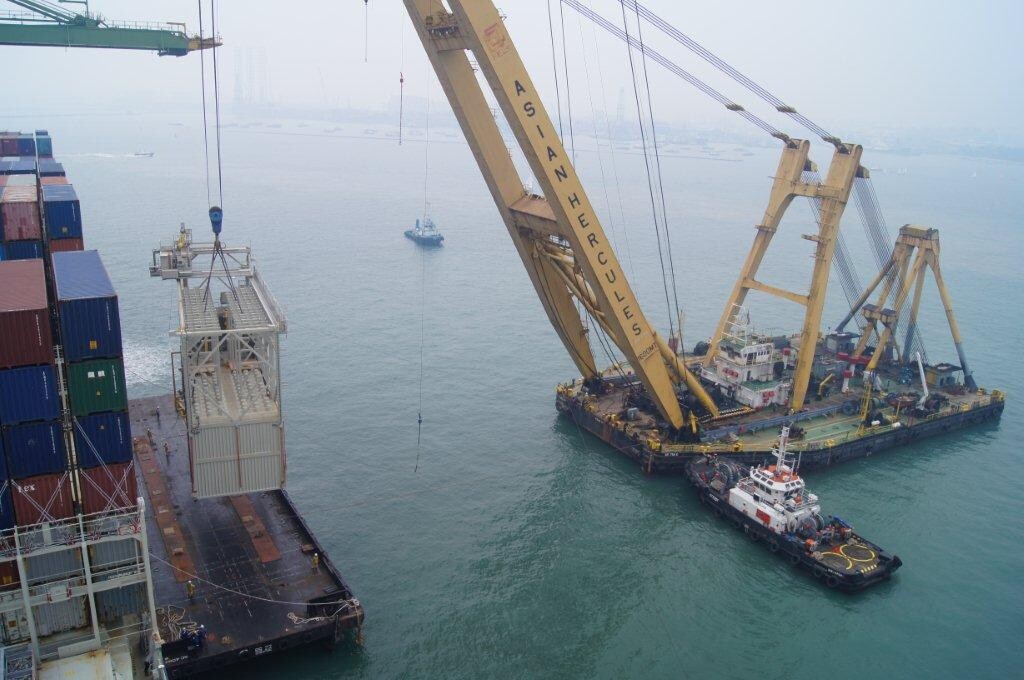 Can you organize breakbulk cargo below deck?  What do you need from the customer in order to arrange below deck.  Are there any maximum restrictions (in general) for breakbulk cargo to be allowed below deck?
Yes, our expert ship planners will optimize stowing plans to have almost all of our breakbulk shipments stowed below deck. All shipments are studied individually and professionally to offer the maximum care and protection of the cargo. Independent surveyors will assist during loading, transshipment and discharge operations to ensure high levels of quality and security.
When and how did you you start your career at CMA CGM? How do you view the future in the breakbulk cargo desk in CMA CGM, will it remain a focus area for the line in the future?
After some experience at sea as an officer on container ships, I started my career in CMA CGM in 1998 as a ship manager. Through different positions and opportunities at CMA CGM in various fields, I gained solid experience in the regular line container business. I have been working in the project and oversized cargo departments for more than 6 years now.
Break bulk shipments on container vessels are a good alternative to traditional conventional carriers. CMA CGM's objective is clearly to develop and promote this activity offering our customers all over the world a proactive and innovative service combining quality and high performance with protection of the environment.
Interviewee:

Loic Pelen
Project Cargo Desk Manager
CMA CGM – Head Office Marseille
ho.lpelen@cma-cgm.com
www.cma-cgm.com