Q&A with Mr. Peter Ehrhorn, Global Head of Special Projects, Chartering
& Wind Logistics at Blue Water Shipping
Where did the name Blue Water come from? Where is your company head quartered and who are the owners today?  When was the company established and what is your turnover and headcount approximately?
Blue Water Shipping's headquarter is located at the quayside in Esbjerg, Denmark. The company is named after Blaavand – the western most point of Denmark (Blaavand is Danish for Blue Water). The idea of naming it Blue Water came from founder and Managing Director Kurt Skov (he is still Managing Director today). He established the company in 1972. Turnover in 2015 was approximately 670 million EUR. Today we are around 1,400 employees.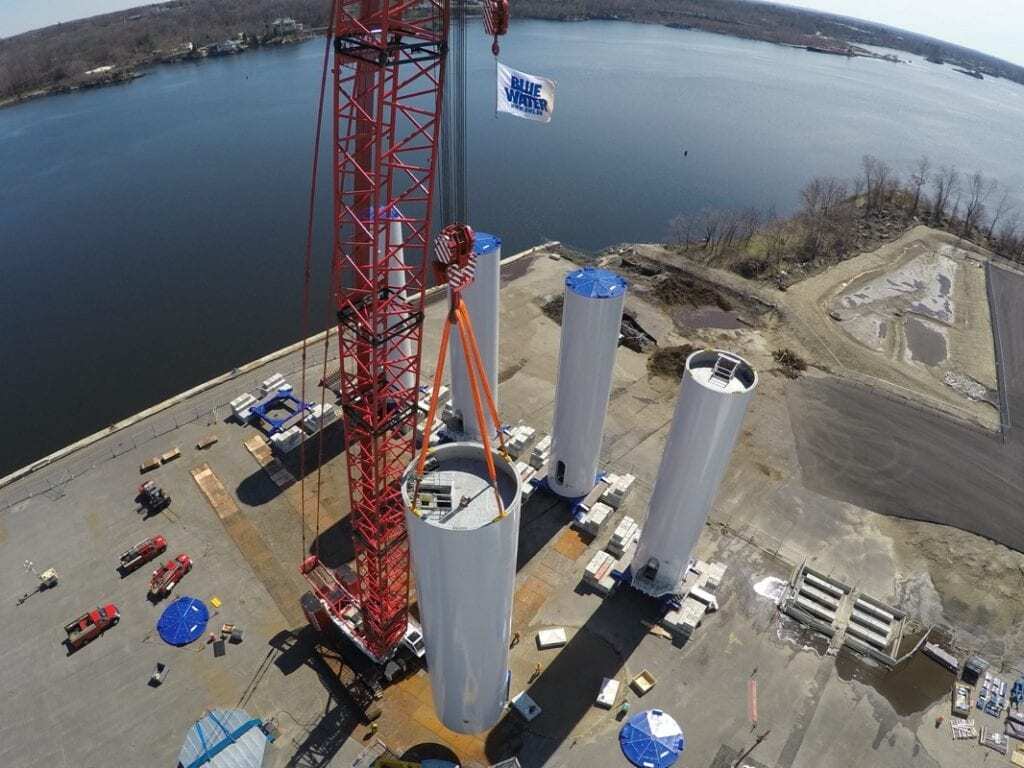 When did Blue Water start focusing on renewable energy?
Our focus on renewables started in the middle of the 90's with wind turbines being shipped out of the port of Esbjerg. Being located with headquarter in Esbjerg it was a natural development for Blue Water Shipping to start focusing on this new and growing activity.
Several freight forwarders clame to be specialised in renewable energy, what makes you stand out?
We have been part of renewables for more than 20 years now. For years, Esbjerg has been the World's biggest load-out port for wind turbines – both onshore and offshore. We have handled about 70% of all wind turbines for offshore wind farms through our terminal and our Stevedoring company. We have followed clients into the global markets and today we execute wind farm projects worldwide.
Through the years, we have made great efforts in developing competencies to add value to the clients in the renewables sector. We do not see ourselves as a freight forwarder only – we see ourselves as a knowledge based company with a wide range of competencies to support the clients needs.
One of our additional values is our unique IT system where our clients can follow the location and status of their components at all times. The system has been tailor-made by our own in-house IT specialists with input from our own staff and clients. The system is based on the lessons learned over the course of many years.
Besides shipping for the wind industry we have also been involved in shipments for solar energy as well as underwater turbines, but wind still represents the majority of the volume we handle.
Give us some examples of projects you have handled worldwide within the renewable industry.
This autumn, we completed all shipments and port services for a historic project in USA. It was the first offshore wind farm in the country on Block Island for Alstom / GE and Deepwater Wind. We were very proud to be part of this milestone project in North America.
We are presently in the final stages of delivering a 76-turbine project in Wales that has been ongoing for the past year.
We have recently started delivery for the White Rock onshore project in Australia. The first phase will consist of 70 turbines.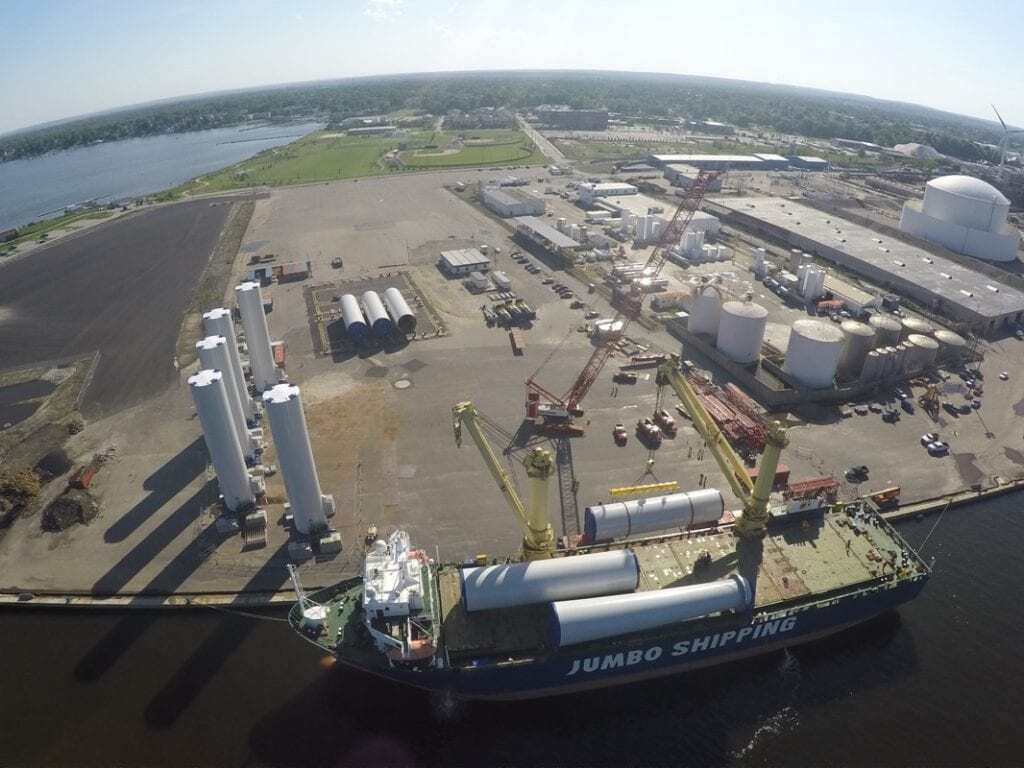 Do you have your own surveyors, port captains or do you hire ad-hoc specialists when you secure projects?
As mentioned previously, we see ourselves as a knowledge-based company with many in-house competencies. Part of this is also in-house specialists such as Surveyors and Port Captains – in addition to Naval Architects, Chartering specialists and Project Managers, etc.
Do you see a change in the origin of renewable project cargoes? Has production moved outside Europe or is it a mix?
Production has moved outside of Europe, today it is a mix of origins globally. In particular for onshore it is a global market. Offshore wind is still mainly originating in Europe.
How do you choose which shipowner to use? Is it based purely on price these days?
We choose our suppliers based on a mix of factors. Price is obviously important in today's market, but also solutions, flexibility, track record and HSE. Tying up with local partners is also important for us.
Do you have your own offices abroad?
We have our own offices abroad in many locations. Blue Water Shipping has more than 60 offices around the world today. In locations where we do not have our own local offices we tie up with partners where we can mix our global network and track record with our partners' local knowledge and expertise.
Renewable energy is now more than wind power, its solar energy, tidal energy, etc., do you see an increase in these kinds of segments?  Which segment is the biggest for Blue Water Shipping?
For Blue Water Shipping the majority of renewable energy is wind power. We have completed shipments of solar power equipment, but it is still limited. We have recently been involved in a project off the French Atlantic coast where we managed the installation of an underwater turbine.
We are following new technologies and the opportunities it can have very closely.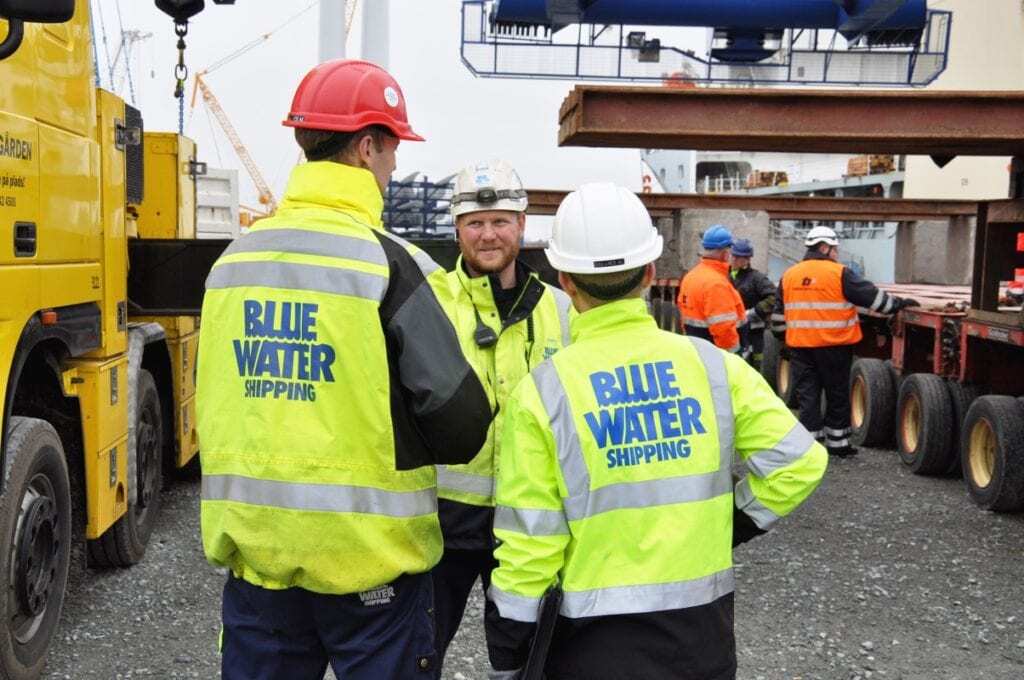 Wind turbines can be extremely long, sensitive and easily damaged, do you have any preferred shipowners that you work with?
We have a list of preferred owners that we work with for projects. It is very important for us that we work with owners who have experience and a cooperative and quality oriented approach.
At the same time the market is very dynamic and we are always looking for the right solution for each single project and shipment. There may be other solutions in today's market than traditional project vessels. As an example we were the first forwarder to ship wind turbines on ro/ro vessels. This mode of transport is now becoming more common on many projects due to the handling and port facilities. The right option is not always the most obvious one – and we are continuously working on solutions for each single project or fabrication facility. Through our own experience with terminal handling, stevedoring and shipping competencies we can look at many different solutions and create a tailor-made solution to each specific requirement.
Who in Blue Water should be contacted in each region for a quotation?
Contact me. We will assign inquiries to a regional Business Development Manager and Key Account Manager after having defined the requirement.
Tell us about yourself. How many years did you work in Blue Water and how did you end up in shipping in the first place?  What interests you about shipping as opposed to say banking or finance?  Have you been stationed abroad for company?
My name is Peter Ehrhorn. I am 42 years. I started as a trainee in Blue Water Shipping in 1995. After finishing my training, I was stationed in Baku, Azerbaijan for three years where I was involved in some of the first oil & gas projects in the Caspian Region – including the first oil rigs to be shipped through the Russian Inland Waterways – Volga-Don.
From 2002 to 2005 I was posted at the Blue Water office in Dubai – still with a lot of focus on the Caspian Region.
From 2006 to 2012 I was Director in CHC Denmark – a helicopter company providing flights for crew transfer on oil rigs in the Danish sector of the North Sea.
From 2012 to 2013 I was Director in Thorco Shipping in Svendborg.
Since 2013 I have been with Blue Water Shipping in Esbjerg. Today I have Global Responsibility for Renewables Activities, Chartering and Special Projects.
---
Interviewee: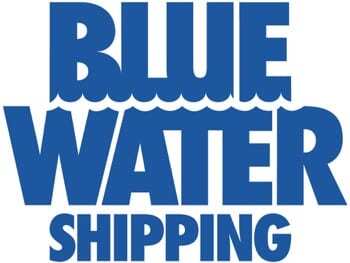 Peter Ehrhorn
Global Head of Special Projects, Chartering & Wind Logistics
Blue Water Shipping
peeh@bws.dk
http://www.bws.dk/