Q&A with Mr. Thomas Okbo
GAC Group Vice President Africa
What year and place was GAC originally established? Who came up with the idea to establish the company and what prompted it?
The first GAC operation was set up in Kuwait by Swedish entrepreneur Bengt Lindwall in 1956 to provide efficient ship agency services in the country's congested port. We made a name for ourselves since our early years as a reliable, trustworthy and honest ship agent.
Since then, GAC opened more offices in the Middle East, as well as other regions worldwide. Today, the GAC network covers all five continents, and we are a global provider of integrated shipping, logistics and marine services.
GAC has continued to invest in capital assets such as vessels and warehouses in key locations around the world despite the difficult conditions. In 2016, total investment commitments have reached more than USD 65 million.
A privately-owned company, GAC employs over 9,000 professionals, operates 300 offices in more than 50 countries and works with trusted partners to cover over 1,000 locations worldwide.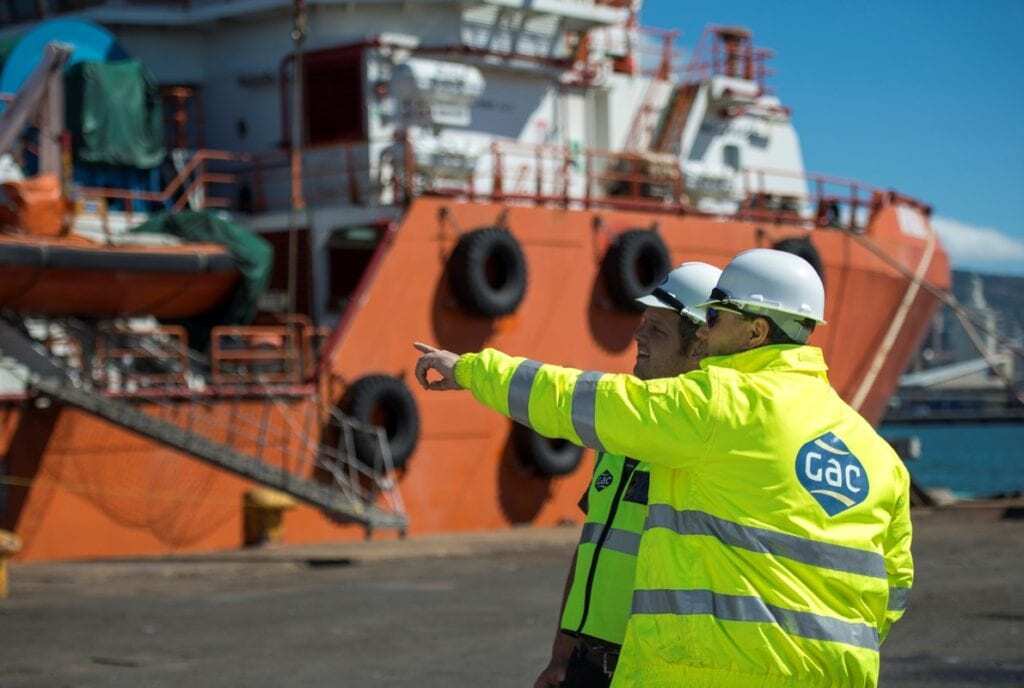 As the name implies, Gulf Agency Company refers to the Persian Gulf. However, when did GAC establish itself with a presence in West Africa?
While the Middle East is our traditional home-ground, the Group has expanded beyond the Gulf to become a truly global player. In 2003, Our Vision X-Global Reach campaign was aligned to our business strategy of globalisation and expansion. We successfully communicated our progression "from Gulf to Global" and positioned the company as an expanding global brand. Since then we are known as GAC rather than Gulf Agency Company.
By the beginning of 1979, GAC's first operation in Africa was established in Nigeria. Expansion into Africa continued throughout the 1990's, with the opening of GAC Angola and South Africa in 1998. Since then, the Group has extended its presence in West Africa to cover all of the region's principal ports supporting regional and international shipping and offshore activity including Lagos, Cotonou, Lome, Tema and Abidjan.
Which countries do you regard as coming under the responsibility of GAC West Africa? West Africa is a rather large region.
GAC's business in West Africa covers ports in Nigeria, Ghana, Benin, Togo, Senegal and Cote D'Ivoire. GAC also works with local partners to extend the range and scope of our services across this region. For example, the GAC-OMA network agreement between our Group and local partner OMA ensures that our wide range of services are also available at the ports of Tema and Takoradi in Ghana, Cotonou in Benin, Lome in Togo, Dakar in Senegal and Abidjan in Cote D'Ivoire.
Where is the head office of GAC West Africa and where do you have branch offices? Explain your main activities and explain whether you deal with shippers direct or if you also deal with freight forwarders that perhaps do not have a presence in the area? Do you have local partners involved in the ownership locally.
GAC's regional office for the entire Africa region is in Cape Town, South Africa. We have a country office in Lagos, Nigeria with branches in Escravos, Forcados, Brass, Port Harcourt and Bonny Island. The GAC-OMA head office is in Accra, Ghana, with offices in Togo, Benin, Cote D'Ivoire and Senegal. Our area of coverage in Africa extends to Angola, Congo, Namibia, South Africa, Algeria, Egypt, Tanzania and Kenya.
Our business across the region is diverse and we cater to the specific needs of each customer by tailoring our services to their requirements. GAC Nigeria complements its main shipping, logistics and marine business with a manning service. This service was created to meet a strong demand in Nigeria and elsewhere in West Africa, to recruit, train and find employment for local seafarers on all kinds of vessels, from LNG tankers to seismic research ships. GAC-OMA provides a complete range of shipping and logistics services.
GAC deals with shippers directly and serves freight forwarders without a local presence through the Group's global network and the long-standing relationships with a wider network of trusted and experienced local partners.
Is corruption an issue in West Africa?
GAC takes ethical conduct and anti-corruption very seriously. Our Group Code of Ethics covers how our people are expected to conduct themselves, whether dealing with each other, customers, suppliers or authorities, and with an emphasis on respect for the law and respect for people.
In parallel, the GAC Anti-Corruption and Bribery Policy is at the heart of our commitment to conduct all our business in an honest and ethical manner. We take a zero-tolerance approach to bribery and corruption, and we are committed to acting professionally, fairly and with integrity in all our business dealings and relationships wherever we operate. GAC is also an associate member of the Maritime Anti-Corruption Network (MACN), a global business network comprised of like-minded companies committed to promoting compliance with anti-corruption law.
Is GAC also involved in the oil/gas business given that the company started out in the Persian Gulf?
GAC's Oil & Gas Logistics teams provide dedicated support all the way from exploration through to oilfield development. We operate multiple strategic bases around the world to provide support services to the industry.
Africa – and West Africa in particular – has traditionally been one of these key strategic bases. In this respect GAC is very well positioned in the region, with a wealth of experience supporting the offshore sector.
What are the focus areas in the next couple of years for GAC West Africa?
GAC continues to expand its range of services in West Africa. From developing our integrated services package in Nigeria to strengthening our partnership with OMA, the region is an integral part of GAC's plans over the next couple of years, both for Africa and globally.
GAC's office in Nigeria and GAC-OMA offices in Ghana, Togo, Benin, Senegal and Cote D'Ivoire represent the agile and forward-thinking way that the Group does business globally. What's more, both offices see themselves as ambassadors – not only for their countries, but for the West Africa region as a whole.
If any of our readers have inquiries for West Africa, who should they contact?
Readers interested in GAC's services in West Africa can call +27 (0) 21 555 2229 or visit www.gac.com for more information.
---
Interviewee:

Thomas Okbo
GAC Group Vice President Africa
GAC Group
http://www.gac.com