Interview with Mr. Borut Šemrl
Representative of Luka Koper d.d.
What are the main functions of your office in Budapest?
Promotion of the Port of Koper services in the Hungarian market at meetings, conferences, events and presentations, as well through advertising in logistics and supply chain media. Additionally I help to organize visits to the port.
I am also involved in market intelligence, gathering information from clients, media and governmental bodies regarding the market situation, trends, new business possibilities, policy, regulations, and activities of the competition (other ports).
Another part of my job is assisting existing and potential new clients by providing requested information and connecting players in the supply chain industry.
How long have you been working with the Port of Koper and what is your background in shipping?
I have been with the company for the pasts 10 years. I have been working in the Marketing Department of the port and in the Sales Department of one of the port terminals, the General Cargo Terminal. This terminal handles break bulk cargo, timber cargo, project cargo, livestock, perishable (reefer) cargo and performs stuffing and stripping of containers for the vast majority of cargoes.
Before that, I came to know shipping from the shipper's point of view. For 16 years, I was involved in wholesale and retail activities, importing products from the U.S.A., first with LCL shipments and later with FCL shipments.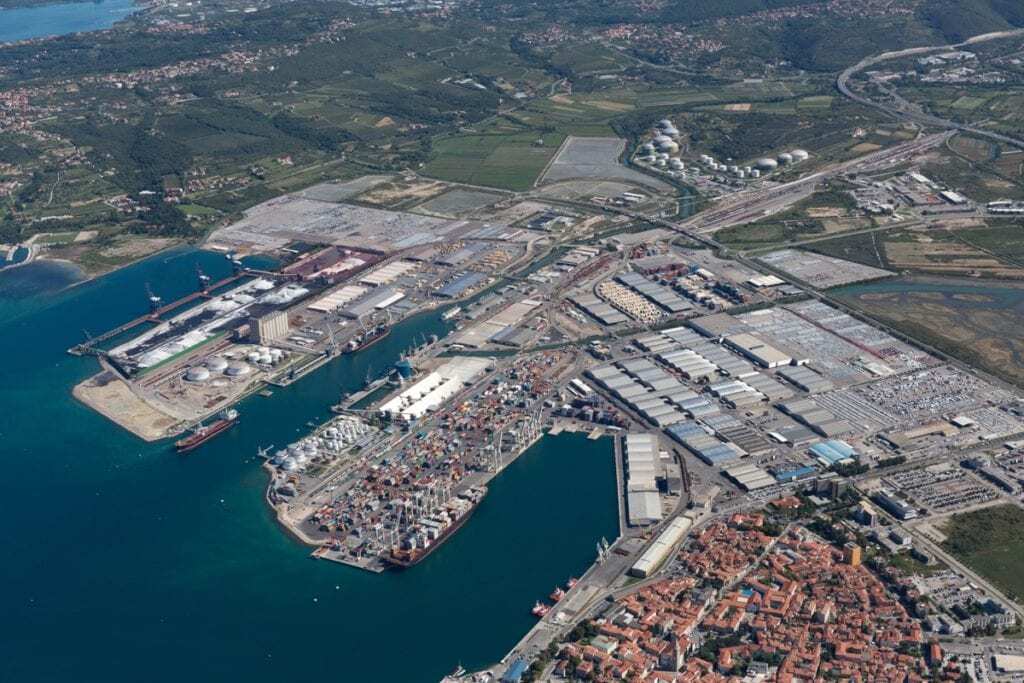 Tell us about the Port of Koper and the infrastructure to get cargo to and from Eastern Europe.
Luka Koper plc (luka stands for port in Slovenia) is a majority state-owned (51% directly and another 16% indirectly) Slovenian company operating and managing all 12 specialized terminals in the port area. The company also acts as Port Authority, investing in both the infrastructure and superstructure. The port area has an area of 280 ha and handles practically all cargo groups with the exception of crude oil and gas. In 2016, we handled over 22 million tons of various cargo, mostly in transit to our hinterland markets – landlocked countries in our vicinity.
The port's favourable geographical position in the North Adriatic sea, the northernmost part of the Mediterranean, near to the "heart of Europe" and our efficient services enable us to grow year by year. We operate the busiest container terminal in the Adriatic Sea (844.000 TEU in 2016) and one of the most important car terminals in the Mediterranean (750.000 vehicles in 2016). We also handle important volumes of dry bulk cargoes (soya bean meal, iron ore, coal, etc.) and break bulk (steel products, timber, paper & cellulose, etc.)
The Port of Koper has a modern motorway network connecting it to all the major business centres of neighbouring Central and East European countries that we consider our major hinterland markets. Wien, Munich, Milano, Budapest, Bratislava and Belgrade can be reached in 6-7 hours by truck.
The modal split of cargo moving to and from the Port of Koper is approximately 65% rail and 35% road, thus efficient railway connections to the above-mentioned markets are of vital importance.
Do you compete with other ports for business to and from the Adriatic?
We regard the North European ports as our main competition for cargo flows to and from the CEE markets that we serve. We try to catch this business by improving our services and emphasizing the time and cost savings for cargo travelling on the so-called South Transport route from the Eastern Mediterranean, Middle East and Far East countries, which is shorter, faster and less expensive than the traditional sailing route all around the European continent to the previously mentioned NE ports.
We do of course compete also with neighbouring North Adriatic ports such as Trieste, Venice in Italy and Rijeka in Croatia in attracting these cargo flows.
Working as a representative of the port authority what kind of assistance can you provide to potential customers (shipowners or freight forwarders) who are interested in the Koper gateway?
I am the representative of Luka Koper plc, mainly providing information about our services, connecting potential new clients with my colleagues in Koper, forwarding their inquiries and offers for handling and storage of cargo from Koper, but also connecting them to our port community members, namely maritime agents, shipping lines and shipbrokers, forwarders and logistic providers, road and railway transport operators, surveyors, customs offices and other government bodies (veterinary, phytosanitary inspections, for example).
Does the Port of Koper have agreement with the railways for inland transport and does the port offer special free storage periods and/or free storage areas?
While we try to connect the various participants of the supply chain, it is the policy of the Port of Koper to remain neutral to all providers of services connected with the port. There are several railway operators that transport cargo to and from the port, but it is the owner of the goods i.e. the shipper directly or through an agent, that stipulates agreements with the operator.
We always try to attract cargo by listening to special requests of our clients and special storage conditions can be given whenever possible, but as the cargo volumes grow year by year, it is sometimes very difficult to ensure any special storage area or grant special conditions. However, in the next three years, we shall invest substantial funds, over 300 million Euro, in enlarging our handling and storage capacities.
Tell us about the container & roro connections that you have from Port of Koper to worldwide? What kind of services, how regular and what shipowners are calling your port directly?
We have two weekly direct container vessel connections with the Far East, one operated by the O3 alliance and one by the 2M alliance. We have several Intra-Mediterranean container services calling Koper, connecting ports in Spain, Italy, Greece, Israel, Cyprus, Egypt and other North African and Middle East countries. There are also many feeder vessel connections with the major hubs in the Mediterranean. Shipping lines calling Koper directly with their own vessels or with a slot agreement as alliance members are Maersk, CMA CGM, MSC, COSCO Shipping, Evergreen, UASC, MOL, ZIM, Arkas, Tarros.
A vast network of Ro-Ro services, both Short Sea and Deep Sea, connect the Port of Koper to the Mediterranean, Middle East and Far East ports due to our growing Car terminal business. The main shipping lines calling Koper are Grimaldi, Neptune Lines, MCCL, MOL, Eukor, Glovis, Wallenius Wilhelmsen and others.
An exhaustive list of shipping line contacts and a sailing list of all maritime connections is available on our website https://luka-kp.si/
Kindly advise the contact details for whom to approach in the Port of Koper regarding rates, services etc.
Each of the four profit centres and terminals has its own sales team. Contacts are available on our website, https://luka-kp.si/ One can also contact our Marketing Department or one of our representatives on our hinterland markets (Hungary, Austria, Slovakia, Czech Republic and Poland).
---
Interviewee:

Borut Šemrl
Representative
budapest@luka-kp.si
Luka Koper d.d. (Port of Koper) in Hungary
https://luka-kp.si/