Prepare For Challenges To Remain Relevant, Say Maritime Leaders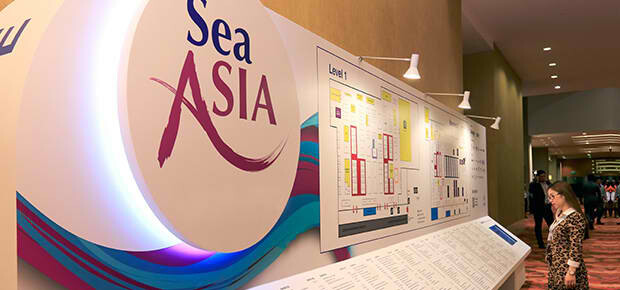 Maritime leaders today called for the industry to proactively prepare for future challenges to not only remain competitive and relevant in today's volatile market environment but to also future-proof the industry.
Speaking at a briefing session ahead of the Sea Asia 2017 conference and exhibition in April, the four industry leaders pointed out the importance of investing in solutions now to ensure companies are well-placed to navigate future headwinds such as regulation changes, while better understanding the impact of technology.
Mr René Piil Pedersen, Chairman of the International Committee of the Singapore Shipping Association (SSA), said despite challenges in 2016, this year is looking to be a better year for the industry, with projected growth of two to four per cent in container shipping demand as well as growing demand in bulk and tanker segments.
"The container industry is not out of the woods yet, but we are seeing most trades being in better balance after record-low freight rates in 2016. This could lead to a more sustainable industry in 2017 supported by the increased consolidation activity. In the bulk segment, there is optimism while the coming year's newbuilding program will be decisive for the tanker segment" said Mr. Pedersen.
Digitalisation also presents a huge opportunity for the industry, according to Mr. Pedersen.
"Digitalisation can give companies the possibility to engage with customers in a way that creates more value for the customers, just as Big Data can be used to operate assets more efficiently. Two to three years ago, you'd see a container booking take two hours, whereas today it takes minutes, and in the next few years, it will likely take seconds.
"With the growing focus on e-commerce and digital solutions, SMEs and consumers who were not directly linked to the global supply chains, now have the opportunity to connect, giving companies the opportunity to address consumer needs in a more direct and efficient way than ever before," he said.
Ms Tan Beng Tee, Assistant Chief Executive (Development) of the Maritime and Port Authority of Singapore (MPA) emphasised the importance of industry players keeping an eye on the future, especially with the fast pace of technology adoption.
"The advent of digitalisation will help improve processes in the industry but it will also disrupt the way you do business. With this in mind, there is a need for us to be prepared and start thinking about the new business models that will arise as a result of digitalisation in the industry.
"Another area we need to start focusing on is the skills of our workforce. Shipping is a traditional and documents intensive industry. This will no longer be the case in the future with blockchain coming into the market. New skills will be required and we will need to start equipping our workforce with cross-disciplinary skills such as IT literacy and data analytics," said Ms. Tan.
The panelists also discussed the importance of solid risk management as the industry anticipates major structural changes with new mega-alliances, mergers, and acquisitions, in addition to an increasingly demanding regulatory environment and compliance issues.
Mr. K. Murali Pany, Managing Partner at Joseph Tan Jude Benny (JTJB) LLP, stressed that companies must re-evaluate their business models with a view to invest in risk management.
"There has to be a fundamental rethink of how business is going to be done in terms of managing the risk. All businesses have risk, but it's a question about whether to take on the risk blindly, or taking it on in a measured way, where you're prepared for when things go wrong," said Mr. Pany, a speaker at Sea Asia 2017.
For example, he pointed to the need for proper contracts. Too many times, he said, millions of dollars have been at stake over contracts that were too vague or not set up appropriately. He also highlighted the need to make considered agreements, encouraging companies to take a hard look at the credit-worthiness of who they were supplying to.
"Rather than chasing every dollar, businesses should be chasing the good dollars. Don't just focus on volumes; focus on creating a more solid business."
And with more regulatory changes coming such as the Ballast Water Management Convention and the low sulfur cap by 2020, Mr. Pany said compliance with these is key to risk management.
"In line with this, companies need to have and invest in more stringent and stronger risk management programs. The key to this is setting up the right procedures, protocols and technological structures," he said.   
Mr. Marcus Hand, Editor of Seatrade Maritime News, said these are some of the discussions that will be taking place at Sea Asia 2017, including conversations around the implications of disruptive and innovative technology for the future of shipping.
"In addition to market challenges, the industry will need to prepare itself for the wave of technological change that has already begun to take place. Industry players need to look ahead and see how they can leverage current opportunities in the industry, while at the same time ensuring they have proper safeguards ready to tackle barriers in the future.
"This year's edition of Sea Asia 2017 will explore some of these opportunities and barriers, and it will provide an international platform for maritime leaders to come together and share with one another insights on how they can shape the course of the global maritime industry.
"With more than 16,000 people expected to come for this year's Sea Asia, we are looking forward to fruitful discussions that can further propel the industry forward," said Mr. Hand.
Visit Sea Asia's website: http://www.sea-asia.com/