Week #21 | 25th May 2017
Dear Readers,


Thursday has arrived again and it is time for another newsletter. It seems that the Hapag Lloyd/UASC merger is now finally going through and it will create a strong shipowner in the market also for project cargo – we will speak to Hapag Lloyd soon and report back our findings.
Summer is just around the corner and in a few weeks school holidays are starting (at least here in Northern Europe). People are scrambling to plan their holidays. I shall be onboard a container vessel for 35 days this year, luckily that is my holiday. I rented a cabin, not a container, although it would have been cheaper (unless they regard me as IMO cargo).
The trip starting on 30th of June takes me from Malta to Busan via Beirut, Jeddah, Jebel Ali, Port Kelang, Xiamen, Qingdao with an eta of August 4th in Busan.
This means that we will send out only 1 issue in the month of July.
The main thing I am looking forward to is reading books. There should be plenty of time for that in between ports, walking around the ship, playing ping pong in the gym and talking to my teenage daughter who will be joining me. And yes, I did warn her that her iphone will be out of range while at sea.
But there is still a month to go, so back to the newsletter.
This week we have:
– An interview with Global Trans Nusa Indonesia – a project freight forwarder with hq in Jakarta. Indonesia is growing big time and with more than 17,000 islands and 200 million people it is a country that cannot be ignored. Lots of infrastructural headaches remain, thus connections are vital. I actually lived on the island of Lombok from 1997-2000!
– An introduction to a logistics professional specialised in North Africa. A contact of mine Mr. Etienne Vassallo from Malta tells us about his past and his experience working in Libya. It's interesting, amazing and kind of scary at the same time. Malta was for years the "gateway to Libya" during the embargo.
– Sector news that any active freight forwarder or shipowner should read and act upon.
– Shipment, Video and Photo of the week.
– Quote of the week. Here I should add that we don't publish quotes from EU politicians because they lack wisdom and are the same after each "event".
Wishing you a good read and until next week, I remain,
Yours sincerely,
Bo H. Drewsen
bo.drewsen@projectcargo-weekly.com

Pt. Global Trans Nusa – An Indonesian Project Freight Forwarding Company
Interview with
Mr. Holden Tambunan
Director
Do you feel that Indonesia is developing positively these days? How about the ports and the infrastructure?
Starting with the new president Mr. Jokowi all of the infrastructure is more active and many new ports in all locations will be built. In Sumatra the port location is Kuala Tanjung (the biggest one) and most likely it will be developed into a major transshipment hub for other places in Sumatra in the future.
Profile of a Shipping & Logistics Person
Interview with
Mr. Etienne Vassallo
A Maltese Expert in Libya & North Africa
Tell us about when you first visited Libya.
My first visit to Libya was in early 2005. Initially it was a culture shock. Work traditions and social backgrounds are quite different from those in the western world. As time passed I began to better understand the way of life, and I started to adapt accordingly. With each passing work hitch, I could look back and appreciate what was achieved in such difficult circumstances.

Spliethoff Further Extends Its Medliner Service To Sagunto, Spain
Following the extension of the Medliner service into Veracruz, Spliethoff further adds to the range by including the port of Sagunto in Spain. Medliner, Spliethoff's regular liner service from the Mediterranean to the America's, can build on more than three years of experience. (courtesy of Weco's agent in Spain – Weco Maritima). Read more…
BBC Chartering launches "BBC Euro-Gulf Express Line"
Following the extension of BBC's westbound capacity with BBC's Med-America Service, BBC Chartering now adds a regular "apac service" departing every fortnight from the Continent to the US-Gulf starting mid-June. Read more…
Oil & Gas
Impress ethanol plant $36.7 million expansion in Thailand
In Thailand, the second phase of Malaysia's KNM Group's ethanol plant, expanding the Impress facility to 500,000 liters per day from the current 200,000 liters per day from cassava, is expected to provide the company with long-term recurring income. The $36.7 million expansion project should take 18 months to complete. Read more…
Pulp & Paper
Insee Aggregates selects Metso to supply a complete aggregate processing plant for their Suphanburi Quarry in Thailand
The delivery covers all the advanced crushing and screening equipment, full electrical plant design, automation software and hardware, as well as related services and sustainable optimization. Read more…
Construction
LuLu Group to invest US$ 1 bn on four mega projects in Sri Lanka
The UAE based retail giant LuLu Group has pledged to invest US$ one billion in Sri Lanka for four mega projects within the next two years. The company also set up Y.A.S. Lanka Pvt. Ltd., a Board of Investment (BOI) company at the Export Processing Zone at Katunayake recently. Read more…
Renewables
Argentina's Rio Negro, Powerchina team up on wind development
The pact is aimed at presenting one or more wind projects of between 100 MW and 150 MW in the Argentine government's next renewable energy tender, RenovAr 2. Read more…
Cement
CTIEC To Build Gezhouba Shieli Cement's Plant In Kyzylorda, Kazakhstan
Kazakhstan: after last week Gezhouba Shieli Cement Company announced its plant in Shieli district, Kyzylorda region, will be put into operation in 4Q18, it has now been revealed the contract was awarded to China Triumph International Engineering Co. Ltd. (CTIEC). Read more…
Machinery
Ursviken wins new order for a 640 ton press brake to the USA
Ursviken Technology has been awarded an order from Kuhn North America Inc. located in Brodhead, Wisconsin. The order consist of an Optima 640 ton 7.2/6.2 meter. Read more…
Magni signs up Maruka in Japan
Maruka Machinery has become the exclusive distributor for Magni TH products throughout Japan. Read more…

Modern Freight Company LLC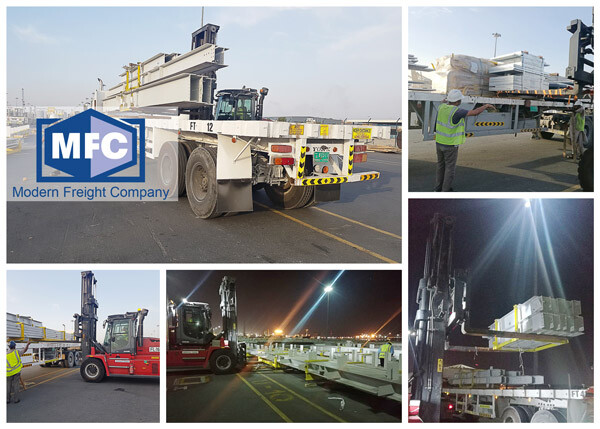 MFC has completed phase 1 of the Hassyan Clean Coal Project. The cargo has cleared customs and 4200 CBM/1800 tons of steel structures from Jebel Ali port have been delivered to the Hassyan Energy Project site in Dubai.
Modern Freight Company LLC
http://www.mfc.ae/

Discharging operations at Callao Container Terminal Peru


"The only place success comes before work is in the dictionary."
– Vince Lombardi –