Mr. Kostas Kritikos
COO
First of all Kostas tell us about the name Delpa does it have a special meaning? When was the company established and who owns it?
First of all I would like to thank you for this opportunity to present our company to the readers of the nice electronic bulletin "Project Cargo Weekly".
I will try, in a few worlds, to let you know the most important points of our long history which is almost one hundred years long now.
The meaning of DEL. P.A. comes from the words "DELtio" (bulletin) of "Panos Athanasiades".
DELPA was established in November of 1920, by the late Panos Athanassiades, a pioneer in the development of sea and land transport. He was also the founder and publisher of the first shipping and economical bulletin in Greece which later developed into one of the most important financial newspapers in Greece: "Naftemporiki" (www.naftemporiki.gr).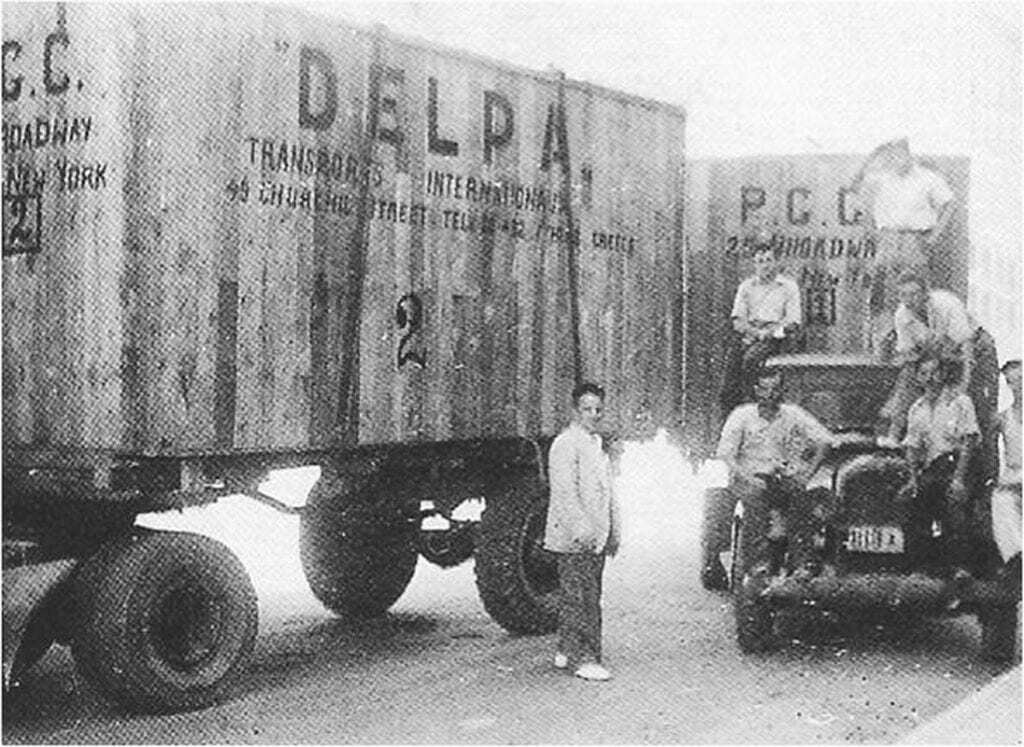 It was in 1936 when DELPA started to deal directly with shipping business. In this year DELPA purchased the first motor ships in Greece which were named: "DELPA I", "DELPA II" and "DELPA III".
In the beginning of 1950s the late Marios Sofianos, nephew of the founder, joined the DELPA group.
During the same period and until the end of the 60's DELPA's activities included:
Started to act as agents of various shipping lines
Carried cargoes from the Far East, U.S.A. and Europe
Acted as the general representatives / agents in Greece of the maritime business of the Onassis shipping group, for which, DELPA is still acting as general agents
Involved in freight forwarding and haulages and became one of the founding members of greek forwarders' association (now called IFFAG&L)
Expanded it's area of business into ownership and management of vessels
After several years at the founder's side, Marios Sofianos took over the helm of the group. In that period from 1970 to 1980 DELPA established several affiliated companies dealing with ship's management, real estate development, international transports and freight forwarding
At that time, George Sofianos and Despina (Deppy) Sofianou son and daughter of the late Marios Sofianos started to become more active in the business of DELPA and finally at the end of 80's undertook the management of the group
George and Deppy Sofianos are still the owners of DELPA.
What are the main activities of your company today?
Starting from the sector which has the most interest for your readers, I can give you the following points:
Project cargo handling from A to Z (it doesn't matter if we only need to get involved into "A", "Z", "A to G", or just "Z"):
Project cargo transport study
Heavy lifting
Heavy & OOG haulage
Ship-broking MPP / Heavy lift / RoRo / General cargo / and several specialized ships
Ship agency
Loading / Discharging coordination and attendance
Supercargo and Marine surveyor services
Sea-fastening services
OOG / Heavy cargo handling by special means of container and RoRo liner ships
Seafreight Services:
LCL and FCL shipments from / to Greece / Worldwide
Our specialty is freight to/from the Americas
Delpa is acting as booking, receiving and delivery agents in Greece for one of the biggest NVOCC globally – Vanguard Logistics
Running a weekly LCL service from to the U.S., Canada and Latin America countries
An LCL service from / to Middle East, India, Far East and Oceania
Other Services:
Airfreight from / to Worldwide
Ship Agency services in all greek ports
Dry cargo chartering worldwide
Parceling of general cargo from Adriatic Sea to several greek ports
Road-freight services
3PL services
Are you focusing mainly on business in Greece or do you also handle international assignments such as cross trade, for example between countries not physically involving Greece?
It is for sure our main goal to remain well-established within the local market, but I cannot say it is our primary one.
I believe it is not that wise in terms of long-term sustainability and development of a company doing business in a small market like Greece (especially during such a difficult economical period) to be based on a limited "trading area".
It is far more promising and reduces risk when seeking opportunities to spread out to wider area, e.g. abroad. This can be achieved is several manners, one of which is cross trading.
In terms of turn-key solutions and / or simple freight forwarding needs, I am proud to say that Delpa has been involved in cross trading shipments since the 1950s. Initially carrying several products from Greece and other countries to West Africa for account of a big Trading group, by several means.
We are still involved in such business, acting as agents of several trading, industrial, construction engineering companies and (of course) on behalf of our good agents worldwide.
In terms of projects and freight forwarding, we are handling such assignments from / to:
The Black Sea to West Africa
North America to Middle East and PG
European countries, apart from Greece, to several destinations worldwide
North / Latin America and the Far East to the Balkans
And much more, according to each of our project needs
In our business, there are no geographical limits. I could say that our outward-looking policy creates the most appropriate and safe ground to base the development of our company, always with "boldness and prudence"; words, which the late Mr. Marios Sofianos used to say and which continue to inspire me.
Greece has a rich history, beautiful islands and more recently a tight economic situation. How is the situation today in Greece for shipping in your line of business and for regular people?
The word "Greece" or "Hellas" (which is the real name of our country) is physically connected to the world's history. The Greek heritage imparted human beings with important contributions in philosophy, science, arts and civilization in general.
The geographical position, the morphology of the territory of Greece as well as the climate played an important role in the birth and development of the conditions, through which, this heritage was created.
As for the tight economic situation, if you just look back in history there where periods of great prosperity and poverty for most countries all over the world. This is not our best season. Not only for Greeks, but also for Europe and the Global economy as well.
Basically the last 30 years was a period of economic inwardness, without a policy of development. Several other factors affected the economy of our country but, if we look internally we can easily understand the reasons and the political mistakes that have resulted in this situation. Several steps have been made in recent years and we can say that the situation has started to become more stable now.
Shipping business, as long as they are connected to the domestic market, are following the factors of a national economy. However, Greece and Greek's involvement in the shipping industry goes far beyond the internal and always remains on top.
It is unfortunate that unemployment (which is currently at it's highest level) since the beginning of this financial crisis in late 2008 led many young people and families to seek jobs and career opportunities abroad. However, it has been recorded that in the last period this phenomenon has reduced significantly.
The main reasons are:
The situation abroad is not the best
The situation in Greece is still difficult, but is becoming more stable day by day
The private sector is turning to outward-looking policies, research of foreign markets and seeking opportunities to promote manufactured and intangible products, directly or indirectly.
As long as the government policies can support such efforts and simultaneously establish a fair and attractive environment for investments, situations can change. And the situation has started to change.
And to stay a bit in the "politics", how to handle shipments to/from Cyprus? Which ports are preferred and are you able to handle shipments to/from Cyprus?
It is mainly Attica ports, Piraeus and Lavrio, which have almost daily correspondence with Limassol port with containerized and RoRo shipments.
Thessaloniki has a very good containerized service to/from Limassol port as well.
Apart from the liners there are also some tramp liner services with general cargo vessels which connect several Greek ports with Limassol and Larnaca port as well.
Several means are available, giving us the advantage of being able to arrange "tailor made" solutions of transport to/from Cyprus.
With the location of Greece would it also be feasible to handle project cargoes into Albania via Greece? Has it been done before?
Greece, being in this strategic geographical location, is the physical gateway of Europe for all cargoes coming from the Middle and Far East, india and North-Eastern Africa.
In addition to the above, as for the Eastern European countries and the North-West Asia, the rest of Africa and America can be included.
It is for sure in our scope of business to serve cargo going to or coming from Albania and all the Balkans, mainly via Thessaloniki and Piraeus port but there are also some great transshipment possibilities.
Project cargoes which can either arrive by liner utilized means of container and RoRo systems and / or project cargo ships in greek ports, can easily be transshipped onto several other means and forwarded to final destinations.
Piraeus port has established a daily rail service to the Balkans with block trains departing directly from Piraeus Container Terminal.
Piraeus port, having the biggest RoRo terminal in the Mediterranean Sea can accept (apart from rolling cargoes) static OOG cargoes onto roll-trailers (mafis).
Piraeus port is a hub port for some of the biggest container lines, as well as Thessaloniki port, both accept OOG and heavy cargoes onto containers or container ships as break bulk.
Thessaloniki port, which is the closest port to the south Balkan countries, has rail connection as well.
For instance, if we have cargoes coming from the Far East (OOG and heavy lifts) with destination the Black Sea, the Azov Sea and the river ports in the area, we can effectively arrange transshipment onto river-going ships within the port terminals.
We have done shipments like this, apart from transshipments to/from Albania and other Balkan countries such as FYROM and Bulgaria.
Recently, we have started discussions with the commercial and strategic marketing management departments of Piraeus port on these opportunities. Piraeus port management, shows great interest to support these services and invest further in infrastructure.
Are you currently member of any international networks or shipping organisations?
We are members of:
BIMCO
CLC Projects
FNC Group
IFFAG&L which is official member of FIATA
Tell us about yourself Kostas. What made you choose a career in shipping?
I can say it was my destiny…
Being a member of a mariners' family, coming from the sea side of Crete and Peloponnese and living all my life in Piraeus area, I have always been attracted to the sea.
In my teenage years, just to get some experience of life, during summer break I decided to join the crew of 3 ferry boats serving the greek islands and worked as an assistant steward.
After that, I studied data communication and telecommunications. Despite working for a big telecommunication group, when the chance presented itself I turned the helm 180 degrees and started my "passage" into the shipping sector. This "passage" started from scratch almost 20 years ago and has become more and more interesting by the day. This is the main reason I am happy with my choice, and especially to have joined the DELPA "crew".
I'm sure some of our readers would like to know which islands in Greece are not spoilt by tourism? Can you recommend a few to visit?
There are many options. Hereunder you can find some more "isolated" greek islands:
Sikinos island, in Cyclades
Donossa and Koufonisia islands, in Cyclades close to Naxos island
Kythira island, south of Peleponnese
Paxoi island, in the Ionian sea close to Corfu island
Thassos and Samothraki island, in northern Aegan sea
Leros island in Dodecanese and Lipsi island south of Samos and to the north of Leros
Karpathos and Kastelorizo island in Dodecanese
And finally
Ithaca!
The homeland of Odysseus. Full of smells coming from herbs and trees…
When someones visits Ithaca once, he will desire to return back, like Odysseus..
It was not by luck that the famous greek poet Constantine P. Cavafy was inspired from Odysseus' journey and wrote one of his great poems called "Ithaca" which can be found here:

https://www.youtube.com/watch?v=1n3n2Ox4Yfk
Thank you, your readers, and wishing you all to find your "Ithaca", or your "journey" to your "Ithaca"…
---
Interviewee:

Kostas Kritikos
Chief Operating Officer
kostas.kritikos@delpa.gr
DELPA Shipping & Transport Co. Ltd
http://www.delpa.gr