Mr. Martin Voetmann
Core Management Team, Commercial
First of all Mr. Voetmann, it is not every day we have an interview with someone located in a port in the Caspian Sea.  Therefore would you kindly tell our readers a bit about your background, experience in shipping and how you ended up in Kazakhstan and Aktau?
I started my career in shipping with "Seatainers" a 3PL Freight Forwarder (now bought by DSV) in Denmark. Later I moved to the Liner business group  working for MSC in Denmark. During my 10 years of tenure with MSC, I also headed their operations in Almaty, Kazakhstan.
Before moving to Port of Aktau I worked with "Kazkommertsbank" (Kazkom), Kazakhstan's largest bank, managing their logistics portfolio. After a time with "Kazkom" I joined Far Eastern Shipping Company (FESCO) to head their office in Kazakhstan, and played a critical role in expanding their footprint in Kazakhstan.
Currently I am associated with DP World, a leading enabler of global trade and heading commercial as a part of the Core Management Team in Port of Aktau.
DP World imparts necessary technical and management assistance to Port of Aktau, thus offering best practices, world class services and enhanced efficiency.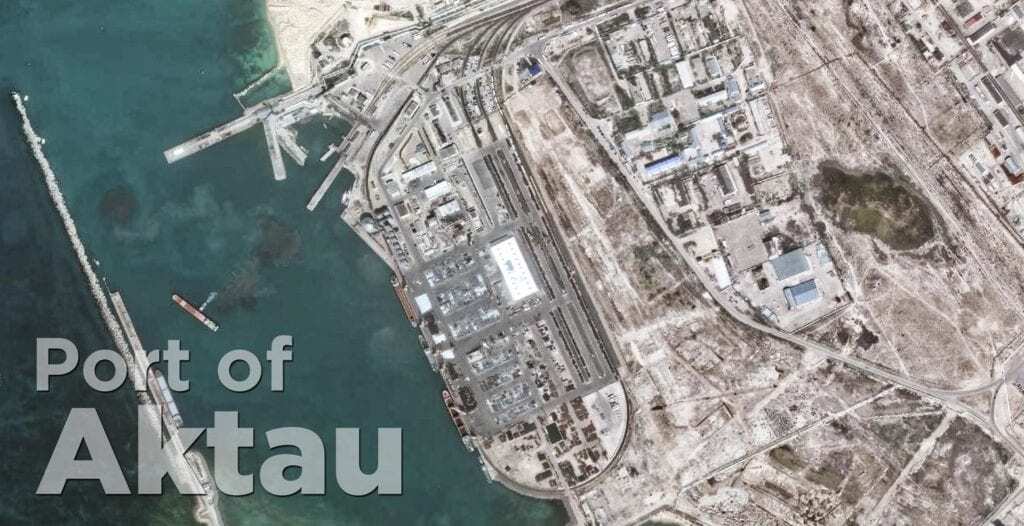 How does one transport containers to & from the Caspian Sea as the sea is "landlocked".  Kindly explain to our readers about the ways and means one can reach Aktau.
The port business at the Caspian Sea is complex as the sea is landlocked. It requires unique business skill sets to provide competitive advantage to our customers. Our clients not only require tariff rates for handling cargo at the port but also look for guidance and consultation from us on best / optimal routes available apart from scouting for vessel providers and other service providers who can support them in handling their cargo.
Primarily there are three main "corridors" through which cargo can be transported. The largest "trade lane" for Port of Aktau is to and from Iran, where the ports of loading are Bandar Abbas, Anzali, Amirabad, Noushahr and some other smaller ports on the Iranian side of the Caspian.
In addition to local import/export, transit cargo from UAE, East Africa, India, Pakistan and South East Asia can be moved to Bandar Abbas, then via road or rail to any of the Caspian ports in Iran and thereafter, by vessel to Aktau. This cargo route may sound complex, but when compared to the cargo crossing China and Russia, it is still cost efficient and consumes less time. On this corridor we can also deliver Out of Gauge and oversized cargo that otherwise can be difficult to transport to Kazakhstan via Russia or China.
In addition to the general cargo vessels, Port of Aktau also handles regular roll on / roll off and lift on / lift off ferry vessels / cargo, between Baku and Aktau that can be chartered from any direction, and can be used for smaller cargo also.
There is a connection from Port of Aktau via Baku to Poti, Georgia that is also being used in a similar way as Bandar Abbas Port to Central Asia.
The third option is directly to Port of Aktau via the Volga-Don river system. From the Mediterranean Sea via Black Sea into Azov Sea and then via the Volga. There are some draft limitations making it a requirement to use smaller river-sea vessels, however, they are readily available hence pose no issues.
Compared to Volga Don the other route via Poti – Baku – Aktau and via Bandar Abbas – Aktau, is seasonal as it freezes and is not navigational from approximately mid-October to March.
What is your yearly TEU throughput in Aktau and where does the traffic generally originate. In other words what countries are the biggest trading partners with Aktau?
The biggest trading partner is by far Iran where we have as many as 3 vessels per day discharging / loading non-containerized cargo. Second is the oil segment where Port of Aktau is a strategic port for Kazakhstan to deliver crude oil globally.
By ferry we see large volumes coming from Turkey and Ukraine and for "oversized cargo" or "heavy lift" cargo it can come from any part of the world.
Additionally, we are also working on increasing vessel services, ferry services and break bulk cargo to be handled by the port.
Could you tell us a bit about the port of Aktau in general?
The port consists of 6 dedicated Oil Berths, 3 General Cargo Berths, 1 Grain terminal and 1 ferry terminal. There are 6 oil loading piers with a storage capacity of 12 million tons. The three general cargo or dry bulk terminals has a storage capacity of 2.5 million tons  with a warehousing capacity of 80,000 m2 open space. And 2000 m2 roofed warehouse.
The terminal has 11 silos for temporary storage of grain totaling 22.5 thousand tons and the production capacity for handling up to 350 tons of grain per hour. The port is ice free and we have year round navigation, equipped with active ventilation, high-precision electronic scales and automated management of the entire process cycle, giving the port an ability to provide high quality services.
The port has railway ferries and RoRo ships which transport oil products, consumer goods, grain and fertilizers, covering 253 marine miles for 18-20 hours. Apart from this, the Port also has 3 auxiliary fleets of service ships.
We have identified developing container routes as one of the segments that will allow the port to grow over the coming years. With the support and assistance of DP World, we have been able to bring value to Port of Aktau in implementing international best practices for Port Management in Safety, Commercial, Engineering, Human Resources and Operations. We also have a focus on local staff development through various trainings conducted to enhance leadership, personal and management skills in handling day to day functions. DP World is also assisting Port of Aktau in improving the standard processes and procedures by conducting business reviews in several functions such as asset management and risk and inventory management to name a few.
What kind of crane capacity do you have available in the port?  Are there floating cranes available too?
We have 6 quay cranes with a capacity varying between 10 – 40 tons each, in addition we have mobile cranes up to 80 tons capacity, fork lift trucks with a load carrying ability of 1.5 – 2.8 tons, bucket lift trucks having load carrying ability of up to 3 tons.
Apart from this, we also have 5 marine tractors of 32 tons load carrying ability and 8 semi-trailers. We have a loader – digger with an operational weight of 9 tons.
We are working on a project with our partner to increase the port's lifting capacity to around 700-750 tons by placing a large mobile crane permanently in the port. This will allow us to attract a larger segment of heavy lift cargo handling capacity in Port of Aktau.
The port is strategically located and well connected to trade lanes going into Central Asia, so we aim to serve not only Kazakhstan but also Uzbekistan, Kyrgyzstan and even parts of Russia with increased lifting capacity.
Do you have connections to other ports in the Caspian Sea from Aktau?
There are 5 countries bordering the Caspian Sea, namely Kazakhstan, Turkmenistan, Russia, Azerbaijan and Iran, and we have connections to all the ports in the Caspian. Regular connections are available with Iranian ports on the Caspian and by ferry to Baku for vessels with lighter loads. For Russia and Turkmenistan the preferred mode of cargo transportation is by rail or road as Kazakhstan shares borders with these neighboring countries. Furthermore, through the Volga-Don river system we have access to the Mediterranean Sea directly.
As you know China's president has launched the idea of reviving the old Silk Road, is the port of Aktau included in this route?
Yes, in fact, DP World is assisting and proud to be working with the Government of Kazakhstan to build  one of the largest transport and logistics hubs in the region. Port of Aktau is definitely included and plays a vital role in One Belt One Road or Silk Road.
The railways involved for the route coming across the Caspian have formed an association called Trans Caspian International Transport Route (TITR), of which Port Aktau is also a member. The aim of the TITR is to develop the transport corridor across the Caspian (i.e. Aktau-Baku) to generate cargo flows and thereby freight revenues for the national railways. The railways have already agreed to offer extensive discounts for cargo moving via this corridor and no doubt we will see increasing volumes.
Specifically from the Silk Road or One Belt One Road, it is expected that the container volume crossing the Caspian via Aktau will reach as much as 300,000 TEU by 2020, which we are ready to handle with our superior and world class infrastructure.
Tell us about your development plans in the port of Aktau.
We have several projects running at the moment, one is for the OOG and heavy cargo where we will increase the lifting capacity in the port, another is developing the container shipping in the Caspian in general where we are currently discussing with two major shipping lines to start a liner service between Aktau and Baku which complements the initiatives of the TITR and creates synergies between Port, Railway and shipping line, connecting Port Aktau to the global markets.
I am sure with the expertise of a renowned global leader DP World and the assistance which they offer in developing Port of Aktau through their best industry practices and standards for Port management, Port of Aktau is poised to become a prominent terminal on the Caspian Sea offering world class infrastructure and services.
Tell us whom to contact in case any of our readers would like to know more or would like a quotation for a project.
Martin Voetmann
Core Management Team, Commercial – DP World / Port of Aktau
E-mail:  Voetmann_m@portaktau.kz  or martin.voetmann@dpworld.com
Phone: +7 701 9485570 or +7 7292 544549
Website: http://www.portaktau.kz/