Mr. Peter Fletcher
Director
Tell us about the name Osprey. Where does it come from and what is the reason for settling on that name for your company? Who owns the company today?
I own the company with my brother Nigel. Our father established Osprey Shipping Limited in 1995.
The name of the company is associated with our mother's favourite bird of prey. Thankfully the Osprey population is increasing and is not as endangered as it used to be.
What are the main activities of your company in heavy-lift shipping?
Osprey is not a project freight forwarder. We have concentrated on owning assets such as vessels & offshore barges, and have our own in-house engineering team to support our clients.
We now have our own cable carousel, with a capacity of 5500 tonnes in cargo weight (see photo below), for the marine transport & storage of array electricity cables for offshore wind farms, and high voltage submarine electricity cables. Installed onto one of our barges, we have a very cost effective method of transporting cable all over the world.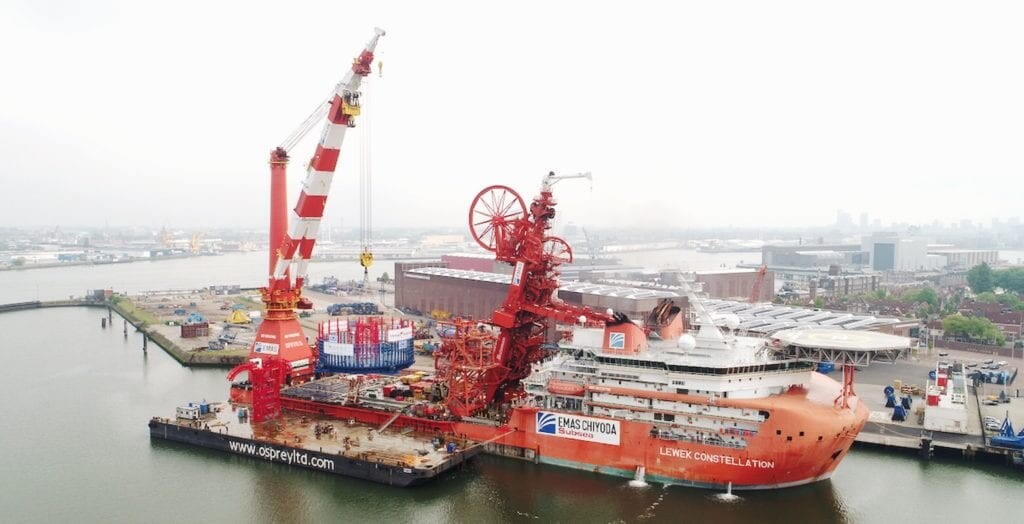 It would be interesting to know a bit about some of the projects that you have handled. Please elaborate.
Over the last several years we have mainly been employed on Oil & Gas projects and offshore wind farms. See the following photo examples of projects we have handled.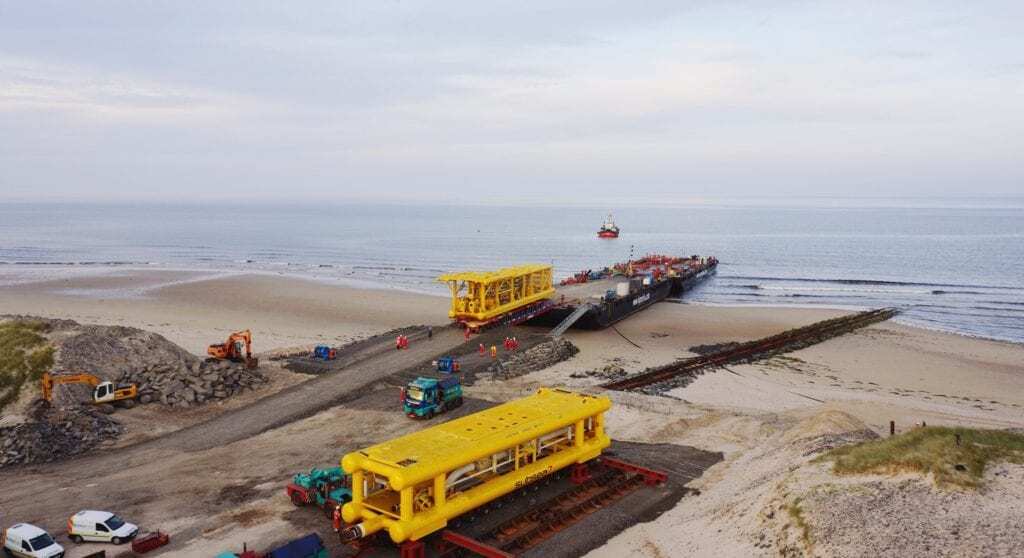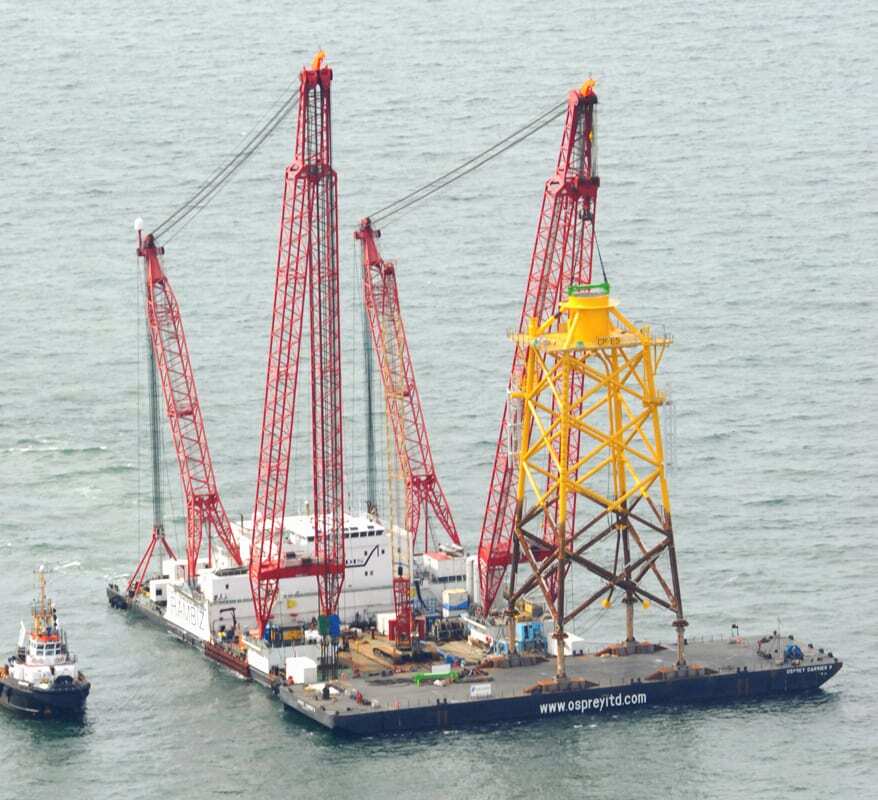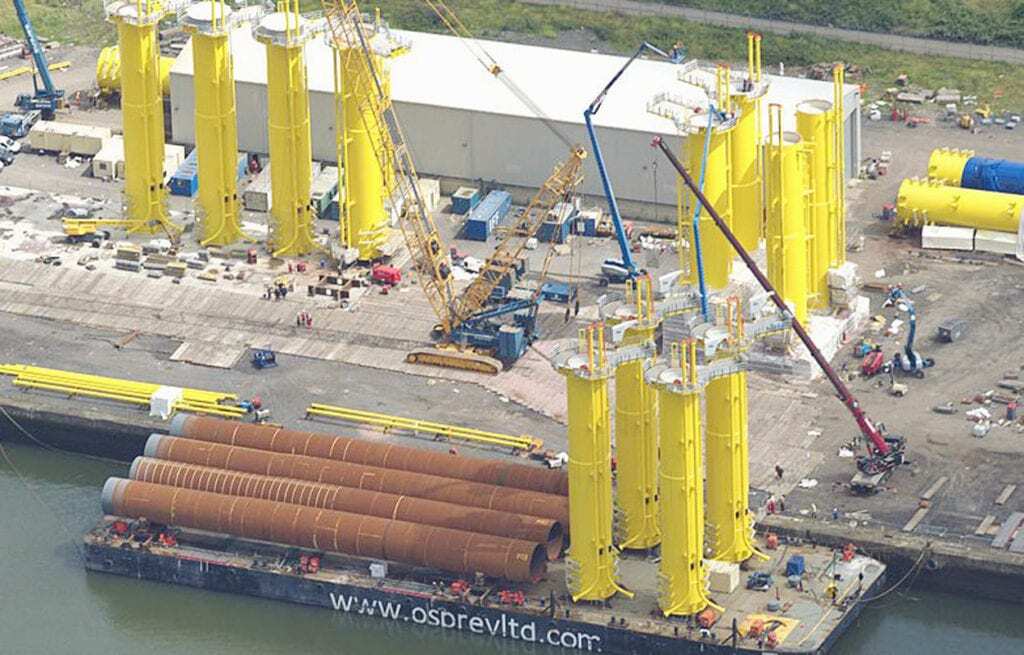 I believe you are also regional shipowners which could be interesting for cargo-owners and project freight forwarders. Tell us about the tonnage that you employ.
We own gearless vessels up to 3700 DWAT that can sail with their hatches open so that over height (tall) cargoes can be shipped. They operate in a 'pool' so there are 12 off-identical sisters.
We have a variety of offshore / project barge sizes, please see our website for the details. http://www.ospreyltd.com/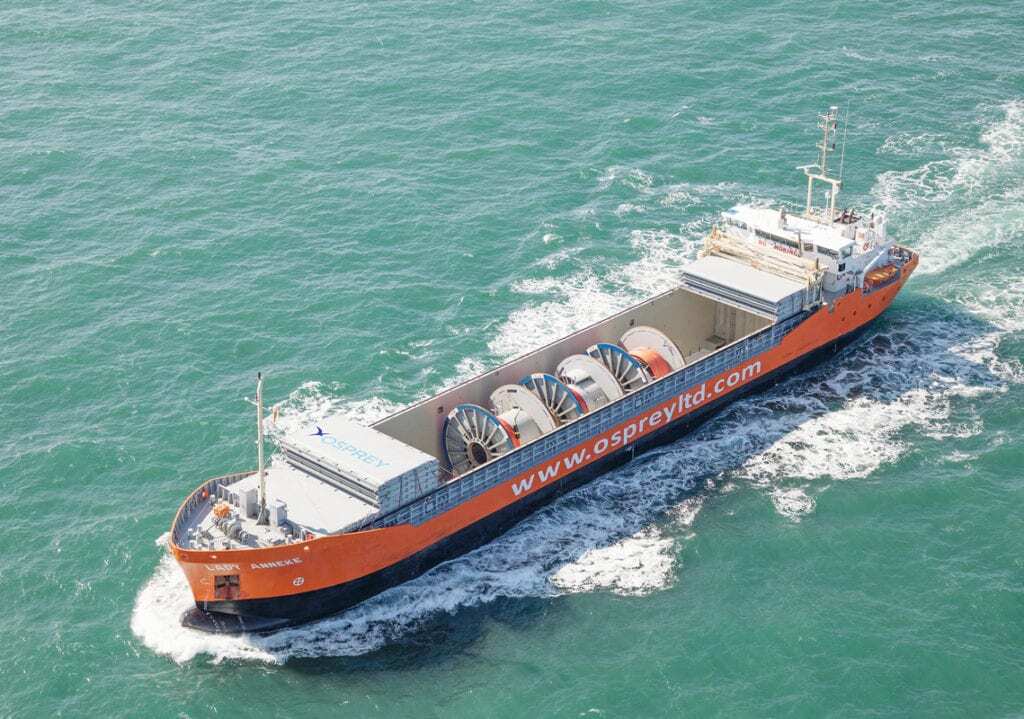 [Pictured:] Lady Anneke's maiden open top voyage. Running with her hatches open passing through the Dover Strait with cargo for BP heading for Invergordon, Scotland. We own the Lady Menna & Lady Mathilde. We have a partnership with Wijnne Barends to work on project cargoes / heavy lifts for the Ladies Anneke, Astrid, Anna, Alexandra & Amalia which all have the capability to run with the hatches open. Anneke was built in 2012, but her conversion to run with hatches open was only completed a couple of months ago. Hence why her first open top job was so recent.
What are your main trading areas? Would you consider Osprey Shipping a regional or a global shipowner?
The vessels trade North Europe & the Mediterranean, and the barges go anywhere.
Our barges are based in Rotterdam & Malta (starting October 2017). Barges have worked in North Europe, the Mediterranean, West Africa, and Brazil. The barges are classed for worldwide work.
I have also noticed from your excellent website http://www.ospreyltd.com/ that you provide inland and door delivery. Can you tell us a bit more? Are your customers mainly shippers direct, project freight forwarders or both?
You are referring to our sister company Osprey Heavy Lift. They own mobile strut cranes with lift capacity of up to 750 metric tons, as well as mobile telescopic cranes with  lift capacity up to 1000 metric tons.
They also own a large fleet of project trailers, such as SPMTs, extendable & low loader trailers. Osprey Heavy Lift works for both project freight forwarders & shippers.
Tell us about yourself. How did you end up with a career in shipping?
I started my career as a mining engineer, working for Anglo American in South Africa & Mount Isa Mines in Australia. A mining engineer has to study mechanical, civil, and electrical engineering, so I had a good / broad education. Whilst I was on a spot of leave, my father asked for some assistance on a project cargo shipment he was working on for M. W. Kellogg and the rest, as they say, is history.
Who at Osprey Shipping should be contacted for inquiries?
Inquiries from new or old friends can be sent directly to me or to our COO John Furmston: john.furmston@ospreyltd.com
---
Interviewee:


Peter Fletcher
Director
pete.fletcher@ospreyltd.com
Osprey Shipping Limited
http://www.ospreyltd.com/