Mr. Farzad Saffarzadeh
Owner
First of all let me ask you about the current situation in Iran. There have been sanctions for some years but we understand that recently they were relaxed and that Iran is slowly opening up again. There seem to be more experts talking about your country outside Iran than inside. Could you as an insider tell us about the current business climate and specifically as it relates to the transport/logistics sector?
Thank you Bo, for this opportunity. After the last meeting of 5+1 countries most sanctions against Iran were lifted and only US sanctions still exist. We are very positive since the foreign trade statistics reports show considerable growth after the lifting of sanctions.
Consider that, during the last year (the first ten months), the foreign trade balance of Iran experienced a 5.08% increase in export value and 3.21% in import.
Moreover, despite the fact that our foreign trade with China, UAE, Korea and Turkey dropped down, the volume with European countries increased. For example, for the same period of last year, the increase of this balance with Germany was about 36.39% compared with the previous year.
Once trade increases we will also see increases in the transport/logistics industry. We also have an inherent advantage due to fantastic location of Iran in the Persian Gulf for connecting to CIS, Afghanistan and Iraq, as well as to the South Quafqas area and Russia.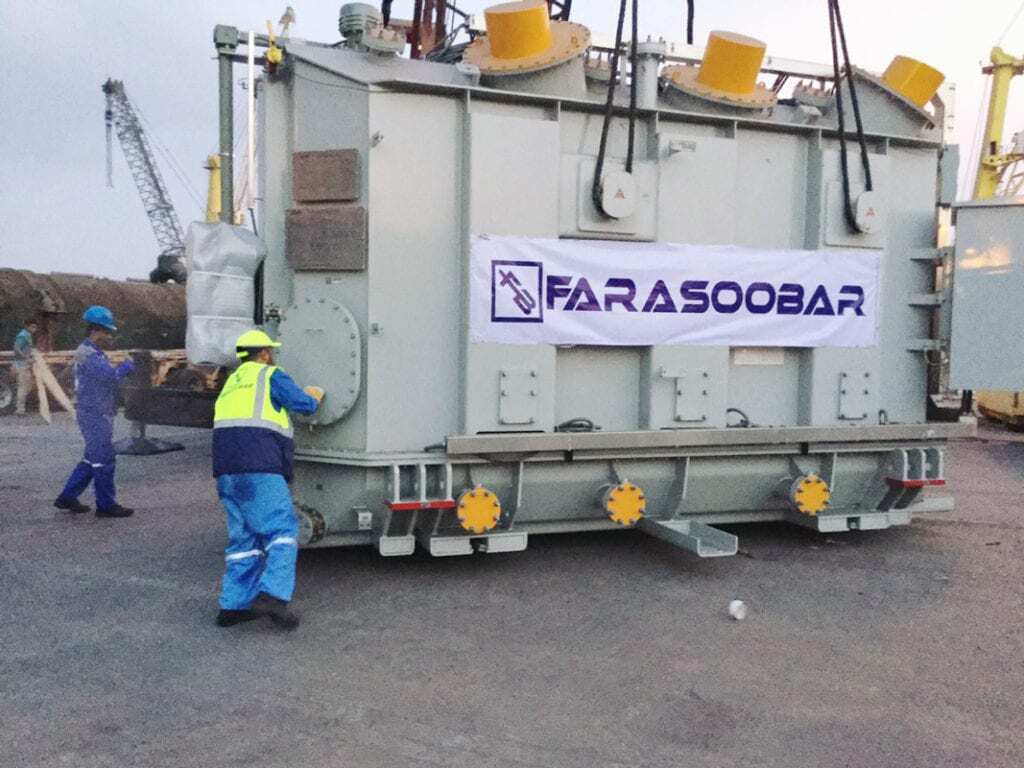 What is your professional background and why did you decide to establish a transportation and freight forwarding company?
I have BS in physics and a Masters degree in industrial engineering from Amir Kabir university. Actually I started freight forwarding with my elder brother who acquaint me with the alphabet of the business. From 2005 I organized my own setup under the Farasoobar Int'l Forwarder and Shipping Agency flag and have now been in this field for more than 28 years. I am also a trainer in the FIATA training school / Iran freight Forwarders Association Training Center. At the IRU academy training center in Iran chamber of commerce I am a DG trainer and instructor of CPC drivers.
At the beginning I never imagined that I could remain in this job, but gradually I discovered that it is very informative and motivating work, requiring understanding and knowledge in several different fields. Eventually I decided to start my own company in order to explore and show my counter parts how freight forwarders have a very important role in the industry in each country and that it's not a simple job of just selling freight.
Freight Forwarders can create markets and demand, facilitating the trade cycle all over the world.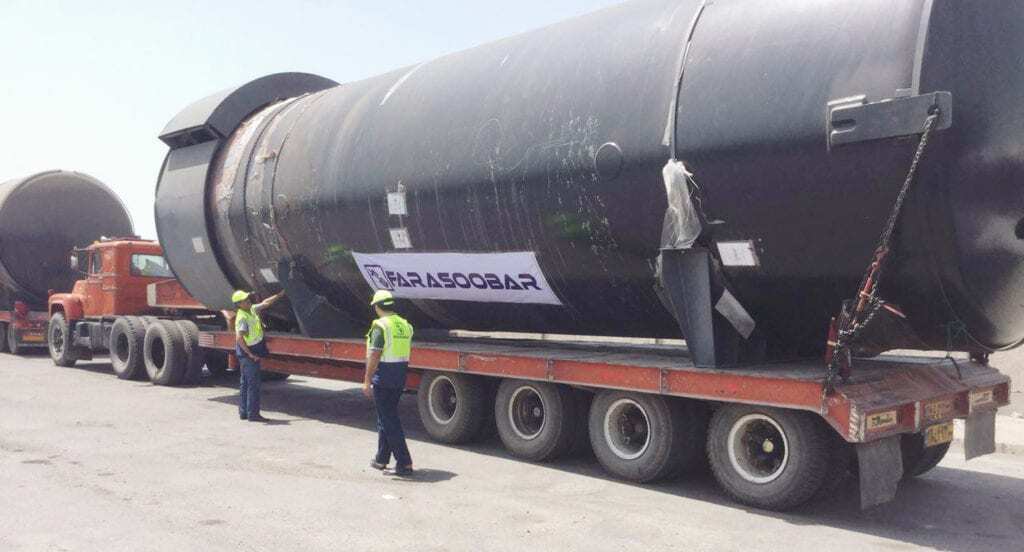 Iran has a very significant and important geographical position in the world, can you elaborate a bit about the links to/from and via Iran? What is possible practically at the moment? In other words what kind of ports are currently open for international traffic and what solutions via Iran for other destinations are currently feasible without problems?
Absolutely it is, my country has a wide expanse in the north of the Persian Gulf, with and area of 1,648,000 square kilometers (636,000 sq mi). We have about 670 km of costal border with the Caspian Sea in the north part of Iran, connecting the B. Anzali and Amirabad ports to Aktau, Turkimanbashi and Astarakhan. In the south of Iran we have 1,770 km connecting the Oman Sea and the Persian Gulf. The unique location of the country makes all modes of transportation (rail, road, air and sea) possible.
From the north we are neighbors with Turkminestan, Azerbaijan, Armenia and Nakhchivan, in the east with Afghansitan and Pakistan, in the west with Turkey and Iraq and in the south with U.A.E., Oman, Qatar, Bahrain and Kuwait. In the south of Iran there are several ports including B.Abbas (Shahid Rajeei and Shahid Bahonar ports), Bik (Mahshahr Port), Bushehr, Khoramshahr, Chabahr, Assaluyeh, and some others. I only mentioned internationally feasible ones. There are road links from these ports to all domestic destinations inside Iran as well as transit routes to further countries as stated above.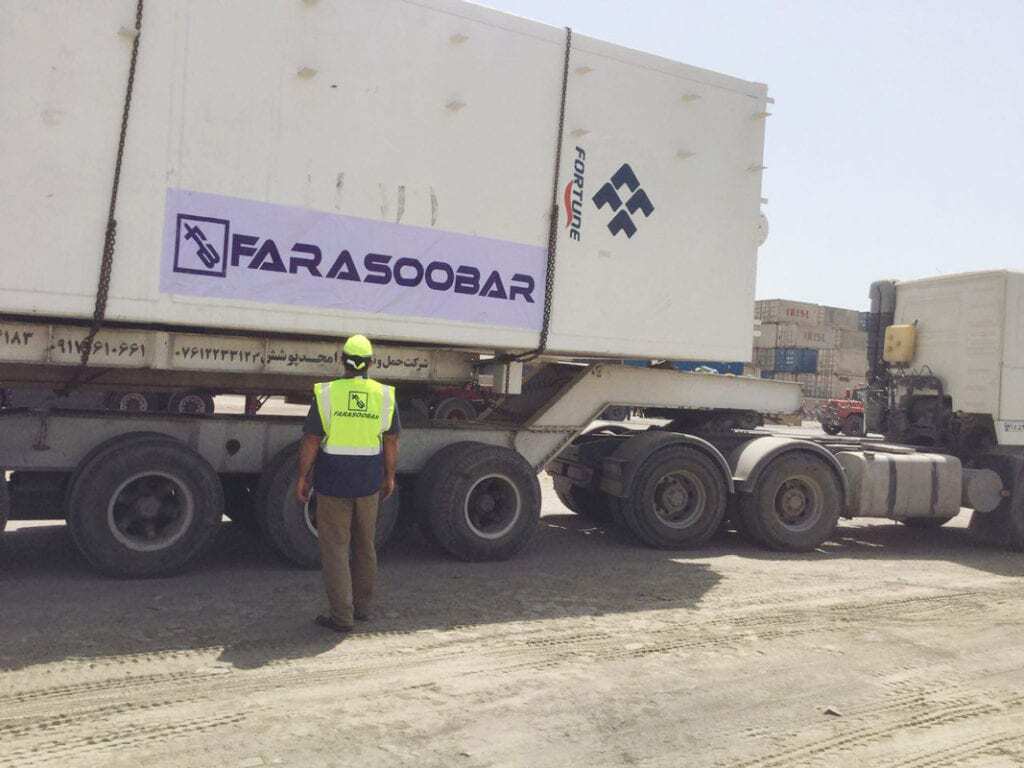 Several rail projects are in the pipeline to upgrade and complete the current railway network infrastructure. I am providing a map of rail connection for the ECO Region as well as the Middle East that I hope will be of interest. Currently we can send shipments by rail from B.Abbas to Kazakhstan, Uzbekistan, Tajikistan, Kyrgyzstan and Turkmenistan. There are also rail links up to Astara Iran and the Russia rail network is connected up to Astara Azerbaijan and hopefully in the near future the rail connection will be finished between Astara Iran and Azerbaijan.
The South Quafqkas rail connection is now possible up to Yerevan and liner containers can be sent from European ports up to Yerevan and then by truck to Iran. For this route only a pilot plan is being conducted and the authorities of the South Quafqkas rail organization and the Armenian government are very keen on this route to be more operative.
We also have rail links to Europe through Turkey's rail network via our western borders, this also can be connected to the CIS by changing wagons.
To gain a better understanding of Iran's route advantage I should offer and example. When we ship containers from B.Abbas to Baku the trucker should drive about 2270 km, out of which 1944 km are in Iran. The same advantage exists for other destinations. The other advantage is that we move containers by the same trailers all the way to their final destination and return empty containers back to B.Abbas. This safeguards the goods against multiple loading/unloading in transshipment.
All shipping documents, either domestic or international, can have liability insurance coverage through Iranian Insurers.
As per submitted statistical reports within April-May of 2017 about 1,440,000 tonnes of goods transited via 22 land borders and 10 costal borders, out of which 1,081,000 tonnes were general cargo and 357,000 tonnes were oil and oil related materials.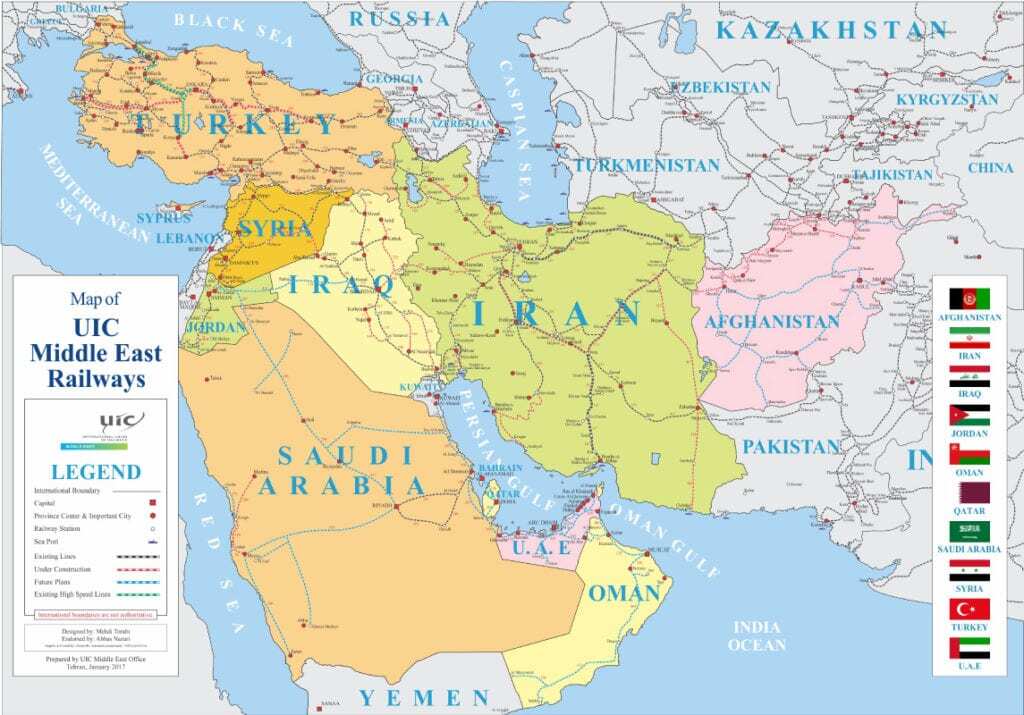 Is customs clearance in Iran normally done in the port for inland bound cargo or can it be done at the final destination, say Teheran?
Final customs clearing can be done either at the port of arrival or at any domestic inland destination as a bonded shipment, subject to the destination customs having the authority to accept the relevant goods.
I am providing you with a map with a list of final domestic destinations where cargo can be sent, we have a global guarantee contract with customs and can handle such bonded transit transportation.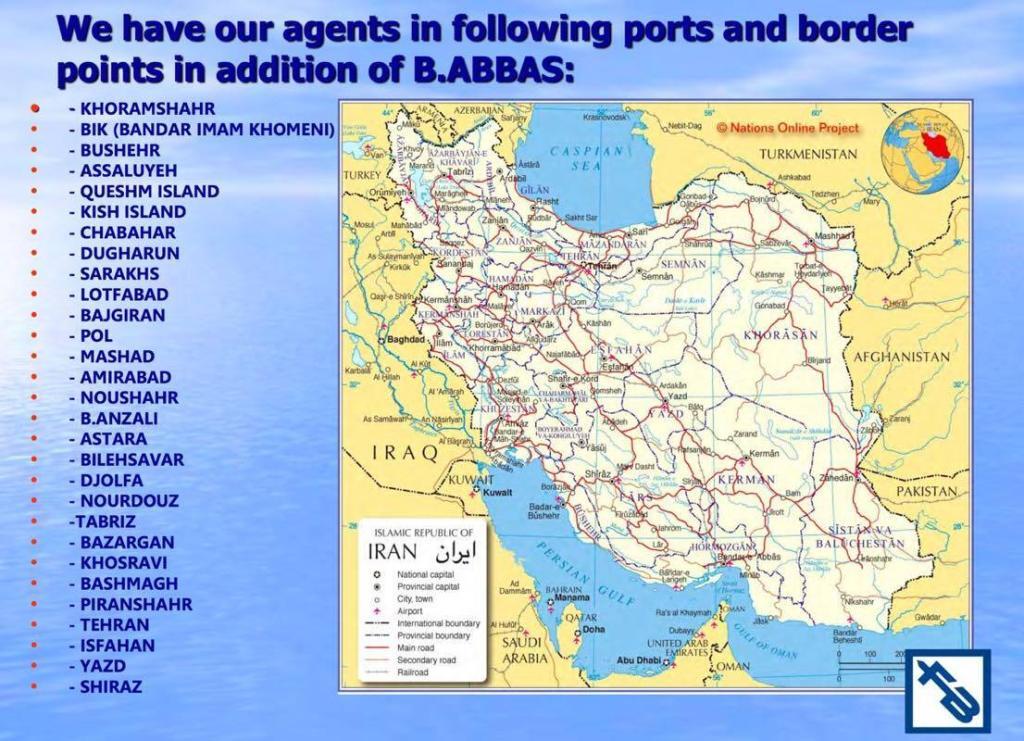 Where do you have your offices established? If you dont have your own presence physically at a certain port tell us how you control/monitor shipments.
Our head office is located in Tehran and we have our own office in B.Abbas, which is of great importance for us since most transit shipments arrive via this port. We also have agents in all of the listed destinations above, who can handle our requests and operations. Networking is of great importance to us, both for the development of our domestic network and our overseas network. Without a strong network of partners we could not handle and offer different services and operations.
Is the railway network in Iran well developed? I expect that Iran is part of the Chinese President's One Belt/Road policy of re-opening the old Silk Road, is that something that you can see happening in Iran as well? How is the relationship between China and Iran economically?
I should remind you that Iran was titled the Bridge of Victory (POL-E Piroozi) during the second world war. Through the Iranian railway network from the south port in Khoramshahr allied troops and equipment was sent to Russia. The Veresk bridge which connects the south railway to the Caspian Sea was moving reinforcement troops and goods to the Caspian sea and then by vessel to Russia. During the second world war Hitler requested Reza Shah to blow up all bridges and tunnels with the promise to reconstruct them after war, but Reza Shah did not accept to destroy such infrastructure.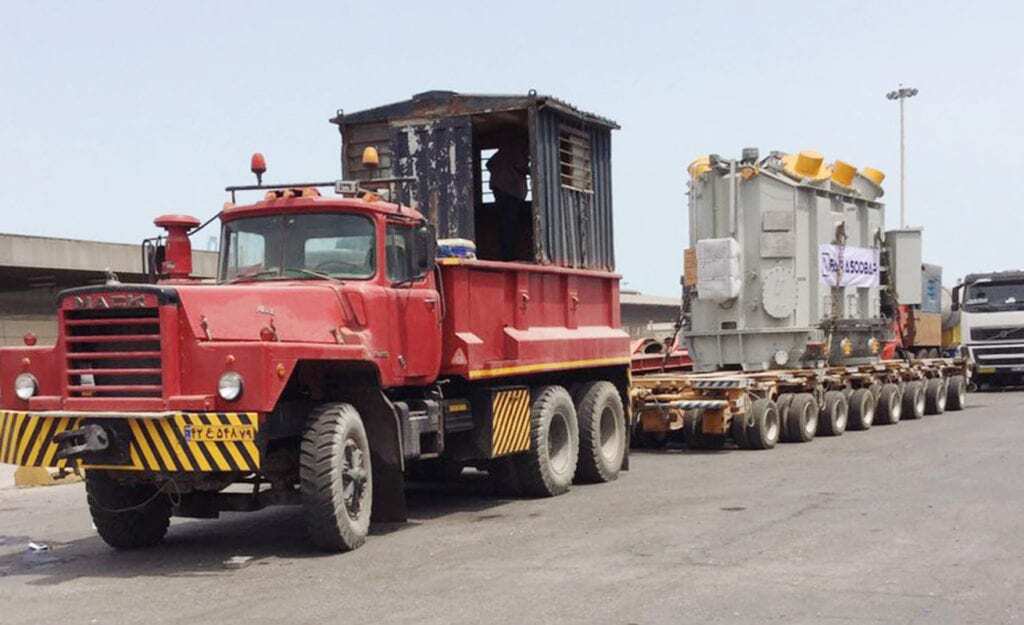 China and Iran have a very long historical relationship and this country is our major trade partner. Currently China plans to invest in rebuilding the old silk road via CIS, Iran, Russia to Europe and the new sea silk road for reaching the African continent. An investment of 900 billion dollars is expected, currently they have a big project in Pakistan for road constructions from China-Pakistan border to connect to Guader port, and some other projects in Armenia and Georgia. We are very hopeful to have a considerable share of this investments by offering transit and logistics services via Iran.
There is a sizable population of Iranians living overseas, in places Sweden for example where I live. We even have Iran Air flying in direct. Can you see that with the more open business environment Iranians from overseas are becoming more active with business in their home country?
Everybody likes the smell of money, it depends where you can earn it, it is the same story everywhere. We hope the economic conditions in Iran get better and encourage the overseas Iranians either to return to their home town or engage in business with Iran.
What is the language that you speak in Iran and how is the general command of English?
The official language of our country is Persian (Farsi), with about 132 dialects and Arabic speakers in Ahwaz County.
The new generation are very familiar with the English language, with modern inventions and technology it is an absolute must to have English language knowledge.
Could you provide us with some examples of project cargoes that you have handled recently in transit via Iran and/or to Iran itself?
Please see the following photos of some projects we have handled via Iran to CIS. The latest one consisted of two girders from B.Abbas to Baku.
Whom to contact in your company should any of our readers wish to get a quote from you or wish to get more information about you?
All the readers can contact us through the following e-mail addresses:
farzad@farasoobar.com
marina@farasoobar.com
For any inquiry they can also contact following e-mail add:
sales@farasoobar.com
---
Interviewee: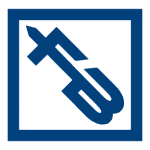 Farzad Saffarzadeh
Owner
farzad@farasoobar.com
Farasoobar Int'l Forwarder & Transport
http://www.farasoobar.com