Ms. Nikola Hagleitner
CEO – DHL Industrial Projects
DHL is a well-known brand in the world. Generally I believe most people also not in shipping know of the name DHL as a famous courier service company. Tell us about the name DHL, where does it originate from and who are the actual owners of the company today. Is the  industrial projects division a separate company in itself or is it part of DHL overall?
In 1969 – just a few months after Neil Armstrong's first step on the moon – Adrian Dalsey, Larry Hillblom and Robert Lynn founded in San Francisco the company DHL. The three letters "DHL" stand for the initials of their last names.
Their new business idea formed the cornerstone for a globally operating enterprise. At first, the company founders personally transported cargo documents from San Francisco to Honolulu by plane. This made it possible to begin customs processing of a ship's cargo before the actual arrival of the shipment, thereby significantly reducing waiting times in the harbor.
Customers saved a great deal of time as a result. The founding of DHL also represented the creation of a new sector of industry: international air express service – rapid transport of documents and cargo papers by plane.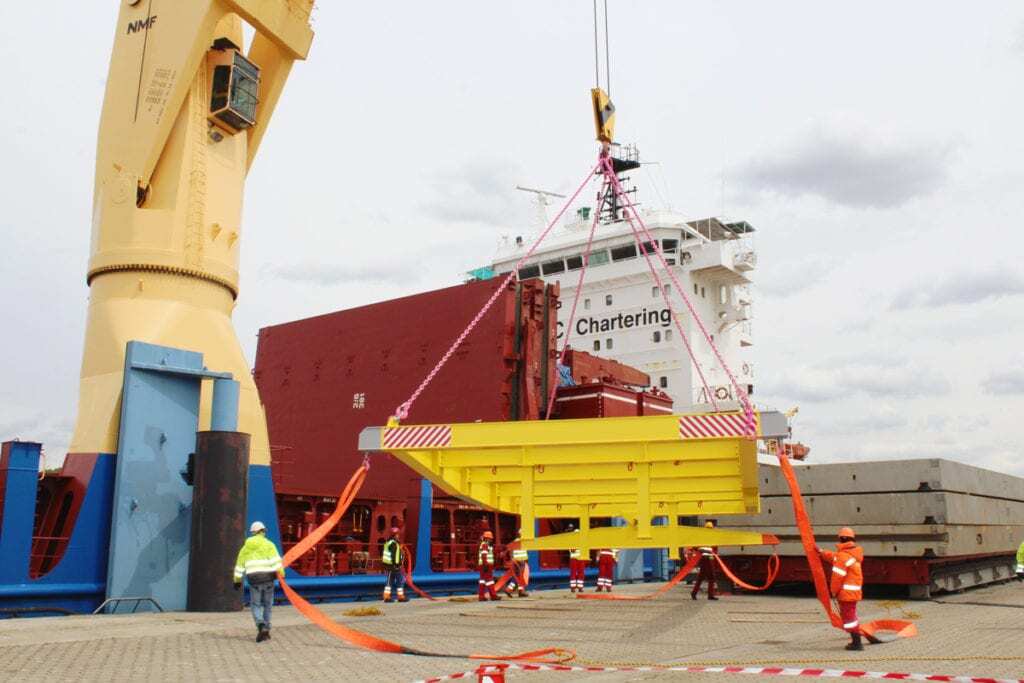 In 2002 DHL became a wholly owned subsidiary of Deutsche Post.
Deutsche Post DHL Group is the world's leading logistics and mail communications company. The principal company of the group is Deutsche Post AG, a listed corporation domiciled in Bonn. Each of the Group's four operating divisions – Post – eCommerce – Parcel; Express; Global Forwarding, Freight; and Supply Chain – is under the control of its own divisional headquarters.
DHL Industrial Projects is the heavy-weight cargo arm of DHL Global Forwarding, Freight, taking care of professional end to end project management of complex contracts, and therefore part of Deutsche Post DHL Group.
I recall some years ago when DHL took over Danzas. Was that takeover the real start to the projects division of DHL?
The acquisition of the Swiss logistics provider Danzas by Deutsche Post DHL Group was in 1999. During this time Danzas already had a small project department focusing on heavy lift cargo. But it took three or four more years before we set pace and started expanding the business. It was the combination of our big expertise in road, air and ocean transport as well as our global network which helped us to attract new customers and grow the business. Furthermore, our strong commitment towards Compliance and Health & Safety has helped to build up an excellent global reputation.
I understand that you are involved in some of the biggest projects in the world these days, including exporting aircraft parts from Europe to a country that already has its own aircraft production. Tell us about how such a project is managed and where you have specialists and staff located for such projects.
In 2013 we won our first Airbus project. We started our two-year implementation phase with around eight people on a local, regional and global level in Germany, UK and the US taking care of all necessary preparations. The whole supply chain had to be planned, including customs clearance and other value added services. As the first shipping date grew closer the number of involved people and departments increased constantly. A control tower located in Hamburg was installed so that a dedicated team could oversee and manage the whole multi-modal transportation process. Not to forget the colleagues providing support functions located in London. In 2015 we started to ship the first parts and airplane sets.
Since then we have shipped 80,000 tons of freight volume in total, including highly sensitive break-bulk goods with unit weights of thirty tons, with zero damage and zero non-excusable delays. On the 25th of August the 40th ship departed from Hamburg carrying large components for the single-aisle jetliner – including the front and aft fuselage sections, wings, vertical tail and horizontal tail.
Following these successful two years we have now extended our collaboration with Airbus. So, DHL Industrial Projects will move another 40 aircraft sets by sea and road from Finkenwerder near Hamburg, Germany to the Airbus assembly plant in Mobile, Alabama, USA.
Generally such projects are managed similarly, with our functional experts located all around the world, e.g. in our key hub offices in Dubai, Singapore, Houston and London, or the other ~50 country offices. If we move into a new territory or very remote area, we deploy specialists from our key offices to set up the operations and train staff locally.
Many freight forwarders today call themselves project freight forwarders. What distinguishes DHL in this regard and what makes you stronger in your view as opposed to other "big names" in the business?
At DHL Industrial Projects, we have the advantage of being part of a large group which means we have financial stability and can weather obstacles better. But on the other hand we are also nimble and agile, and have a lot of flexibility in our approach, just like smaller dedicated project forwarders – so we really have the best of two worlds. Other differentiators are our vast air and ocean freight network, which can support us with extremely competitive rates and good buying power in the market. But the key differentiator is our zero tolerance approach with regards to compliance, and our zero harm HSE culture.
Would smaller customers, shippers if you will, be able to get attention from the projects division at DHL, or do you focus mainly on projects of a certain scale?
Yes, absolutely. Size does not matter!
We are interested in customers of all sizes. Germany for instance has a big number of small and medium-sized companies producing industrial products and industrial machinery for the global market. And especially smaller companies are more often working on very interesting projects. The aim of DHL Industrial Projects is to enhance customer benefits by offering one-stop solutions – regardless of their business size. But the size of their products of course matters for us.
Do you have a certain preference for which shipowners you are using for certain projects and/or do you charter your own ships from the market instead of relying on regular liner services?
We have a preferred carrier program at DHL Industrial Projects. But it depends very much on the project and of course on the destination. To meet our customer requirements we are developing tailor-made solutions for every single project in terms of the transport modes used and the carriers we are working with. The specific solution can be a chartered vessel or a chartered aircraft as well as a regular commercial carrier – or a combination of all. Key is that we only work with carriers that have passed our very stringent vetting and approval process – which assesses the dimensions of HSE, compliance as well as financial stability.
Being the CEO of industrial projects at DHL is a big responsibility and these days focus is more than ever on profitability and lean management.  Tell us about a typical working week – how many hours do you normally put in?  What made you choose a career in project freight forwarding in the first place?
I personally think I have the most exciting role in our large group – for precisely the reason that there is no typical working day or week for me, ever! Generally I am on the road about 80% of my time, visiting project sites, current or prospective customers, our offices or industry events. It is hard to measure the hours put in – when I am traveling I normally start early with a team briefing breakfast, then customer meetings or site visits – I always travel with my PPE equipment – trying to fit in the time to stay connected with my global team, and keeping on top of hundreds of emails. We then conclude with a customer dinner.
When I spend a few days in my office in London, the hours are a bit shorter, and I try to spend quality time with my family.
I am actually a lawyer by education, I ended up in DHL through our In-house Management Consulting division, then I moved to Express, DHL Global Forwarding and ultimately now in Industrial Projects. Again – best job in the group! It was partially being available at the right time when this exciting role came up, and also my desire to be part of these extremely complex yet rewarding projects.
Given the size of DHL I am confident that many of our readers, which also include many shippers, would like to know how to reach the  projects division of DHL directly in case they have an inquiry.
We have regional Industrial Projects heads in each geographic region, and also various sector heads. However, to keep things simple and make navigation easy for anybody interested in contacting us, I would suggest that the key contact should be our global commercial head, Ryan Foley (Ryan.p.foley@dhl.com), based in our London office. He will review your request and make sure to direct it to the most appropriate contacts within our organization.
---
Interviewee:

Nikola Hagleitner
CEO – DHL Industrial Projects
DHL Global Forwarding
DHL Industrial Projects on the web