Mr. Lauras Lukosius
Managing Director
Tell us about the main activities of BFS in Vilnius. When was the company established?
Since 1996 Baltic Freight Services has offered global logistics services including air, ocean and road transport, customs brokerage and distribution to/from Baltic & CIS countries. BFS is an IATA accredited agent. Our airfreight team has over 20 years of experience in handling different kinds of cargo including dangerous goods, AOG, live animals, heavy/outsized cargo and even charter flights.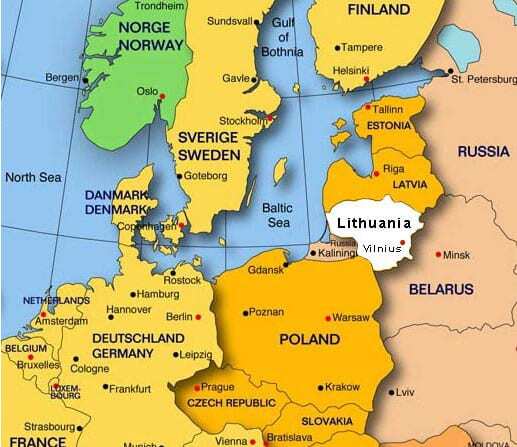 In ocean freight our main volumes consist of containerised cargo. What is important when it comes to delivery of special cargo to/from the port, especially heavy pieces, is that we do multimodal solutions and utilise rail facilities in the port area.
In road freight we have dedicated haulers, whom we subcontract to carry both full loads, as well as groupage. Using a distribution warehouse in Vilnius we deliver to door in Lithuania, Latvia, Estonia, Russia and Belarus.
Who owns the company?
There are two owners: me and Darius Varnas. Both Lithuanian citizens ?
When people think of the Baltics they naturally think about Russia too. Can you organise transshipments to/from Russia? Elaborate if you will, a bit about how it's done. What ports are being used and how about customs clearance on transit cargoes to/from Russia?
Lithuania, as well as the rest of the Baltic countries, has always been a kind of gateway to the CIS markets. A very good geographical location and efficiency in handling transit cargoes enables us to service clients from Western Europe and Russia or Belarus. Excellent understanding of logistics specifics in Russia, a high level of customer service and even very good knowledge of the Russian language are other reasons why many Russian clients entrust their cargo to logistics providers from the Baltics. For ocean shipments we use either Klaipeda or Riga ports to go to Russia. Klaipeda is the best gateway to go to Belarus (which is landlocked country) for various breakbulk and project cargo. BFS is licensed customs broker. Our staff processes all paperwork needed to ensure the timely arrival of cargo to destinations in Russia.
Can you organise shipments on the Trans-Siberian railway to/from Asia and Central Asia via Lithuania?
We use rail services that run from inland China via Russia, Belarus towards Poland. Rail is a good option for those clients who want faster transit time than shipping, but not ready to pay as much as airfreight. There are several rail services on this route. The fastest reaches Brest at the Belarus/Poland border within 14 days.
We also utilise rail for delivery in the opposite direction. We provide solutions for cargo arriving by sea to Klaipeda or Riga port from origins such as the USA, and destined to Central Asian countries like Kazakhstan etc.
Tell us a bit about the most significant project or shipping job that you have handled.
We have not handled very large projects recently. What I would like to mention is that some time ago we organised the re-load of nearly 2000 tons of frozen meat from a breakbulk reefer vessel at Klaipeda port and then arranged delivery to cold store in Vilnius (300km away from the port). Some 75 truck trips were made. It was a non-stop operation as the critical thing was to do delivery the goods to cold store as quickly as possible.
Do you belong to any international project freight forwarding networks at the moment?
We are member of CLC Projects Network.
Tell us about the main ports of Lithuania. Is Lithuania a member of the EU, what languages do you speak generally and what kind of currency do you have in your country.
Our home port is Klaipeda at the Baltic sea, handling 40 million tons annually. It is one of the fastest growing ports on the eastern cost of the Baltics. Klaipeda is very much diversified, handling different types of cargo, including ro-ro, containers, break-bulk, agricultural products, oil etc.. It also has very good access to motorways and railways.
Lithuania has been a member of the EU since 2004. The Euro has been our national currency since 2015. Many people, especially those working in the logistics industry, speak a minimum of 3 languages. Lithuanian is our native language which we speak in our daily lives, we also know Russian well and we speak English or some other foreign language. Knowledge of these languages enables us to connect East and West in logistics ?
What is your background Lauras? What made you start working in a shipping company?
Originally I came from the airline business, so airfreight was the first business that BFS started from. Shipping has always been my passion. I had a possibility to work on a project in Belarus for Mediterranean Shipping Company. I gained very interesting experience on how shipping lines operate, what are the challenges and how great the opportunities are.
Tell us about tourism in your country. What places would you recommend people to visit?
My most favorite places are the old town in Vilnius and the Curonean Spit on the sea coast – especially the town of Nida in the summer time.
There are a lot interesting things to see in Lithuania. Come visit our beautiful country!
---
Interviewee:

Lauras Lukosius
Managing Director
lauras.lukosius@bfs.lt
Baltic Freight Services (BFS)
http://www.bfs.lt