Mr. Kim Borgaard
Regional Sales Manager Scandinavia
Tell our readers where the name Chapman Freeborn comes from. Does it refer to the owners, or is it a name taken for the business as such? What is the main activity of Chapman Freeborn?
Chapman Freeborn was established in 1973 by Chris Chapman and Mike Freeborn. They are not actively involved in the business today but the name remains and is very well known in the industry. The company was originally formed to market Alaska International Air's fleet of Hercules freighters. At its peak the airline operated five Hercules aircraft, but with business down in the local oil and gas industry they needed help finding ad hoc charter contracts elsewhere.
After the early success of marketing the Hercules fleet for charter projects, the company grew significantly and branched out into new cargo and passenger charter markets.
We understand that you are aircraft charter specialists. Several companies seem to claim that they are experts in this field especially. In your opinion what makes Chapman Freeborn stand out?
As a company we're very much focused on the value-added side of our services. For most clients, chartering an aircraft is an occasional requirement rather than an everyday need. We're always happy to provide expert loading advice and assist with documentation, as well as taking care of the complex contractual elements.
Our global office coverage is also a big plus. Clients expect a continuity of service and local market knowledge that smaller brokers can't generally provide from a single office location.
We also have specialist subsidiary companies – including Intradco Global which transports animals by air, and Chapman Freeborn On Board Courier (OBC) which specialises in hand-carry shipments.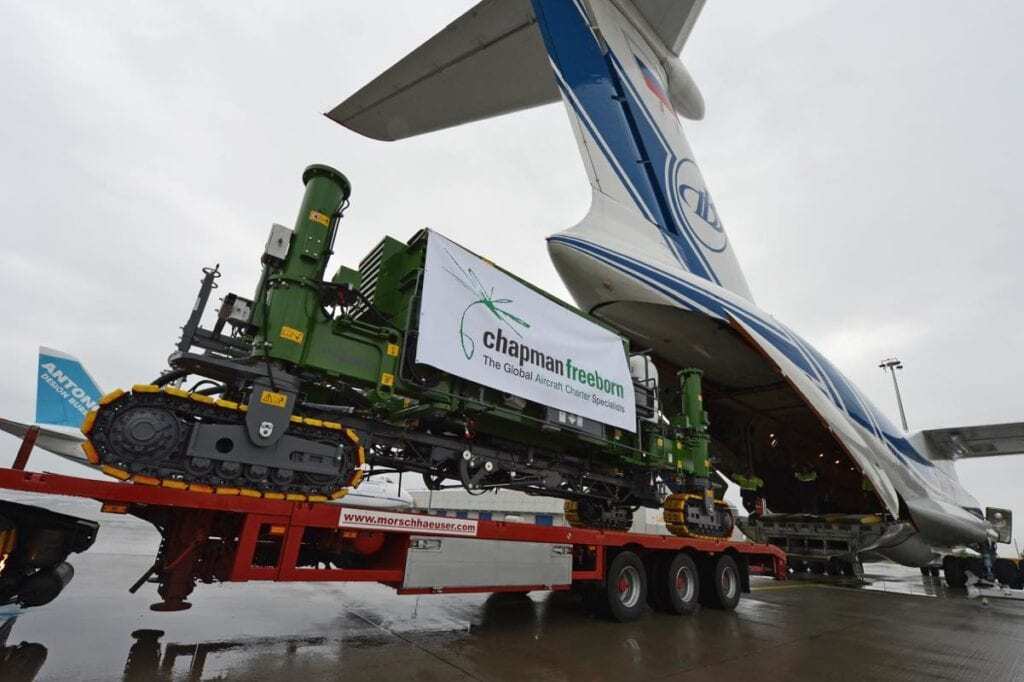 Tell us a bit about the different kinds of aircraft that you can offer. Can you offer aircraft charters on a global scale? Have you specialised yourself in a certain type of aircraft?
We work with aircraft of all shapes and sizes. One of our areas of expertise is with Soviet-era heavy-lift freighters, including IL-76 and AN-124 aircraft, as well as western-built freighters such as the B747-400F.
Would you be able to give us some examples of big deliveries that you have made on behalf of customers worldwide?
There is no typical job when it comes to moving project cargo – but time is usually one of the key factors. Sea freight is a cheaper option for moving outsize cargo around the world, but the airlift solution is necessary when the situation is more urgent – for example to avert a costly plant shutdown or to allow a contractor to meet a deadline.
A good example of this is a four-flight charter operation we did recently to deliver 200 tons of infrastructure cargo to Gabon. The time-critical consignments from Europe and India were required for the opening of a new port terminal. The cargo was originally scheduled to be shipped to Africa as sea freight but Chapman Freeborn was called in at short notice to ensure the project deadline was met.
What kind of information do you generally require in order to give a quick quotation or estimate?
Give us a departure and arrival point, a description of the cargo and an approximate payload and we can give an estimate within minutes. Obviously the more information we're provided the more accurate the figure will be. We can then get to work and ensure you're offered the most economical charter option. We also offer part-charters, backloads and other cargo solutions such as on board courier (OBC) shipments.
How long have you been working at Chapman Freeborn? What made you choose a career in airfreight and airfreight chartering?
I have been with Chapman Freeborn since 2011. I initially encountered them as a customer when I was involved with a large scale project including four AN-124 charters out of Gothenburg, Sweden. The whole project was incredibly well organised by Chapman Freeborn and I became curious about the air charter industry – so one thing led to another.
Today the Nordic market is strong for Chapman Freeborn and we're the market leader in the region. In addition to cargo charters, we're seeing positive development in the passenger charter market and with our OBC business.
I have no doubt that some of our readers would like to contact you for a quote. Could you provide us with your contact details?
Kim Borgaard

Regional Sales Manager Scandinavia
Tel: +45 7210 8383
kim.borgaard@chapman-freeborn.com
http://www.chapman-freeborn.com