Mr. Lars Rolner
Managing Director
Mr. Rolner, I met you I think around 1986 or 1987 in Beijing by chance, which means you started your shipping career early. Tell us about how you got into shipping, a bit about your experience and what made you stay in shipping?
Well, I started in shipping in 1979, after having visited business school in Aarhus. I grew up on the waterfront of Aarhus and saw ships arriving and departing the port. Somehow it was fascinating and I decided to apply for a job as a trainee with a local agency, Rasmus Christensen.
After finishing my education I decided to move to Germany as an intern in a newly established company, SAL. I stayed in the Altes Land for a couple of years before returning to Aarhus where I started working with DanTransport in their project department. Chartering, it turned out was my preference and passion. Thus, I re-joined SAL as a chartering manager.
Around this period the two of us met in Beijing. The Chinese market was still undeveloped and difficult to penetrate for foreign companies.
In 1988 I returned to Denmark as general manager of the chartering department of Dan-Transport, it was an interesting time operating the vessels of Aalborg Portland and doing project chartering.
In 1992 I received an offer from SAL to re-join the company. I took the offer and was working again in the chartering department, but spent two years as supercargo as well. In 1998 I was promoted to managing director of the company and in 2001 became partner to the two Heinrich brothers, whom founded SAL initially.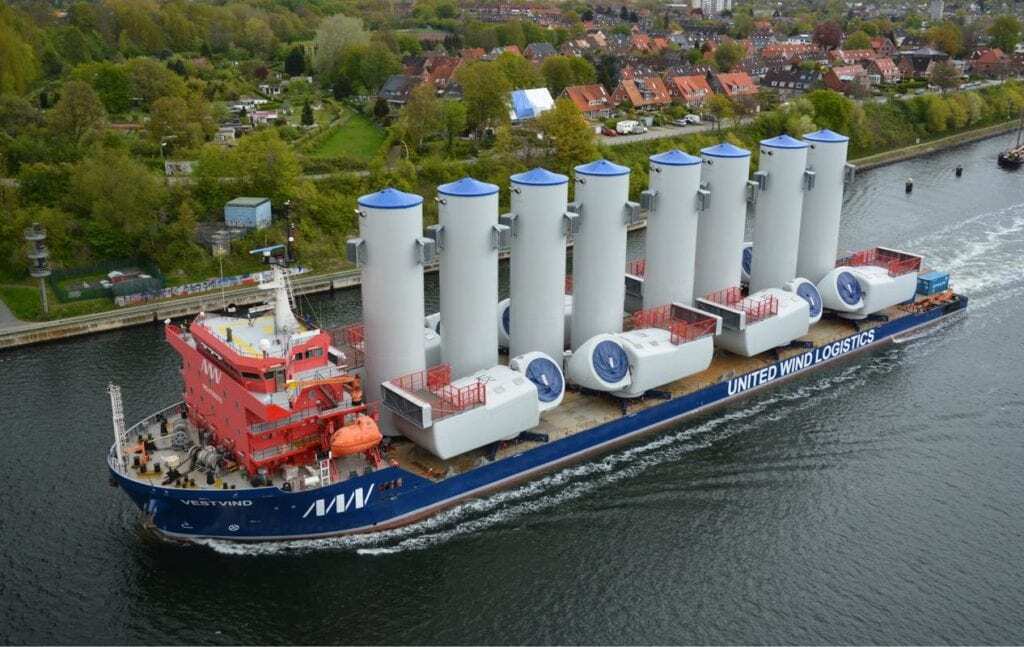 Your name is well known to many in the heavy lift business in particular since your years with SAL. Tell us about your new venture, United Heavy Lift. What do you offer that is unique in the market and how do you feel that you provide value added services to the customers who in many ways are "over-run" by heavy lift experts?
Having been a vital part of developing SAL to become a market leader in heavy lift shipping, the technical aspect has always been a main focus of mine. I actually established my own engineering company in 2012, [email protected] The company is specialised in ship design and is offering customized engineering solutions to transport requirements of their clients. [email protected] was able to attract five engineers from the shipyard who designed the SAL tonnage and were the brains behind many of the complicated transport engineering solutions we did at that time.
As for UHL, after leaving SAL in 2014 I was approached by Heino Winter in 2015, he offered me to take the commercial management of their heavy lift tonnage. It was the start of United Heavy Lift, we since have a very good and close cooperation and other owners have joined since.
We have been able to perform complicated transports on the P Types, the engineering is a vital part of our business success. We comply with the requirements of the major clients and our engineering solutions are of the same high quality as the top players in the market.
Since we founded United Heavy Lift, we have also founded United Wind Logistics and United Engineering Solutions. In 2016 we were awarded the contract to transport the MVH Vestas V164 wind turbines and equipment. It is a very large transport and logistics contract which is based on solid engineering solutions, which contributed to cost savings and optimized the logistics, resulting in a huge gain for our client.
With your years in shipping and looking back what has, if anything, changed in your opinion?
In the eighties and nineties the heavy lift owners all grew organically and the quality of tonnage was imperative. Since the early two thousand's a lot of owners looked at the heavy lift market and money was available and vessels were ordered without any regard to the demand in the market.
The financial crisis in 2008, as well as the slump in oil prices have changed the market conditions, resulting in fierce competition ruling the market. Fortunately, there are still clients who have high demands in regard to QHSE and engineering. With the prevailing market situation, the banks have ended up as the largest controlling owners in the MPP and heavy lift market.
How do you envisage the future of heavy lift shipping? Just in recent days we have seen yet another strategic alliance being formed among other heavy lift ship-owners in the market.
Strategic alliances are complicated to get to work unless you have comparable tonnage. To cooperate on heavy lift tonnage is more complicated then to enter into a slot sharing agreement. The main problem is different company cultures and the hurdle is to get a cooperation implemented on the working level.
Irrespective of cooperation's and joint ventures, the amount of tonnage does not change, scrapping has not yet started on a larger scale and with the pressure from large far east players, the market will not change very much in the coming years.
Are shippers mainly looking at price these days or do they also consider service level and expertise?
All clients have to look at the price, in their business sector they are also under pressure. The only way to be able to cope with the market is to provide smart and efficient transport solutions.
Do you also count freight forwarders among your clientele or do you deal with a mix of both shippers direct and freight forwarders?
Certainly the freight forwarders are an important part of our clients. but we also have clients who wish to deal directly.
The container carriers are taking more and more breakbulk by containership, even sometimes very heavy loads, do you regard them as competitors?
Again, it boils down to providing the most cost efficient solution to the client. Whoever still believes the good times will come back are wrong. The market is changing and we need to be able to adapt.
Each of our companies is a profit centre and is responsible for ensuring a healthy growth. United Engineering Solutions are also providing transport engineering, designing grillages, and lashing concepts for third parties. They also provide supercargo services, QHSE training and implementation for third party owners or clients.
Does United Heavy Lift cooperate with other owners in case, say, you get an inquiry that you cannot cover with own tonnage?
Certainly we do. We have been taking relets from other heavy lift owners for very complicated jobs. On the other hand, we are a registered supplier with some of the major clients in the wind and off-shore sector and we approach the market on their behalf, often supplying the engineering solutions.
Whom to contact at United Heavy Lift for a quote?
Contact us via the following email addresses:
Chartering@unitedheavylift.de
wind@unitedwindlogistics.de
solutions@unitedengineeringsolutions.de
---
Interviewee:

Managing Director
lars.rolner@unitedheavylift.de
United Heavy Lift
http://www.unitedheavylift.de/