Mr. Graham Witton
MD Antonov Airlines UK office
Can you give me a background on Antonov Airlines?
Antonov Airlines as a marketing brand has been active since 1989 when the AN-124 came into the commercial market. It was the first operator of the AN-124, we're talking Soviet Union times here and at the time it had a partnership with a UK company which lasted until 2006.
In 2006 Antonov and its main rival decided to enter into a cooperation arrangement for promoting the AN-124 Aircraft around the world. The main purpose of the cooperation was aircraft modernisation.
That happened to a certain degree but then politics between Ukraine and Russia, plus the different directions that the companies wanted to follow, led to a split initiated by our partner at the end of last year. Fortunately, Antonov was preparing for such an eventuality because of the politics and, come November 2016, we launched our full commercial operations and technical team, operating worldwide from our offices in Ukraine and in the UK.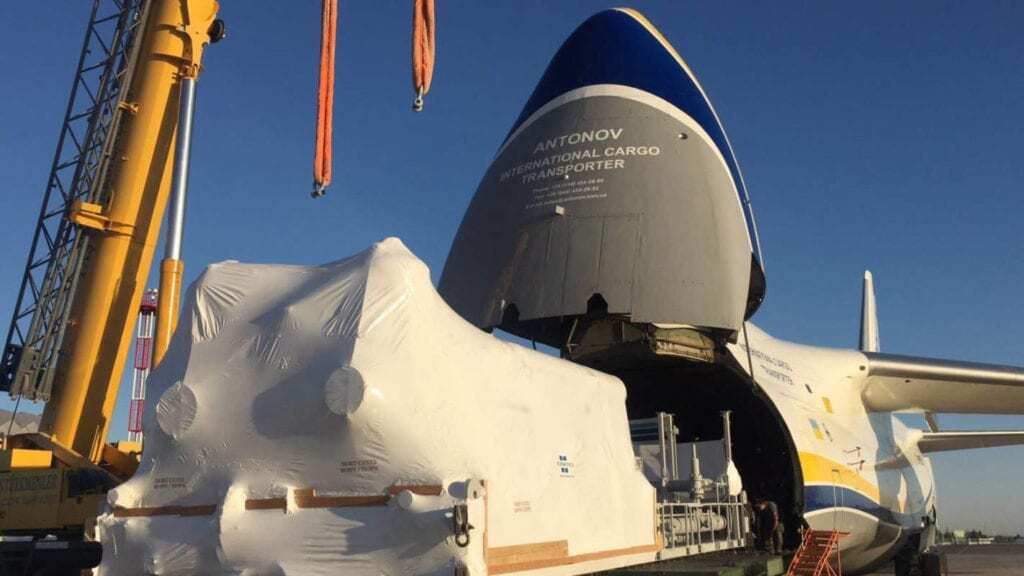 So your offices are based in Ukraine and the UK?
Our head office is in Kiev; it's where the aircrafts are based, we have a commercial team there, we have an operations team there, our crew is there and all the support functions you would need for an airline. You have to remember that the airline is an offshoot of the manufacturer and designer of the Antonov Airplanes. Everything from the small AN-2 equipment sized aircraft all the way up to the AN-225, they designed and manufactured.
When the airline started we didn't have seven AN-124s, we had about three at that point.
Then you purchased more?
More came under our control as the years went by. So now we have a fleet of seven AN-124s.
How does that compare to your competitors?
Our competitor has twelve on their books, although currently, I think they only have 4 or 5 flying. That will probably change in a few months' time, but they've got a number of their aircraft parked, again for similar issues Antonov had previously. There is a life extension program that needs to be initiated and I think they are working through that as quickly as they can. There is another airline in the Middle East that has a single airplane but that aircraft is primarily used in government work for that country in the UAE.
How do you differentiate yourselves from your competitors?
We've been very fortunate because we've been able to retain a great wealth of experienced team members, many of whom who have stayed with Antonov since 1989 all the way until now.
Do you mean the crew?
The crew is one thing – the process starts commercially, operationally, technically – before it gets to the crew that are operating the airplane. But it's that knowledge and, let's say, memory of past experiences like flying to somewhere obscure, maybe in Paraguay or Bolivia, that means there is always going to be someone available who'll say "We've been to that airport, we know that the airport was difficult, we had this one guy who helped us seven or eight years ago so let's get in touch with him because he was a fixer down there locally".
They are all big pluses. That network of information and contacts for us is very very important. Because what we need to make sure we provide to the customer is a highly personalized service. You have to understand that the airplane is a very expensive airplane and the customers are putting a great deal of trust and faith in what we do for them. They have to make sure that they know the face of whom they are working with and we treat each load essentially as a project, not a production line. So if a guy in our company is running that project, he's the guy who received the inquiry, he quoted it, contracted it and manages the operational execution of the flights as well. He made sure that the crew knew full well what to expect with the load. We're not passing projects from one guy to the next guy as it goes down the process.
If you have an inquiry do you have a central point for the inquiries to be handled?
Yes, we do, because most of our inquiries are received by email. So, unless a customer already has an established relationship with one of our team, they will send it to a general mailbox and one of our team will pick it up based on their specialty.
So it's divided by specialty?
Generally yes, we have guys that are more aerospace orientated and we have guys who are more orientated to work with our Far East clients, for example.
It's not divided by geographical region?
Generally not, no, but if we get an inquiry from a Russian speaker, for example, it will be handled by our Ukraine office.
Here in the US for example, we have appointed our first guy to work in our US division.
Antonov Airlines USA?
Yes, it's a subsidiary of our company.
When did Antonov USA come into being?
In May we announced that we would be starting the company and now we have. The primary focus is developing the business in the US, so the first guy is already onboard and the second guy should be joining us in the coming weeks, all going well.
We'll be opening the office here in the US within a couple of weeks now that we've got that deal finalized and we'll be growing the team organically. We'll have just a couple of the guys to begin with, but as the business grows we'll put more people here. We'll call on people from our head office in Ukraine and the UK to support these guys, to help them understand how we do business compared to how they may have done business for their previous employers; that's how that's going right now.
Do you primarily work with freight forwarders or with shippers direct?
We work primarily with forwarders. If the shipper wants to work with us directly and that's the only way he's prepared to engage with us, then that's what we have to do.
But we've always said to the forwarders from the outset that we're not in the game of cutting those guys out.
That being said, if the shipper is dictating the rules and it means by not following those rules that we're going to lose business then we can't allow that to happen and most of the forwarders understand that. In our business it's only a handful really, probably about 70% of our business is done with freight forwarders around the world anyway.
We had a situation the other week where we were introduced to a shipper by a freight forwarder and the shipper was totally open throughout the conversation about wanting to work with the airline directly. After the meeting we said, 'yeah we are okay with this' and the forwarder said 'look, we're happy because we know that we are going to get other parts of the business. We are also happy because we've been open in the discussion, we've both seen that's what's been dictated by the shipper'. They still need that customer, they recognize that we also need that customer and they're not going to gain anything by us being cut out. There's no advantage in cutting us out, there's a greater advantage for them actually facilitating that meeting. They've got a brownie point as a result of that, so they've got something out of it.
So transparency helped?
Basically, it does help and that's what we try to aim for. The honesty and integrity of our team is critical as we pride ourselves on being a very clean organization and we have very strict ethics and anti-corruption policies in our team.
We always make sure that if we are approached by any new customer we do our homework on that customer, it doesn't matter what they say, because we wanna know about who we are gonna be trading with, potentially. It's very important for us.
---
Interviewee:

Graham Witton
MD Antonov Airlines UK office
graham.witton@antonov-airlines.com
Antonov Airlines
http://antonov-airlines.com/