Mr. Andy Rushton
R&D Sales Manager
How come you got involved in the business of containers? What sparked the interest?
I have always been interested in the versatility of shipping containers from a young age. The amount of bespoke uses has always fascinated me. Originally I started my career with a firm who specialized in hiring containers to building sites, but as my interest grew I wanted to move into the container conversion field. I began a job with a subsidiary of Maersk Line, where I learned a great deal about container sales. But I always wanted to become more involved in high-end conversions, so when George Woolley MD at Universal offered me a position within his firm, I grabbed it with both hands.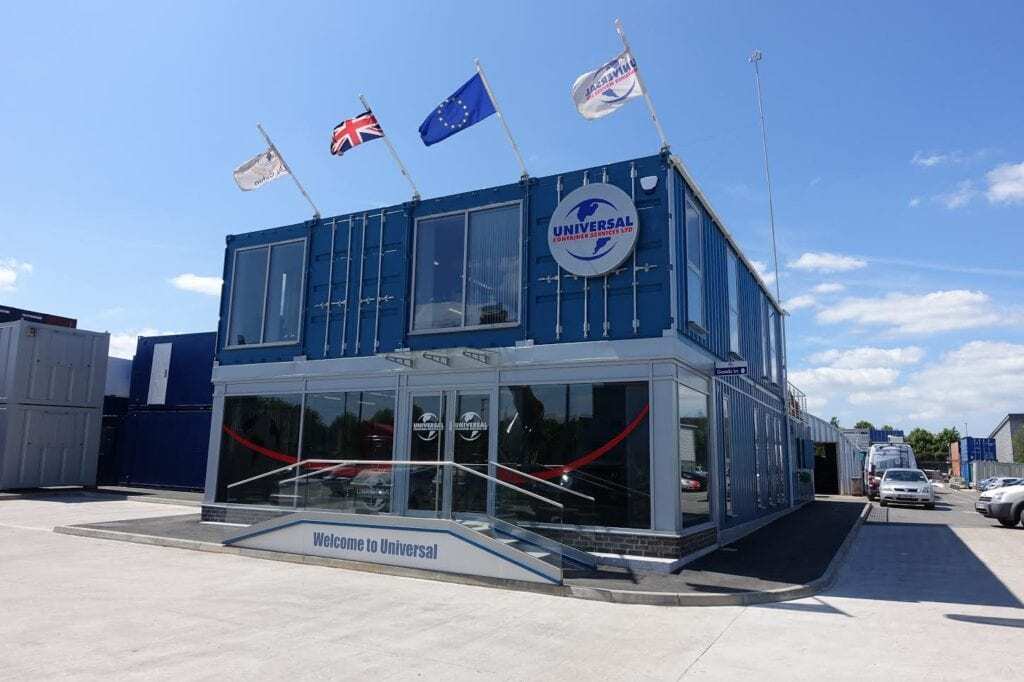 Who owns Universal Container Services Ltd?
Universal Container Services Ltd. is solely owned by a well-regarded industry leader Mr. George Woolley. He has been involved in container sales & conversions for over three decades, which is the main reason I wanted a job with Universal. As to be the best, you have to learn from the best.
Most people, of course, know that containers can be used for sea freight transportation, even some will know that they are used for storage, but elaborate if you will on the many different purposes that a container can service?
Containers as already stated, are extremely versatile. They can be converted into many things, some examples: Offices / Canteens / Drying Rooms / Meeting rooms / Toilet Blocks / Bio-mass units / Data rooms / Powerhouses / Exhibition stands / Bars / Coffee shops / Garden rooms. I could really go on, with the right budget anything is possible.
How are containers certified – I mean like in any kind of business there are reliable and unreliable providers and besides the price itself how can one be sure that the container bought for a specific purpose has the strength for it? Are there any "universal" rules or guidelines in this respect?
Just make sure the containers meet the ISO build regulations, ISO or intermodal containers are used for the intermodal transport of freight. They are manufactured according to specifications from the International Organization for Standardization (ISO) and are suitable for multiple transportation methods such as truck, rail, or ship. These regulations define a shipping container that meets size, strength, and durability requirements. The basis of these regulations is to guarantee that the container can withstand extreme environments endured during transport as well as possess the structural integrity needed to be lifted by cranes or other heavy equipment.
What type of containers can you provide?
Universal Containers offer all types of containers, that's the main reason we have been so successful over the last decade. We supply all types of containers for customers in any location, we are based in the UK where we operate a large production facility. We convert thousands of containers into bespoke units for customers specific requirements. Our main services are General Sales / Container Conversion / Container Hire / Anti-Vandal Cabins / Self Storage / Parts / Buy Back and Part Exchange / Repairs & Fabrication.
I noticed something called anti-vandal cabins on your excellent website, tell us more about this product.
We have recently redeveloped our website www.universal-containers.com. The Anti Vandal cabins are manufactured to an all-steel design and come complete with an integral locking system, steel window shutters and 10 point locking door, creating a robust frame that will deter the most skilled thief or vandal. The range is available in a variety of sizes and is fitted with electric heating and lighting, power sockets and has vinyl poly floor covering as standard. The Anti Vandal cabin range is available in a variety of configurations including eco-friendly options, internal configurations include Offices / Canteens / Drying Rooms / Meeting Rooms / Toilet Blocks / Link units / Modular builds / Data Rooms.
Do you supply to the UK domestic market only or can you deliver to anywhere? Is it allowed to ship a modified container overseas at all? Tell our readers more in detail about what kind of rules governs this kind of transport (if any) of containers that are modified.
Our largest customer base is the UK Domestic Market, but over the last decade, we have developed a worldwide customer base for container sales and conversion. Modified containers can be shipped all over the world as long as they meet ISO standards with a valid CSC (container safety certificate) there are many different firms who offer the CSC inspection service.
From where do you procure your containers, are they new from the beginning or do you also refurbish 2nd hand units?
Most of the worlds new containers for sale are produced in Chinese Factories, loaded and shipped (one way) to the requested country. Once unloaded they are placed within one of Universal's many storage facilities within the UK for conversion or re-sale. There is always a massive market for used containers, which we purchase ex-service from most of the large shipping lines. We either sell them in their existing condition or we refurbish them: New Door Seals / Repairs / Externally Paint / Lockbox / Condensation prevention spray etc.
Since affordable housing is a problem in many of Europe's bigger cities, have you found that containers can be used as "apartments or studios" as well?
Yes, I think they should be used more than they are, containers are a great solution to housing problems in Europe and all over the world. A 20ft container can be converted into somewhere safe & secure to sleep and wash for little investment. Also, another great benefit of using shipping containers is their durability. As they are made from Corten Steel, they are extremely robust and will last for years. Internally, if fitted out correctly you would be hard pressed to know you were inside a shipping container.  The following photos are from a unit we made for a customer who wanted a nice internal finish inside a 20ft container, it even has air conditioning.
What do you like about being in the container business?
I love my job because Universal is an industry leader and we spend a great amount of time designing new products. Being as innovative as possible, George Woolley (Director) has spent years putting together our team of container conversion experts. We recently were asked by George to develop/build our own office block (see photos in this article). Now it is finished, it is a real pleasure to come to work every day. There are so many possibilities in container conversion, I would say the best part is that most of the jobs we undertake are new and interesting.
Tell us in your own words how you feel that your company stands out from the competition – why should a potential buyer contact you first?
Universal Container Services Ltd is ahead of the competition in relation to development and design. Our innovation is second to none. I believe if you are looking for container conversion experts to bring your containerized dreams to reality, then get in touch with us, the industry leaders. We are renowned throughout the industry for attention to detail, honesty and our core principals. We always ensure every customer gets the service they deserve.
How to reach you for a quote?
Email: Andy@universal-containers.com
Website: www.universal-containers.com
My Mobile: 07808 896 933
Landline: 0161 775 3217