Mr. Leonardo Vender
Head of Marketing & Sales
The Trans-Siberian railway has been around for years and all the while we have heard that now it's coming….then suddenly Russian railways increase the rates overnight and the business "stops", at least that is a bit of the history for many who have been in freight forwarding for years. Tell our readers about the current improved situation relating to traffic to/from China and Europe using the railway. What routes are workable? What is the average transit time from say Shenyang/Shanghai/Chongqing/Guangzhou to Central Europe? And above all how about the stability of the railway services these days?
Rail cargo has been on the rise in recent years. FELB started as a project in 2007 with the idea to transport cargo via rail between Asia and Europe as a competitor to traditional air and sea freight. Later on, we became partners with RZD Logistics in Russia which added to FELB's ability to transport via rail more efficiently. Then in recent years, China began a multi-billion dollar initiative to upgrade and improve the rail system which allowed for faster transit times and building a larger rail infrastructure.
The main routes we now take from China are across the borders into Russia at Zabaykalsk and Erlian into Mongolia. With all of the improvements to the rail system in the past 10 years, we were able to get our transit times down to an impressive low. In 2016/17 we had less than 14 days transit time between Suzhou and Warsaw!
Sadly in 2017, all operators faced some problems due to congestions and construction which caused longer times so our current transit times have gone up. Some examples of current transit times are:
Suzhou to Hamburg 21-22 days
Shenyang to Hamburg 19-20 days
Incheon to Hamburg 23-25 days
In general, our service can be served by 3 different routes, Zabaykalsk – Brest, Erlian – Brest, and Dostyk – Brest. Each one has their own advantages and disadvantages. However, all routes are stable and running smoothly and we anticipate further transit time reductions again in the near future!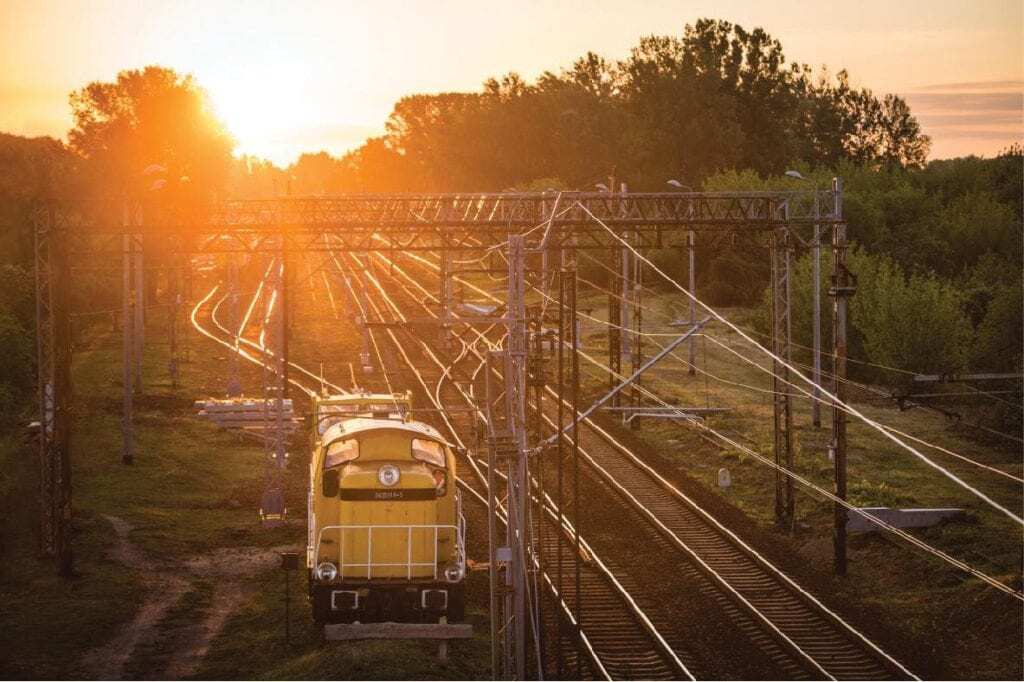 What types of containers are accepted? Do you provide the containers for the potential customers? Do you accept shippers own containers as well?
Most of our business is based on 40′ containers but we can also handle 20′ as well as special container equipment, such as open tops, flat tracks, reefers etc.
We have a pool of about 4,900 containers but can handle SOC containers as well.
How does your track and trace system work?
Our customers receive daily tracing by email which is based on the railway RFID system. Also, additional GPS service is available on request.
What kind of "bill of lading" is used for traffic on the railway?
We are operating based on cargo manifest and railway bills such as SMGS and CIM.
FELB is based in Vienna, who are the owners of the company today?
FELB is actually based in Cyprus and is more than 75% owned by RZD Logistics in Russia.
The railway seems to have been revived with new routes in particular since the one belt/one road policy of Mr. Xi Jinping in China what routes do you run today? What physical routes/border crossings are used – if you could provide maps of same that would be excellent.
Please refer to the following map of our main services. As you can see our routes go through both the Trans-Siberian Railway as well as the Silk Road.
Do you accept breakbulk cargoes on the railway as well?
No, but by request, we can provide dedicated solutions through our project cargo team.
Many vendors are telling us in the market that they provide the best services on the railway to/from Central Asia and China. What makes FELB the best choice when moving containers east or westbound?
We have existed longer than most of the new companies that have come since the Chinese rail developments and subsidies have been established. So our services are known for being stable and consistent. Not to mention the fact that, even with the big issues surrounding rail transport in 2017, our transit times have seen a steady decrease throughout the years. Another major benefit of our company is that we can offer dedicated solutions and short-term flexibility for any customer request.
Can you provide some examples of shipments that you handle say from China to Europe or v.v.?
Most of the eastbound automotive cargo is handled by us as well as electronics cargo coming from South Korea. Also, we handle various e-commerce cargo and raw materials between Asia and Europe.
Then there is the question of the difference in rail gauge between China and Mongolia/Russia/Kazakhstan – how is that problem overcome? Where are the customs checkpoints?
We have a strong partner at each border (China/Russia at Zabaykalsk, Russia/EU at Malaszewicze and China/Mongolia at Erlian) which helps reduce the gauge changeover time. For the gauge changes, we physically need to move the cargo from one train to another with the new gauge. So this of course adds some time to the process but overall it is a normal process for us. The customs checkpoints are at the borders, so while the cargo is changing gauges the paperwork can be processed.
Tell us a bit about the FELB organization, whom should be contacted to request a quotation say from Europe to Asia or from Asia to Europe? Can you provide us with contact details?
FELB has a fully developed sales department which handles all inquiries and setup for cargos going both east and westbound. With our multiple offices in Austria, Germany, Poland, Russia, and China there are employees which can handle any questions and concerns customers may have. You can, of course, send us an email at: sales@felb.world or contact one of our regional offices closer to your locations. All of the contact details can be found on our website at: www.felb.world
---
Interviewee:

Mr. Leonardo Vender
sales@felb.world
Head of Marketing & Sales
Far East Landbridge Ltd (FELB) – Vienna, Austria
http://www.felb.world