Interview with
Mr. Kasra Ferasat
Marketing Director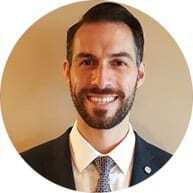 Kasra, when was American Export Lines established and what is the company's main business focus?
The company was founded in 1974 and the main focus is ocean imports/exports and warehousing. We handle air freight, but it accounts for 5-10% of our overall business. While the company started out in FCL exports and it still accounts for a large part of our business, we have focused more on developing our warehousing and distribution business including transloading as well as out of gauge (OOG) projects. We noticed in the last 5 years that our OOG shipments were increasing, so we decided to focus on continuing the growth in project shipments and  develop friendly and long-lasting relationships with overseas agents so they can trust us with their business and vice versa.
Tell us about where your offices are located in the US and elaborate a bit on how you handle business to/from overseas. Are you a member of any networks or do you have well-established partners abroad from before?
We have offices in Los Angeles, California and Newark, New Jersey. Our agent routed shipments are all handled by our Los Angeles office. We are members of the following international freight networks: CLC Projects and WCA. We have some established agents that were developed 30 years ago, but the majority of our agents were developed in the last 5 years, which has been a major focus for us since we are a small company and need to develop strong partners in all areas of logistics around the world.
How about the competition in US freight forwarding these days?
It is highly competitive as always, especially in large markets such as Los Angeles and New York/New Jersey. There is always someone who is either undercutting you or not telling the customer the truth about what services are included in their pricing or what other charges may arise, and that can cause us to lose some business. Nevertheless, we don't try to win all business that comes to us, we focus on the business where the customer truly values our customer-driven approach and prefers service over price. We don't want to be all things to all people, or else we can't continue to grow. Our approach is to focus on niche markets and customers who require standard operating procedures (SOPs) that are followed and continually improved upon.
I am not so familiar with freight forwarding in the US, but as a rule, how do the shipowners treat you? Do they treat bigger forwarders better than smaller forwarders or is it a matter of fixed rules relating to freight payment, b/l release etc.?
The answer depends on which shipping line! The major liners that focus on containers are for the most part very friendly and try to develop business with us since we have relationships going back 40 years with at least 10 liners. There are a few shipping lines that are more BCO (beneficial cargo owner) focused compared to others and we stay away from them unless they cover a lane that we must use them for. When it comes to freight payment, b/l release, and other things, some carriers are very strict and don't offer flexibility. You have to have good credit, have a history with them and offer them volume to get any sort of flexibility, with those carriers volume is the name of the game.
The breakbulk/RORO carriers are all very friendly and quick to respond and try to develop business with us when we send them inquiries. When it comes to things like freight payment, b/l release, unless you have a lot of volume with them, the BB/RORO carriers don't offer special terms. We do have RORO carriers that do work with us since we give them good volumes and it is very much appreciated.
I understand that the FMC plays a major role in shipping in the USA. For those of us not familiar with the many rules governing US shipping and forwarding, what is the FMC, what purpose do they serve and does it affect your daily business?
The FMC (Federal Maritime Commission) is a US federal agency that issues licenses and regulates ocean transportation intermediaries (OTIs) which are also known as international freight forwarders and NVOCCs, as well as shipping lines that engage in oceanborne international transportation. To learn more about the difference between a Freight Forwarder and an NVOCC according to FMC regulations, please read our blog post.
The FMC's main purpose is to ensure proper regulation among ocean common carriers (aka shipping lines), marine terminals, freight forwarders, NVOCCs, US importers, US exporters and US consumers and prevent unfair and deceptive practices such as unfair rate increases. They follow the statutes under the Shipping Act of 1984, The Foreign Shipping Practices Act of 1988, Section 19 of the Merchant Marine Act of 1920 and Sections 2 and 3 of Pub. L. No. 89-777, 80 stat. 1350.
Many overseas agents do not know this, but any international ocean shipment to or from the US that has a House Bill of Lading requires the House Bill of Lading to be from an FMC licensed NVOCC.
The FMC more recently has been involved in hearing shipper's complaints about excessive demurrage and detention charges under a petition filed by the Coalition for Fair Port Practices, arising from the port congestion and labor strikes of 2014. To read more about the port congestion that led to these upcoming hearings, click here.
The FMC does affect our daily business because we have to follow their regulations, so do the shipping lines. When we enter into a service contract with a shipping line, that contract must follow FMC regulations and also must be filed by both us and the carrier. As an NVOCC, we must either file rates in our tariff, have an NSA (NVOCC Service Arrangement), or an NRA (NVOCC Negotiated Rate Arrangement) with our customer, which again must be followed according to FMC regulations.
Partnering with Tour Americal to re-export 40 classic cars from Los Angeles that were temporarily imported, toured throughout America with their owners and shipped back to Belgium.
Do you also organize inland transport via USWC ports?
Yes, we arrange container trucking (drayage), truckload, LTL, Flatbed and OOG Trucking as well. We are a licensed DOT Freight Broker. All of our licenses and associations can be found here.
Give us an overview of the ports available for container and project cargo on the US West Coast.
Below are the major US West Coast container and project cargo ports. There are a lot of smaller ports such as Stockton, CA that handle Breakbulk that I won't mention. When I mention Breakbulk, I'm including bulk grains/ore/etc. I will list them from North to South.
Seattle WA (Container/RORO/Breakbulk)
Tacoma WA (Container/RORO/Breakbulk)
Grays Harbor WA (Breakbulk, mainly grains, timber, soybean meal)
Longview WA (Breakbulk, mainly grains, timber, soybean meal)
Vancouver WA (Breakbulk)
Portland OR (Container/RORO/Breakbulk)
Oakland CA (Container/RORO/Breakbulk)
Port Hueneme CA (Container/RORO/Breakbulk)
Los Angeles CA (Container/RORO/Breakbulk)
Long Beach CA (Container/RORO/Breakbulk)
San Diego CA (Container/RORO/Breakbulk)
Some of these ports such as Portland and San Francisco are not major ports and many shipping lines do not call them on a regular basis.
Partnering with Tour Americal to re-export 40 classic cars from Los Angeles that were temporarily imported, toured throughout America with their owners and shipped back to Belgium.
What are your plans for 2018?
Focus on developing new markets in project cargo and containerized shipments to Asia alongside our agents and continue to develop our warehousing business.
---
Interviewee:
Kasra Ferasat
Marketing Director
rates@shipit.com
American Export Lines
www.shipit.com