Mr. André Milschus
Founder and Managing Director
Andre, we met first many years ago in Shanghai, didn't we? What were you doing in Shanghai at the time? Tell us about your career up until establishing Hanseatic Breakbulk (HBB).
That is indeed correct; we both met for the first time in person on board the mv "Leopold Staff", which was importing paper machinery from Europe to Ningbo. You were at the time working with Martin Bencher and I was doing my overseas internship with Chipolbrok Shanghai office.
The time in Shanghai followed by another 6 months in Hong Kong, was among the most crucial and direction paving experiences in my professional career, both were an integral part of my 4-year full-time B.Sc. course called "International Transport Management", that I finished in 2003. The basic knowledge and rules that I learned during my 2 ½ years pre-graduate apprenticeship as a shipbroker in Hamburg were a great foundation, whilst working abroad. Moreover, the cultural experiences that I gained and the feeling to establish oneself in an ever-changing environment made me gain confidence and knowledge day by day. I continued my career with a 4-year stay in Houston working for Rickmers-Linie in their line management department. I then returned to Hamburg in 2009 to set-up a European representative office for SE Shipping Lines Pte. Ltd together with a friend and colleague at that time.
At the end of 2011, I had the honor to work for a short period with Beluga Shipping in Bremen, leading quickly to the new startup of what is known today as Hansa Heavy Lift. To have a key role in setting up the commercial and operational structures of such a new company specialized on lifts of over 1000 metric tons u/w, gave me both satisfaction and extensive further [engineering] knowledge. All that finally led to the moment, when it was the right time to establish my own company Hanseatic Break Bulk on the banks of the river Elbe starting from 2015.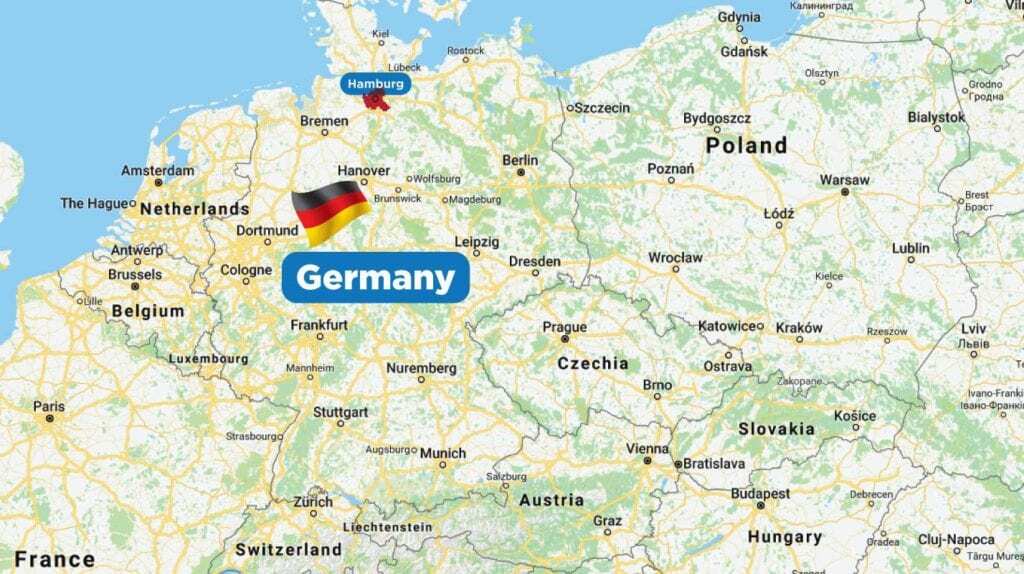 What can you offer the potential customer, who is in need of a reliable broker & consultant and do you work worldwide?
I always used to say, if you want to sell logistics services around the world, you must have first-hand experience! That means I do operate worldwide but try to focus on countries and areas where I have spent time working or have lived.
My team and I are considered brokers+ service providers for our customers. We do not work like traditional agents or brokers do. Each of our customers receives chief medical treatment for their inquiries, a result of our small company size but a high degree of experience and specialization of our team. Our customers are carriers, forwarders as well as large international construction and offshore companies. They use HBB because they consider us a trusted and experienced part of their logistical team. We are small enough that we do not have a hidden agenda or a huge machine to feed. We simply do what we can do best, which is assisting in the execution of shipments and operating vessels of different types and lifting capacities, ranging from tug+barge concepts to 1000ts+ heavy-lift vessels. We help our customers find the best ship for their requirement and to point out eventual pitfalls in a logistic contract; all to avoid unnecessary stoppages, misunderstandings or detention situations along the transportation chain.
Many shippers and even freight forwarders sometimes believe they have skill enough on their own to deal with the shipowner or deal with a given charter party – tell us about your experience in this field. Is there a market for an independent consultant as well when shippers/forwarders believe they "know it all"?
That indeed is a trend we also recognize. The answer is not quite so straightforward. The fact remains that the main skills of a good broker apart from negotiation are up-to-date market knowledge paired with experience. That includes an overview of different ship types, operators, trade-routes, freight rates, charter party terms and conditions, former rulings on legal disputes, recent market trends, a gut feeling for what can go wrong, etc. That knowledge is a result of many years, sometimes decades of being involved in and being responsible for exactly that one very specific business niche. We as brokers already need to focus on specific shipping niches and dedicate ourselves 24/7 for that purpose.
One wonders how carriers, shippers or freight forwarders can do the same thoroughly when their core jobs are described differently. Shipping always seems fascinating and much easier than it factually is, to pick and choose the best price is one part of it. It's crucial to understanding here is that the cheapest price is hardly ever the best price. Our customers give us trust and support to do the job for them because they would like us to find partners for long-term solutions and for building partnerships. At the very moment, something may not work out according to plan and ships delay, cargo not ready, port closed, cargo damaged, etc. An experienced broker can save all parties not only bags of money but also the relationships in between the parties concerned and consequently the fixture.
Tell us if you can about some of the cargoes you have handled or projects that you have been involved in.
In 2017, we worked mainly in three different vertical cargo markets.
First, we were involved in the transportation set-up for over 15 dismantled STS Container Gantry cranes, mainly from Europe to worldwide destinations.
Our second focus is on the renewable industry, including the maritime logistics for several ultra long 82,5m offshore windmill blades for the Burbo Bank expansion project. Our onshore wind department also created an impressive milestone by fixing a total of 150 single framed blades, which represents the largest amount of windmill blades ever exported on deck of a single vessel leaving Asia at that time.
The third market that HBB focuses on is maritime transport of new or second hand floating equipment, such as large workboats, tugs, docks and casco barges. Our close connection to Engineering companies help us to even propose turn-key solutions including cradles, and seafastening services together with partners. In May 2017, we were involved in the shipment of an entire floating dock from Rotterdam to West Africa onboard of a heavylifter.
Do you have offices abroad Andre? 
No, we do not have any own physical offices abroad. We do, however, have very experienced strategic partners, whom we have known for many years in nearly every key market and can e.g. set-up project-related representative offices with them in a heartbeat, where/when needed. Additionally, since 2016 we do work in an alliance with our partners NEPA Shipping B.V. from the Netherlands, which has generated great synergies between the two companies.
How do you view the shipping business if we focus on breakbulk owners currently?  There has been steady speculation about the situation for some of the owners and we have seen that BBC/Jumbo has entered into a special agreement, Rickmers Linie has taken over Nordana/NPC and there have been various other "bedfellows" joining each other. What does that tell a specialist like yourself about the market? With container carriers increasingly accepting breakbulk cargoes, are they real competition for the breakbulk shipowners?
Even though there are some signs of recovery, it remains to be seen whether they are in fact the forerunners of a sustainable upturn in 2018. The price of oil and gas seems to have bottomed out, thus one might experience fresh investments from the industry and more typical oil and gas equipment will need to be moved with MPP/heavy lift ships again. There is also some fresh potential spending in Africa and the Middle East as well as in renewables and particularly the wind industry.
The growth rates are, however likely to be modest in the immediate future since I do not expect the oil price to reach any of the previously absurd levels again, anytime soon. The direct and somehow painfully perceived competition from the container lines and bulk carrier owners seems to be easing as they find more attractive opportunities in their core markets.
In retrospect, it is also worth noting that the heavy-lift vessels sector showed a disparate picture. Older general multipurpose ships with a lifting capacity of up to 500mt barely cover OPEX, whilst modern ships that reach lifting capacities above 1000mt enjoy a more sound freight that is well above operating expenses.
We will likely see further consolidation in the industry to gain a brighter market share and to cut operational costs. It remains to be seen if that is the wisest move. One can expect that if the market indeed recovers sustainably in the near future, a good portion of these mergers and loose associations will fall apart again somehow.
How does it feel to be owning a company yourself? Does it sometimes become stressful?
Owning a company and having employees on the payroll is a great deal of responsibility. At the same time, it gives you a unique way to make your entrepreneurial ideas come true in the exact way you want them to. Looking back on the past 3 years, I can only say that I would do it all over again tomorrow and would not want to change a thing. The fact that one needs to be positive minded, proactive, visionary and possess the skills to continuously re-invent oneself are important aspects to remain successful. At the same time, it is crucial never to lose focus on a clearly defined product that your customers can remember.
In the long run, it's important to give something back to the next generation to save the industry. Ever since I started up HBB, I had students of the Universities of Applied Science Elsfleth and Bremen sitting next to me in my office. They gained profound knowledge in short periods of time and after completing their studies some of them stayed on our team. Regrettably and unlike other industries, shipping does not have a guild culture in which successful business players, ship owners or brokers give their experience willingly and patiently to a fresh generation. HBB has taken the initiative to bridge that gap.
With your skills and know-how, I am confident that some of our readers would like to get in touch with you. How can you be reached?
Sure thing, anytime! Anybody interested to get in touch can do so by contacting us either by phone at +49 40 307 234 36 or by sending us an email to hbb@hanseatic-breakbulk.com – we'll be pleased to hear from you!
---
Interviewee:

Mr. André Milschus
Founder and Managing Director
hbb@hanseatic-breakbulk.com
Hanseatic Breakbulk GmbH
http://hanseatic-breakbulk.com/