Mr. Supratim Majumdar
Director- Commercials
Who are the owners of Global Projekt Logistique?
The company is privately held with a few investors. The majority shareholders are Mr. Supratim Majumdar and Dr. Chandrima Majumdar.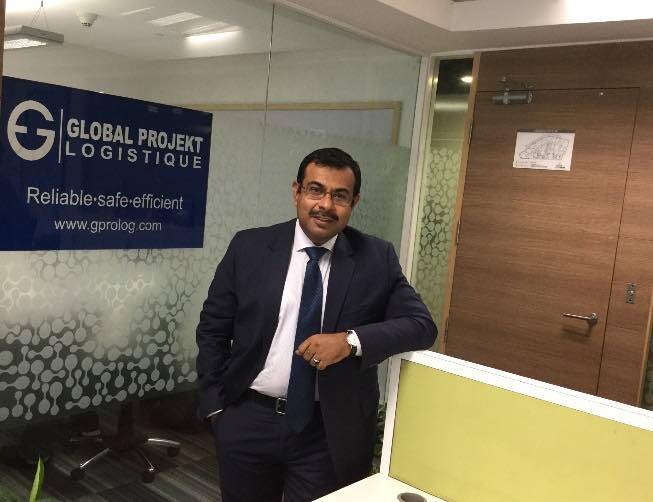 Tell our readers about what you are particularly good at in freight forwarding. We all know that many freight forwarders often claim to be good at everything but in your own words tell us where you feel you have a particularly solid experience?
We are a young team of dedicated shipping professionals who live and breathe the shipping business. While giving importance to networking and professional service, integrity and transparency are at the core of our approach to always get the job done no matter the challenges.
Our performance is based on a deep understanding of industrial products and workflows, thinking out of the box to solutions, with knowledge, skills and the fresh approach of a young enterprise.
The team is comprised of professionals who have over the years gained expertise in handling Indian EPC projects to Africa, South East Asia and Europe (the Balkans). We also have experience with commodity forwarding (pharma & industrial products) on a door to door basis. In ODCs and heavy lifts, we specialize in handling Trafos, Boilers, Pressure Vessels and also ODC shipments on charter flights.
India is a difficult market, infrastructure is being built rapidly as we speak but I understand there are still bottlenecks. Can you provide inland transport solutions if any overseas agents or customers so require?
Yes, the pace of infrastructure development has improved. India is a growing economy and the high cost of logistics, currently at 14% of GDP, was having a negative effect. The average speed of freight transportation has increased from the current 20-25 km per hour to 40 km per hour. Trucks that were earlier doing 200 km a day do 400 km now.
The checkpoints at state borders have already been brought down. Karnataka, Andhra Pradesh, and Tamil Nadu, along with 20 more states, have dismantled border checkpoints, reducing hassles for trucks. It emerged that every state has its own local taxation, every state has its own border and every time a truck passes it, taxes have to be paid. For that truck to pass the border post a whole number of documents are required, which leads to delays and the assets (trucks) remain underutilized.
With GST (Goods & Services Tax) coming in, the whole of the country will become one big business unit, the artificial divisions will vanish. In the GST regime, the location of warehouses will be governed by proximity to the manufacturing facilities and not by state government taxes. Earlier manufacturers' thinking was governed by taxes but after GST, logistics will get prominence in the entire supply chain.
What we offer:
Logistics in India are handled by us with aggregation of equipment as per the dispatch schedule.
Handling complex logistics in India using the correct gateway ports/airports depending on the ease of cost-effective operations.
Taking contingency risk measures to mitigate risks arising from to the possibility of weather, customs, and road access.
While studying the local conditions in terms of geography, customs requirements and other statutory and regulatory conformity, we design cost-effective, reliable and safe logistics frameworks for smooth handling of cargo from its very inception up to the final door delivery – "sure to door".
Yes, for inbound consignments, we are in a position to provide inland solutions to overseas partners and customers.
How about customs clearance in India. Is that a very difficult task? How are the customs to deal with generally in your experience? Are some ports more efficient than others? Do you have a rule of thumb concerning clearing customs – any good ideas to share with overseas readers?
India is ranked 146 out of 190 countries on the World Bank's ease of doing business ranking. On the 'trading across borders' measure, the government feels this can be improved substantially to lift the overall rank. India improved its overall rank to 100 this year from 130 last year.
In India, border compliance takes 267 hours (more than 11 days) for imports against 8.7 hours for OECD countries and instant clearance in as many as 21 countries.
The Central Board of Excise and Customs (CBEC) has developed an 'integrated declaration' process leading to the creation of a single window, which will provide the importers and exporters a single point interface for customs clearance of import and export goods. CEBEC is planning to rope in more government agencies under its SWIFT mechanism, which replaces nine separate documents with one common electronic declaration.
CBEC has substantially brought down the documentation requirements and now the importer is required to file only three documents — Declaration of Goods, Invoice, and Packing List — at the time of Bill of Entry. Earlier, importers had to file 18 such documents.
So, yes – India is easing the process of customs clearance and would also be overhauling the system. Goods are currently released after assessment and payment of duty. If this system is reversed, goods will be released first with the assessment of duty liability taking place subsequently.
We at Global Projekt Logistique, ensure that we do a dry run of shipping documents and checking the value/declaration, correct mention of HS codes so it complies Indian customs, this definitely helps in addressing "PPA – Potential Problem Areas" anticipated in processing with customs.
An important announcement regarding Indian customs:
"From 1st of April 2018, it will be mandatory to have the following on the bills of lading for all shipments sent to India (import Air/Sea):
1) Import-Export Code number (IEC) of the importer, given by the DGFT of India;
2) GSTIN (GST Identification Number) of the importer;
3) Official email address of the importer to be used for correspondence by shipping lines and customs."
You are requested to kindly inform the exporters to get this information of their importers, for any new shipment which will be sailing after 1st of April 2018. This information needs to be included in the Shipping Instructions allowing the shipping line to incorporate these details into the bill of lading.
What are the main ports of India we know that many of our readers follow the development in India with interest but also that they may need more information about which ports to use? Kindly elaborate if possible.
India has a long coastline of 5,560 kilometers. Having access to the sea on three sides with 11 major and 168 minor/intermediate ports. Major ports are directly under the administrative control of the Central Government while minor/intermediate ports are managed and administered by the respective maritime State Governments.
Main ports in India are:
State Names 
Gateways Ports
Containers
Break bulk
North
J& K, Delhi, Uttrakhand, Himachal Pradesh, Punjab, Haryana, Uttar Pradesh
Pipapav / Mundra/ Nhava Sheva
Kandla/ Mundra / Mumbai
West 1
Gujarat , Rajasthan
Mundra/ Nhava Sheva
Kandla/ Mundra / Mumbai
West 2
Maharashtra, Madhya Pradesh, Karnataka, Goa, Daman & Diu
Mundra/ Nhava Sheva
Kandla/ Mundra /Nhava Sheva / Mumbai
East
West Bengal, Bihar, Jharkhand , Odisha , Andaman & Nicobar
Paradip / Haldia / Visakhapatnam / Kolkata
Paradip , Kolkata, Vizag
South
Tamil Nadu, Andaman & Nicobar, Andhra Pradesh, Karnataka, Kerala, Telangana, Puducherry,Lakshadweep
 Kochi/Tuticorin/ Mangalore/ Krishnapattanam/ Kakinada/ Ennore/ Chennai port
Katupalli, Chennai, Ennore, Kochi
North of India has accessibility to the west coast because of the traditional rail link network and connectivity.
The government is considering a proposal to permit foreign vessels to operate in Indian coastal waters with a view to reduce logistics costs, enhance port efficiency and boost the domestic shipping industry. 
The move would facilitate transportation of cargo between different ports along the country's coastline. 

Currently, the Cabotage rule, which governs this activity, makes it difficult for foreign-flagged vessels to handle cargo between two domestic ports.
Can you provide us with some examples of shipments that you have handled?
I have provided a few photographs (find the photos spread throughout this interview) featuring transformers and cranes on DAP basis for Indian EPC customers to African destinations in collaboration with our reliable forwarding partners in Africa. All shipments on "door to door" basis, requiring meticulous planning for transportation, route surveys, certification, and compliances at the destination.
How to contact you?
Global Projekt Logistique Pvt Ltd

2nd Floor, Vatika Triangle
Sushant Lok -1, Block A,
Mehrauli Gurugram Road
Gurugram, Haryana – 122002
M : +91 9810107304 / 9810447304
T : +91 124 4418666 / +91 8448089835 / +91-8448089835
s.majumdar@gprolog.com
www.gprolog.com
We are open to inquiries at info@gprolog.com
---