Mr. Nicolas Aubert
Senior Managing Partner
First of all Mr. Aubert, we met originally in China and again recently at the breakbulk expo in Shanghai. How many years have you spent in China altogether?
I have been living in China for over seventeen years, mostly in Shanghai and a little while in Lianyungang, the main ocean port of Jiangsu.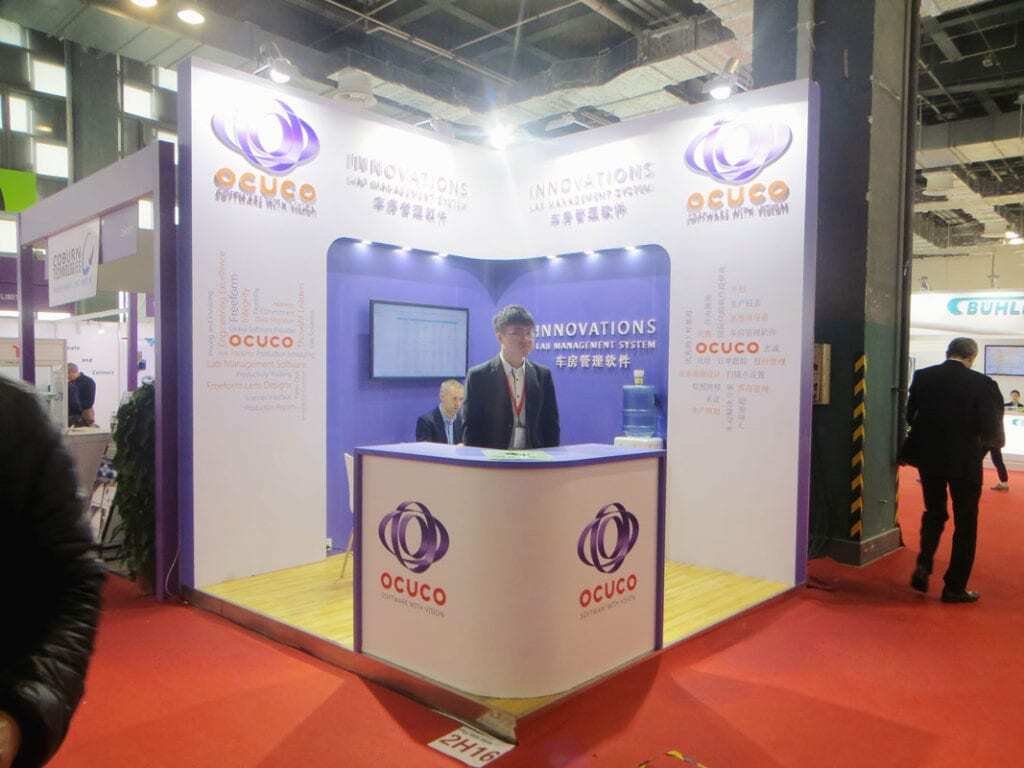 I understand that you run a marketing company and one of your specialties is the design and construction of booths for expos. Can you tell our readers in more detail about this very special aspect of your business?
When a customer needs to have a booth at a show anywhere in the world, we will first email them with any and all relevant questions we might have in order to streamline the process.
We ask for basic things such as the show's name, dates, location, venue, a floor plan, exhibitor manual, hall number, booth number, dimensions, number of open sides, type of booth booked (standard booth or raw space), anything else needed (tables, chairs, TV, etc.), logos in .ai/.eps formats, high definition photos for posters, the design they wish to use (we show portfolios of 3D designs and realizations) and budget.
Then when we have received all the data and necessary documents, we begin to work on the design. In this way, we reduce time spent by the customer and we can go directly to the result.
Most of the time the design offered is confirmed at 95%. Also, we make sure that all our designs fall at least in line with our minimum standard of acceptable quality, aiming to please the customer as much as possible.
We suggest the best materials to use, according to the budget provided. An accurate budget is of course very important from the beginning to ensure that time isn't wasted. We finish by confirming all posters in 2D for the customer to check and to confirm the furniture needed.
In your opinion, what makes the booths that you design and construct better than others?
Compared to our competitors, the main difference is that we care about the details and our customers (mainly western) can rely on us, not having to keep checking the construction on site.
We organize everything in advance. On a construction site, there are always things that can happen unexpectedly (especially in China), so if we know exactly what customers expect then we can move forward and make decisions very quickly.
Hence, the customer is able to relax and focus on their main business.
What was your work & educational background prior to establishing your company and how did you end up in China in the first place?
My main educational background was in the sciences at the senior high school level. During my studies, I was selected for business schools in France (ESC Montpellier), the Netherlands (HEAO Arnhem) and China SIFT (Shanghai Institute of Foreign Trade).
I arrived in 2001 in China for my 'company' year (a compulsory year in my business school), before I selected logistics/supply chains as my major for my last year at the school.
As for work, I worked in different companies in Bank, International Standards' Certifications (ISO, etc.), Freight Forwarding, Automotive, Glass, Imported Alcohol, Sheet Metal Work and Steel Structure in different positions: administration, consulting, sales, account management, procurement, and logistics.
There seem to be (almost) too many expos around sometimes and some exhibitors seem to express fatigue, leading to them choosing the venues at which to exhibit more carefully. What is your view on this subject?
I agree that there are many shows but the situation is changing, especially in China. Some shows are dying and some are merging because there are too many. Also, more and more are moving to Shanghai or Guangzhou from Beijing.
Besides assisting with booth design etc. what other marketing services can you offer to potential customers?
Our full services are as follows:
IT (IT support, web domain, web hosting, website, translation, SEO, social media, e-reputation, e-commerce).

Printing (graphic design, logo, brands, brochures, flyers, calendars, name cards, etc.) and promotional gifts.

Exhibitions (design and booth construction including translations, extra services like English, French, German, Italian, Spanish and Russian interpreters; Chinese and foreign hostesses, etc.).

Consulting (rep office, WOFE set-up; brand/logo registration, legal, accounting, procurement, logistics, etc.).
Please do not hesitate to check our website (www.mkt-china.com).
Also for your information, in addition to mainland China, Hong Kong, Macau and Taiwan; we offer booth design and construction in the European Union (Germany, France, UK, Italy, etc.), Russia, Algeria, Egypt, South Africa, Turkey, Israel, Middle East (Iran, Kuwait, Bahrain, Qatar, United Arab Emirates, Oman, Saudi Arabia, etc.), Asia (Japan, South Korea, Thailand, Malaysia, Singapore, etc.), North America (the USA, Canada and Mexico) and Latin America (Brazil, Argentina, Chile, Colombia, etc.).
How to get in touch with you?
By email (nicolas.aubert@mkt-china.com or nicolas.aubert@gmail.com), WeChat (ID is: Klaus_Ulysse_31), WhatsApp (0086-13916852225) and phone (0086-13916852225)
---