Mr. Dmitriy Balaban
Managing Director
Ukraine has been in the news a lot in the last few years. Tell us about the current situation in your country, is the business environment stable and how about shipping? Who are your main trading partners worldwide currently? Please also tell us about your main ports used for import and export.
Ukraine has indeed gone through a challenging period from 2013-2014 after the annexation of Crimea and the conflict in Eastern Ukraine which resulted in the Donetsk and Luhansk regions no longer being controlled by Ukraine.
Transport infrastructure (besides Crimean ports) were not affected, however cargo traffic squeezed substantially. Transit to/from Kazakhstan and other Central Aisan countries via Russia is not possible, we can only deliver cargo via Belarus.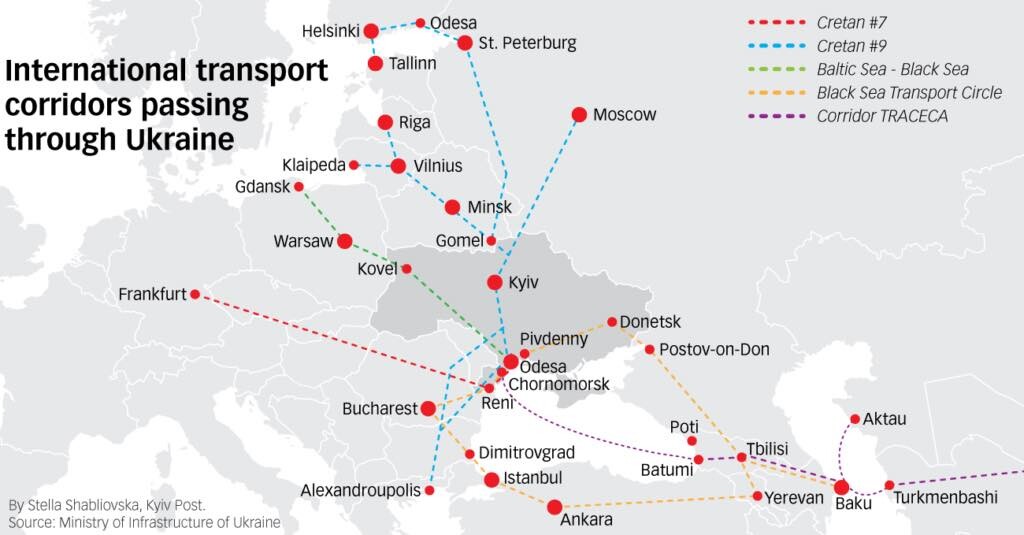 Currently, the agricultural sector is one of the main economic drivers and have recently seen massive investment.
In 2017 Ukraine's 5 largest export trading partners were:

EU countries – 39.8%
Russia – 9.4%
Turkey – 6.1%
India – 5.5%
Egypt – 5.3%
Ukraine's largest import trading partners were
Russia
China
EU Countries
USA
Most of the Ukraine cargo traffic is now handled via the ports of Odessa, Chornomorsk, Yuzhny, Nikolaev, and Kherson.
Who owns Alphatrans Ltd?
Alphatrans Ltd is a private Ukrainian company, and I am the only owner of the company.
What sea/river port routes does Ukraine have available? Is the China ambition of the silk road development (railway transport) also involving Ukraine? Do you move cargoes by train to/from Central Asia/China currently?
Ukraine has access to the Black Sea and the Azov Sea where we have various ports and port points.
We also have two navigable rivers:
The Dnepr River provides an important navigation route for trade and is an important part of the economy. Additionally, it is a source of hydroelectric power for the country and two hydroelectric stations – the Dnepr Hydroelectric Station and the Kakhovka Hydroelectric Power Plant. There are 11 river ports on the Dnepr River.
The Danube River is the second longest river in Europe and links Ukraine to the European Inland Waterway system. Ukraine is the last country to see the Danube before it empties into the Black Sea and there are two ports – Reni and Izmail on the Ukrainian part of the Danube.
Train service from China to Europe currently bypasses Ukraine and the nearest points are Brest and Warsaw. We do not see much interest from Ukrainian customers to use rail service from China as it does not cross Ukraine. Moreover, there are several direct ocean services from China to Ukraine and freight rates are lower than rates via railway.
Do you need a license to be a freight forwarder in Ukraine?
In Ukraine, companies do not need to obtain a license to provide freight forwarding services. This is good and bad.
Good because startups do not need to invest in a license to run their businesses. Bad because the barrier to entry is very low and many new low-budget companies appear on the market without even buying liability insurance and choose to compete on cost as their strategy thus distorting the market.
Tell us about customs clearance in Ukraine, is it difficult? Is corruption an issue currently? Can you provide a rule of thumb for those who may have a project to Ukraine – what should they prepare for in advance?
Customs clearance is still a complicated issue in Ukraine, although the situation is improving as the government sets a course towards de-regulation. The main problem is obsolete and imperfect legislation, which leaves many decisions to the discretion of a single customs officer.
For example, although there are certain time frames for the customs clearance process, it can be put on hold by customs officials at any stage, especially when checking the invoice value of the cargo.
Besides customs officers, different law enforcement departments can also demand inspection of cargo which again leads to delays in clearance and delivery.
Currently, EXW and DDP terms are not workable in Ukraine since duties and taxes should be paid by the Ukrainian Exporter or Importer and customs clearance cannot be arranged without their involvement. In most cases, cargo is delivered to the final place of delivery by bonded truck or rail and the consignee arranges customs clearance at his local customs office.
When shipping cargo to Ukraine quality of cargo documentation is a key factor for fast customs clearance and delivery. Any mistake or discrepancy can lead to additional inquiries, customs inspections or other delays.
All commercial documents, detailed cargo description, including pictures, should be sent to your agent in Ukraine as early as possible if customs clearance should be arranged in the port before delivery to the consignee.
Road weight limitation compliance is monitored on all roads, so total weight limits and correct weight distribution of the axles and tires should be considered by the shippers.
How to get in touch with you?
You are welcome to contact me using the details below.
Alphatrans Ltd
Odessa, Ukraine
www.alphatrans.ua
Email: sales@alphatrans.ua
Tel: +380 (48) 738 66 77
Fax: +380 (48) 738 66 78
Dmitriy Balaban
Managing director
Email: d.balaban@alphatrans.ua