Mr. Sami Seppanen
Account Manager Global Sales
Tell us about the name ConFoot, to the untrained eye it sounds like container and foot.
The name ConFoot does indeed originate from 'container' and 'foot'. When our founder Timo Akela was approached and asked to create a solution for a concrete logistical problem the wording used to describe the solution in Finnish was 'kontinjalka', which means 'the leg of a container'. This was literally translated and abbreviated to ConFoot to get the brand name.
The entrepreneur who approached us was transporting furniture to Finland from Estonian factories, and was frustrated because much if not all of his fleet of trucks was held-up at his loading bays waiting for unloading, and thus slowing deliveries and accruing costs.
While discussing the possible solutions with the entrepreneur Timo Akela the idea of light-weight, easily operated detachable legs came up and the rest, as they say, is history.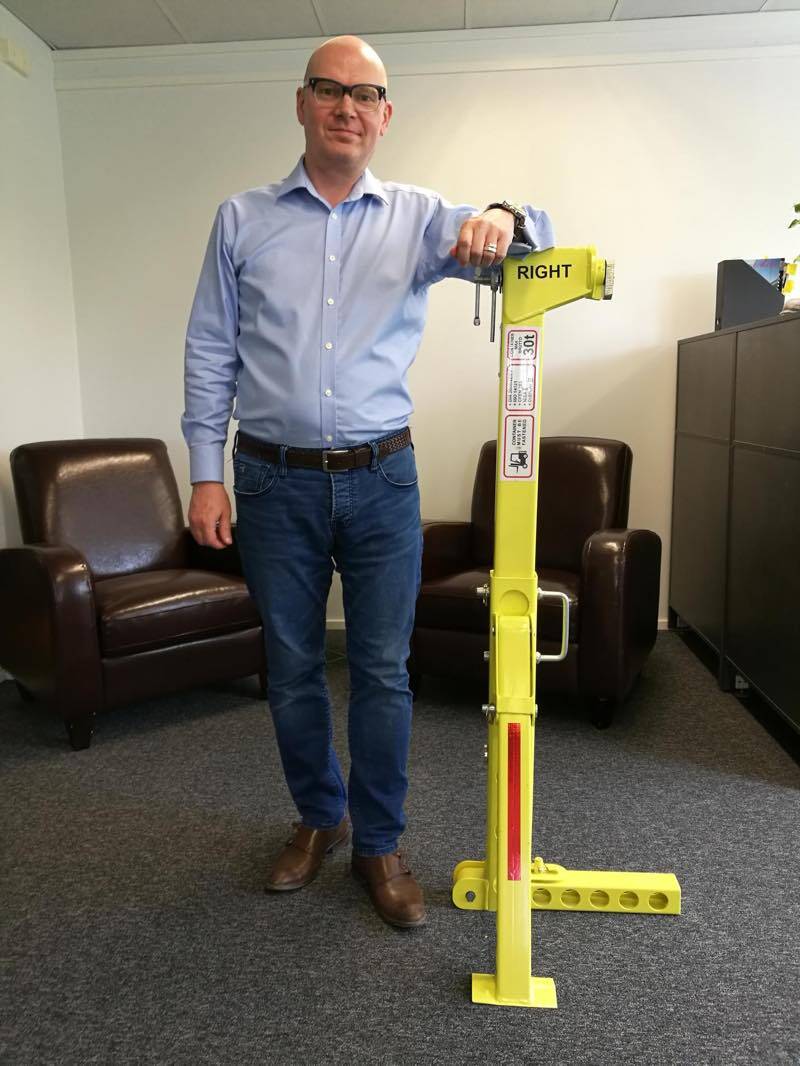 When did you established the company and where are you headquartered?
ConFoot as a company was founded in 2011 and we started doing business in 2013. The launch was preceded by an in-depth research and development period of 10+ years, during which time the legs went through intensive testing to make sure that we had a fully formed product with a long life-span ready when we finally ready to go to market. Our original headquarters were in Helsinki, which still acts as our postal address, and nowadays our HQ and visiting address is in Espoo, the neighbouring city to Helsinki.
Who invented your product and are you able to protect it from copycats that exist around the world?
The ConFoot legs were invented by our founder Timo Akela in collaboration with a team of engineers and Metropolia University in Helsinki. During the development phase they went through various prototypes to get a finished product that is durable, foldable and portable. To achieve this, a special blend of 6 high-strength, high quality Finnish steels was created that meets and exceeds all the our own and our clients tough demands. The finished product also meets all the safety regulations described in the European 2006/42/EC machinery directive.
Being a unique, innovative design the ConFoot legs are patented.
Most people around the world know that Finnish design and quality is outstanding but please explain what in particular your product does in terms of adding value and who could your potential customers are? Who makes up your client base?

ConFoot legs can be operated by one person, getting a max 30-ton container free-standing on the legs in a matter of minutes. Requiring air-suspension chassis to work, Europe is our natural key target area as 99% of the trucks use air-suspension.
ConFoot legs are a major asset in streamlining supply chains and reducing costs. Immediately adaptable to operations, quickly amortized and with a long life span (10 – 30 years) ConFoot legs are an elegant and simple, reliable solution addressing very concrete last-mile solutions which are at the heart of logistics and storage operations.
Our potential and actual clients come from various fields of industry: retail, transport, harbours, swap body users, logistics centres, forwarding companies, armed forces, manufacturing and industry.
A few of our clients include the Finnish Defence Forces, Lear Corporation, Orion Engineered Carbons, Framery, Kuehne + Nagel, Bobe Speditions, enerXia, IKEA etc.
When did you start working for Confoot?
I started working for ConFoot in May 2018. After noticing the open position in the company and studying the product I was struck by the elegance and significance of the solution on offer. 'Creating value' is a term that is used too loosely nowadays, but when used to describe what ConFoot legs mean for their users the term is 100 % correct.
I have a long history working in B2B and B2C sales in numerous fields, and I know from experience that it is exceedingly rare to come across a product that is an absolute, undeniable asset that will return investment made many, many times over, year after year after year. In this sense, ConFoot legs are pure gold.
What also appealed to me strongly was the fact that when talking of logistics, supply chains and shipping the first thoughts that come to mind are usually of heavy machinery and complicated operations with large teams of personnel. This is of course true in many harbour operations with ships exceeding 20,000+ TEUs, but in the other end of the global chain everywhere are the trucks delivering containers loaded with goods from every corner of the globe. After all other legs in the journey, there is one person driving the truck and getting the products where they need to be.
And it takes just one person to operate ConFoot legs, making the last leg of the journey quicker and more efficient. ConFoot legs are human-size in the complex chain of operations, and we meet our end users eye to eye, so to speak.
What we do makes a big difference.
How should our reader's get in touch with you?
For more information on our products and company please visit our website: http://confoot.fi/en/ and follow us on LinkedIn, Twitter and Facebook.
My phone number is +358 40 1426796, and my email is sami.seppanen@confoot.fi
I would be more than happy to answer all questions and enquiries regarding our products!
Link to video for the use of CF legs https://youtu.be/C2KwnEb-npU
Link to video for the use of CFP legs https://youtu.be/da7h7VgJHgs
Animation describing product benefits https://youtu.be/ezLa_i53gxk