Santiago Rodriguez &
Sebastian Agostini
Owners
Tell us about yourself (Sebastian & Santiago) what is your background and when did you start your shipping career originally? What made you choose this business?
▪ Santiago Rodriguez answer: I graduated with a degree in International Business and took my first job at the Argentinian Embassy in Uruguay, thanks to which I got my second job for an Argentinian company that was setting up in Uruguay. I was in charge of importations and logistics. In 2005 I entered the freight forwarding world (general cargo) and later, in 2008 I became involved in project freight forwarding where I feel is where I always wanted to be. As I always say, "forwarding is a way of life!".
▪ Sebastian Agostini answer: After I finished my degree in International Business I got a job in a familiar local company dedicated to international moves and forwarding, that first job helped me realize that forwarding is the perfect fit for me, partly because all my life I have been immersed in the maritime world because my father was a member of the Uruguayan Navy, he passed his love for the sea and vessels on to me!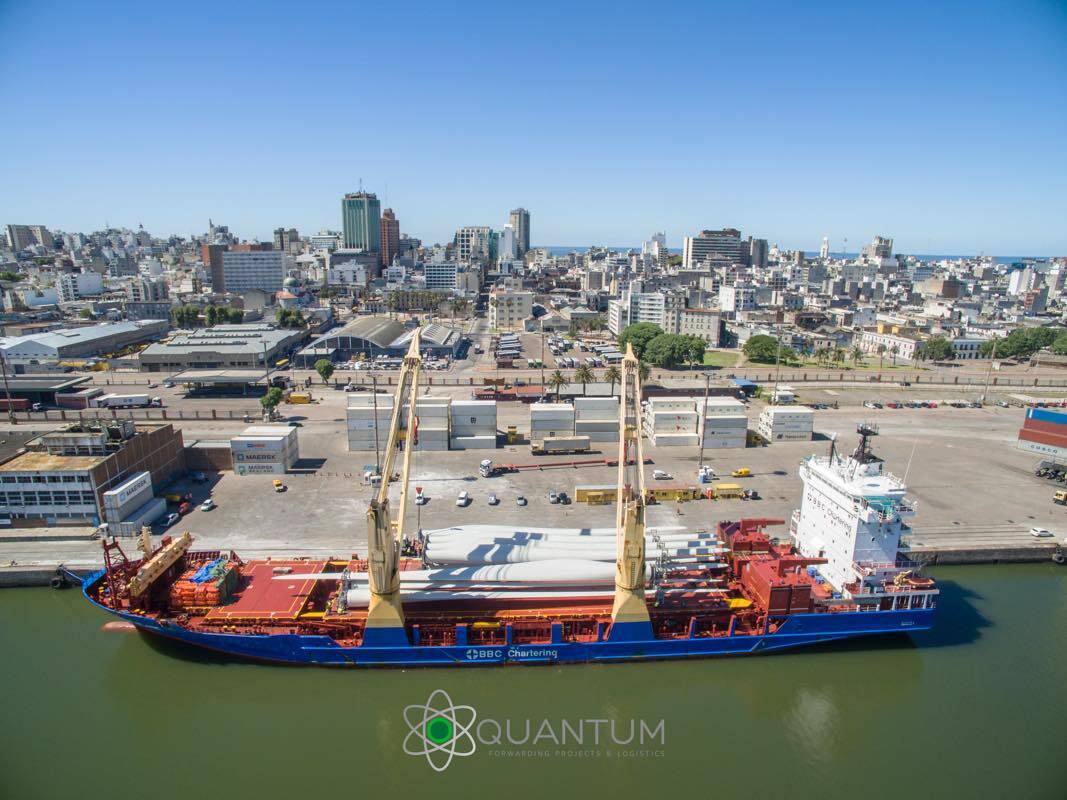 When did you establish Quantum Forwarding in Uruguay? Who are the owners?
▪ In July 2016 with my colleague and friend Santiago Rodriguez we decided it was time to start our own business after more than 10 years experience in the logistics business. We were part of the most important investments and logistics businesses in Uruguay like Ancap Refinery, Wind Mills Projects, Pulp Mills Constructions Sites (Botnia / UPM/ Montes del Plata), Total Exploration and Production (deep water world record) and so on.
▪The owners are Santiago Rodriguez and Sebastian Agostini.
Uruguay is not in the news every day, tell us a bit about your country, what are the main ports used for business and what are your main import/export products?
▪ The most important ports in Uruguay are:
Montevideo (MVD) for container vessels, cruise ships, RORO vessels, heavy lift vessels.
Nueva Palmira for bulk ships and barges that attend Paraguay & Bolivia through the Parana River.
We export meat, soy, rice, dairy products among others, and we import products such as spare parts, vehicles, machinery, retails goods etc. Last but not least, Uruguay with the Free Harbor Law is positioned as a logistics hub in South America capable of providing services to the whole region.
We have competitive and comparative advantages that put our country in a very good position for the region and world. For example, sometimes it is much more convenient to handle shipments to Argentina, Paraguay, Bolivia and the South of Brazil through Uruguay due to the cost & time conditions. We have a modern Customs that makes operations easy and secure.
What are the main activities of Quantum Forwarding today? Can you provide us with some examples of project cargoes handled?
▪ We have a General Cargo Forwarding Division handling LCL, FCL, Air & Truck shipments from any part of the world and to any part of the world, and we also have a Project Forwarding Division from where we handle special shipments. Some of the projects we have completed from the beginning up-to-now are Oversized Transformers, Windmills, Oil & Gas Drilling Equipment (offshore & on-shore) among others, from EXW up to unloading at the final site.
Which shipowners are calling from outside South America to Uruguay?
▪ Container carriers we have calling UY include all of the big players: Hamburg Sud, Hapag Lloyd, Cosco, MSC, Maersk, MOL, UASC among others. Over the last few years, some carriers decided not to call MVD anymore, but this is also a consequence of the consortiums that have joined.
We also have RORO carriers calling UY from Europe & Asia, such as Grimaldi, Glovis & Eukor. Most of them came with cars, for example, that are later shipped on RORO barges to Paraguay from MVD or Nueva Palmira Port.
▪ Bulk vessels call UY when they are chartered, the same applies for Projects Vessels although, for example, BBC usually calls MVD once per month with breakbulk cargo given MVD's proximity to Buenos Aires.
How about customs in Uruguay? can they be difficult and are there any specific rules to follow or guidelines that you can give overseas readers?
▪ There are no specific rules to be considered other than the usual things we have to bear in mind when handling a shipment. Documents have to be checked in advance to avoid surprises. The Packing list, Commercial Invoice, Bill of Lading and where applicable, Certificate of Origin, are mandatory for all operations.
Again, our Free Port Law allows us to offer a full range of services to our customers regionally as well as globally (picking, packing, etc).
Five years ago our customs authorities launched a system that allows all transactions to be completed via their website system, which helps to avoid delays, bureaucracy and guarantees transparency. Because of the efficiency of the system our Customs serve as advisors to the US Customs. Countries like Colombia, Bolivia, Paraguay have been trying to learn from the Uruguayan model.
Are you member of any international networks currently? If so do you feel it is worthwhile given that there are so many networks around?
▪ Yes, we belong to several networks and we feel that networks are always useful because they help you expand your business, develop strong relationships and a good reputation around the world. We truly believe networks are the best way to keep this business strong and liable. Moreover, you can share your expertise with colleagues and take the opportunity to learn from them in turn.
How to get in touch with you?
Web: www.quantumforwarding.com
– info@quantumforwarding.com
– Santiago.rodriguez@quantumforwarding.com
– Sebastian.agostini@quantumforwarding.com