Mr. Thomas Heidorn
Marketing Manager
First of all Thomas tell us about the name Conceptum. What does it mean? Is there a specific reason for naming your company Conceptum Logistics?
Conceptum Logistics stands for logistics solutions based on a professional concept. To find the best possible transport concept for our customers is our main goal.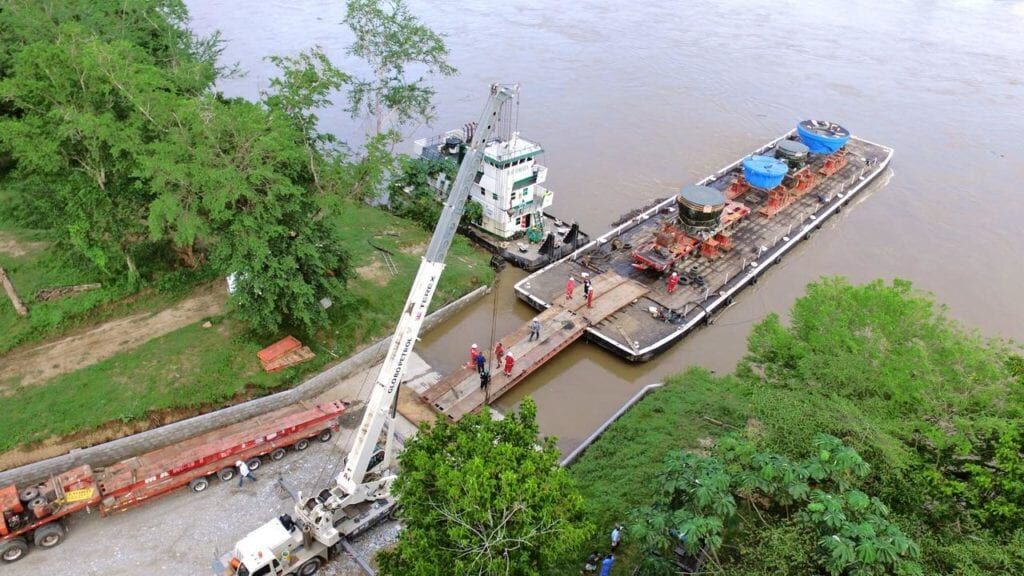 When was your company established and who are the owners today?
Conceptum Logistics was founded 2002 in Hamburg, Germany. It is owned and managed by Mr. Norbert Goerlitz and Christian Rode.
You are an established project freight forwarder, please provide us with a couple of examples of recent projects that you are proud to have handled.
We are proud of every shipment we handle, however the most considerable were surely the bigger ones we recently executed, such as the two ship loaders with all together 67,070.00 frts we moved from China to Guinea respectively from Guinea to Belgium; the two stacker reclaimers with 72,654.00 frts from China to Australia; a 50,000.00 cbm Cement plant ex worldwide to Colombia or the straddle carriers we just moved ex Poland to Abu Dhabi.
Do you have offices overseas?
Yes, we have offices all over the world such as in Australia, China, Colombia, Finland, Germany, India, Peru, Spain and the USA. Our corporate HQ is in Hamburg, Germany.
Are you member of any networks currently covering places where you are not yet established yourself?
The Conceptum Logistics Group has a long list of individually chosen partnerships with local companies. Focus is always the quality standard and service range which has to suit to our customers' requirements. Most of these partnerships last for many years already.
Germany is filled with freight forwarders and the competition is fierce. What makes you stand out and why, in your opinion, is Conceptum a good choice for the potential shipper?
The answer is simple – project experience. If you need a logistical solution for a project, you definitely need a service provider and transport concept that guarantees an utmost trouble-free and smooth handling of your cargo. Otherwise this could result in a lot of time and money. You need someone that knows your workflows and the transport conditions from A to Z.
Therefore, at Conceptum Logistics, up to the highest management, our experts not only coordinate projects from desk, they are personally at the job site to supervise beach landings in the Colombian Jungle, un-loading operations of 46,288 freight tons of ship-loaders in Kamsar or Oxygen Plant relocations from Dolvi to Thane, India. They simply know what they are talking about.
This experience leads to transport solutions that our customers ask for.
There is a growing (albeit slowly) trend that ship-owners try to go ashore (trying to offer door to door service in selected markets). What is your view on this? Will the ship-owners be successful?
This will surely depend on the quality, individuality and flexibility of the transport concepts they offer. As every project is handled differently, project logistics requires a high grade of specialization, long-time experience and focus. The question is if they will be able to handle this as further core business besides their shipping activities. At the moment we don´t see a very strong influence on our business.
Is the new buzzword 'blockchain' something that you think will have an impact on project freight forwarders in the future?
The influence on conventional forwarders with more standardized business might be bigger. Regarding projects, this will always be decided on a case by case basis. Especially with always changing destinations you would have to link to many companies, also to those you don´t work with often. Therefore the influence is not very strong yet.
How to get in touch with you if you are located in Europe or Aisa?
For Europe please get in contact with my colleague Mr. Ollmann: ollmann@conceptum-logistics.de
For Asia Mr. Moeller: moeller@conceptum-logistics.de
Here's a link for a great project we did on the Amazonas: https://www.youtube.com/watch?v=bD0r48_a-7k
Here is our corporate movie: https://www.youtube.com/watch?v=XArlnjKUg5A