Mr. W.T. Jang
General Manager
Please tell us about Sunjin Logistics. When was the company established, who owns it and what is your main focus in shipping & logistics?
Sunjin Logistics was established in 1978 and started its business in Seoul as freight forwarder. Now Sunjin has grown into a total logistics group, providing the best solutions to our customers with air & sea freight service, breakbulk/project, warehousing and 4PL, trucking, exhibition, military goods handling, and special cargo etc. We have over six hundred dedicated staff members in Korea, the USA and China all working under the strong leadership of Mr. Eugene Chung, our C.E.O. and owner.
Our core strategic business is engineering projects, military handling, pharmaceuticals, fair & exhibition and perishables/F&B.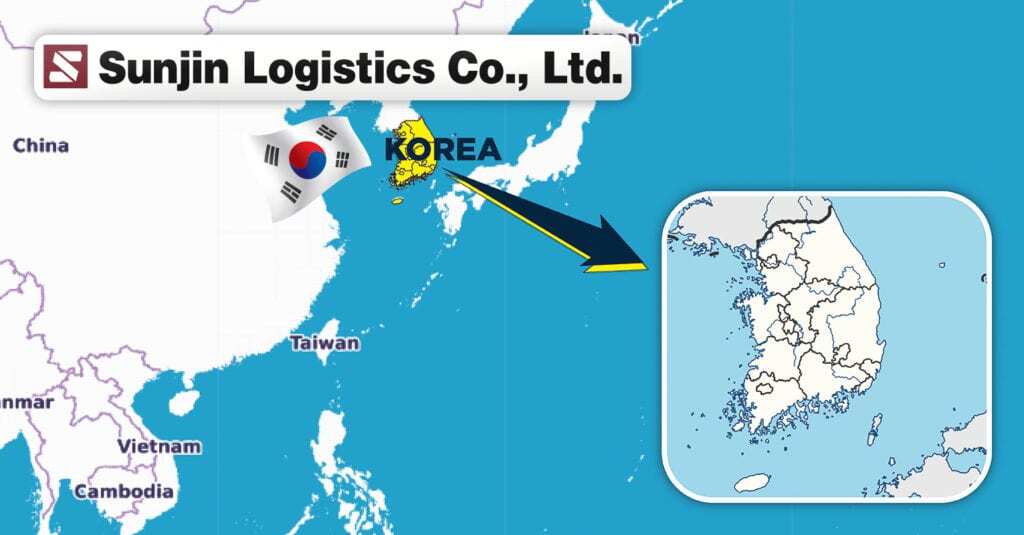 Competition is very fierce in South Korea and there are hundreds of logistics companies in your country (if not thousands). How do you stand out and compete in such a market? Is it only based on pricing, or do relationships with customers play a bigger role?
I think that competition is inevitable and all logistics companies have to accept their location, but the market in Korea can be particularly considered as a 'red ocean'. Global players are expanding their yards with cost and volume and small to medium sized forwarders are competing every day to survive in the local market. Sometimes I find it interesting to see so many surprising foreign partners who come because they've heard about the thousands of forwarders working in Korea. In the past, strong relationships with customers played a more meaningful role when compared with the current market, but now competitive pricing is the top priority for survival. However, pricing is not the magic key that fits all doors and there are many other important factors that can attract customers, such as professionalism etc.
South Korea is a very industrial nation and has several ports. Please outline for us the most important ports in your country for both containers and breakbulk cargo.
Busan, Incheon and Kwangyang are major container ports in Korea, and Busan is the biggest one for containerized goods, handling twenty million TEU in 2017. Bulk ports can be chosen by item and connected industrial complex. Steel is shipped in Kwangyang, near to POSCO and Hyundai steel. Pohang is also an important port for the POSCO factory. Kunsan & Yeosu ports are for chemicals, Incheon, Ulsan and Pyeongtaek for car and Dangjin port for steel/scrap.
Is there any service actually working between South Korean and North Korean ports at the moment, or must it be transferred via a third country?
Sorry, I can't really answer questions about business that we're not involved in.
Could you provide us with some examples of cargoes you have handled and that you are proud of?
Bulk for a Korean nuclear power plant
Supplies for Korean troops in Lebanon
In a global business world, contacts are paramount. Does your company belong to any networks at the moment?
Sunjin Logistics is a pure local organization and has been grown with overseas agents together without membership of any networks. Sunjin just started to join networks like SFN, and WCA Perishable this year before becoming a member of Cross Ocean.
Regarding South Korea as a tourist destination. I know that your food and beer is excellent and I even visited the island of Cheju. But tell us in your own words what you regard as worthwhile visiting for anyone coming to South Korea with a couple of days to spare?
I'm glad to hear that you had good impression of our food when you visited Korea before. Personally, I would recommend all the readers to visit Cheju Island if you want to spend a relaxing few days in Korea. You can enjoy exotic views and unique tastes of the kinds that you cannot find in the cities. If you like beer, I suggest you try Jeju Wit Ale, produced by a local brewery. But if you only have a couple of days, spend your time in Seoul, where you can experience the vivid and real Korea. Seoul is a megacity of ten million people, in fact twenty five million if you include the metropolitan areas. Also, the city never sleeps!
How is best to get in touch with you for a quote and for more information?
Here is my contact information:
Mobile: +82-10-4424-9802
E-mail: wtjang@sunjinsa.co.kr
Tel: +82-2-2225-9509
Fax: +82-2-2225-9506