Mr. Neill Thompson
Owner
How many years have you lived in Namibia Neill, and what originally made you come to the country? What made you get into a career in logistics?
I am Namibian by birth, but had the opportunity to live and work abroad for more than twenty years. I worked for major and niche liner shipping companies in the UK, Australia, Papua New Guinea, Europe, Canada, North America, Mexico, the Mediterranean and Dubai. Several clients were in the logistics business so, in 2010, I started working at Walvis Bay in the logistics industry and remain in the logistics, warehousing and SCM industry, with Basenji offering a unique and personal level of business.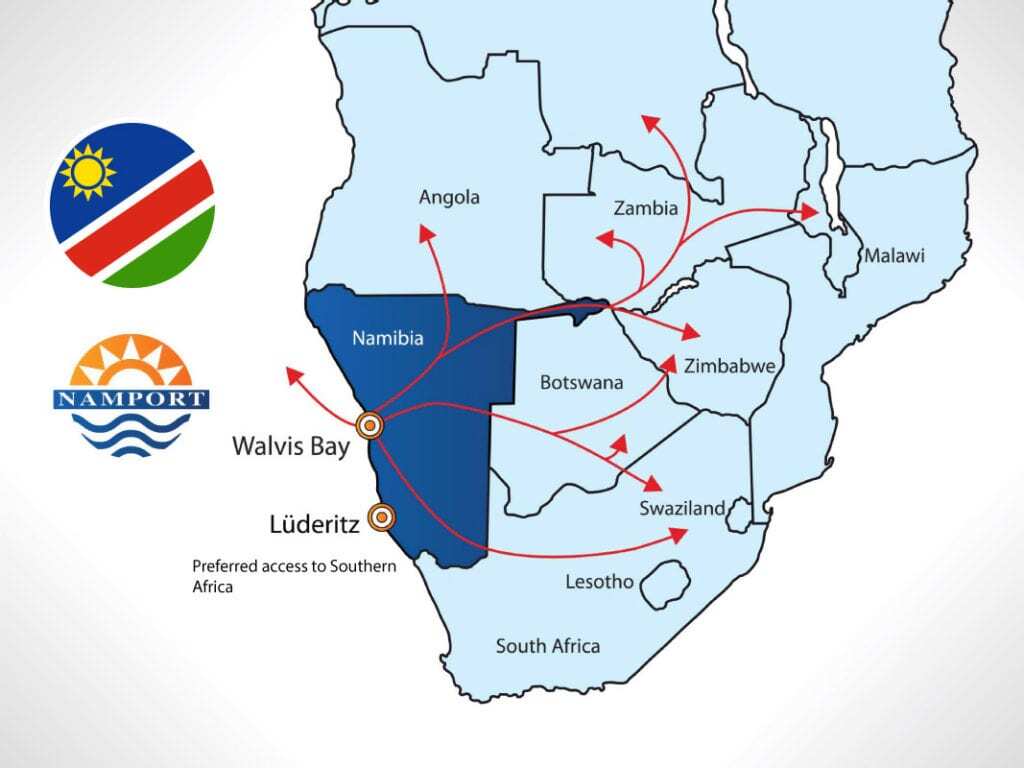 Namibia is a not such a well known country, so could you please elaborate a little on the most recent history and current politics of the country and can you tell us also about the main ports used for import/export?
Formerly known as South West Africa, Namibia gained her independence from South Africa in 1991. It is a young and stable multi-party parliamentary democracy, with varied industries which are dominated by agriculture (including fishing), tourism and mining.
The port of Lüderitz (in the south of Namibia) and the port of Walvis Bay (in the centre of the coastline) are the two commercial ports in Namibia. Walvis is the largest and also Namibia's main (and only deep water) ocean port; it is currently being expanded to boost capacity (quay length, draft and STS cranes) to cater to the growing throughput of bulk, break bulk and containerized cargoes.
The official currency is the Namibian Dollar, which is pegged to the South African Rand.
Can Walvis Bay be used as a transshipment point for cargoes to the interior of Africa? Is that something that you can assist overseas customers with and, if so, what destinations can efficiently be reached using Walvis Bay as the entry point?
The port of Walvis Bay is the main gateway for traffic to/from Namibia's neighbours, through the inter-modal concept that is the Walvis Bay Corridor. Cargo arriving by sea into Walvis is discharged from a vessel, cleared and transported by road to Botswana, the DRC, South Africa, Zambia and Zimbabwe, and vice versa, with exports from neighbouring countries being shipped through Walvis to many destinations all over the globe.
The port of Lüderitz serves local mining and fishing companies with regular vessel calls.
Basenji has many years of cross-border cargo experience and is well placed to assist with enquiries for local and over-border cargoes.
Can you provide us with a few examples of project cargoes you have handled recently (by air or sea)?
Basenji is currently the logistics contractor for an American company engaged in a telecommunication infrastructure project, with containerized cargo being shipped into Walvis, and then delivered to various locations throughout Namibia.
I have previously been involved with two large projects – a brewery in Namibia (involving abnormal, out-of-gauge and containerized loads), and an electrical infrastructure project in the DRC over a nine month period (incl. 100+ton abnormal and container loads).
The Port of Walvis Bay has a number of Liebherr mobile cranes each with a lifting capacity of up to 140tons (tandem lifts are possible), and the new container terminal has STS cranes, so there are deep water berthing options for project and heavy lift cargo.
How is customs clearance working in Namibia?
Namibia uses the Azycuda world clearing system. Entries for each shipment are registered electronically online and the hard copy supporting documents are delivered to customs for verification, processing and release – this typically is finalised within a matter of days – then the shipment is released from the Port Authority and the shipping line and can leave the port.
Namibia is a beautiful country. Tell us what there is to see that, in your view, captures the beauty of the country and could you provide our readers with a few spots that perhaps are less known to the average tourist?
Reputed to be the driest country in sub-Saharan Africa and with a surface area of 824,292sqkm, Namibia is the thirty fourth largest country in the world. But, with a population of only 2.4million, we are in the global Top Ten in terms of the lowest population density.
The oldest desert in the world, the Namib Desert, stretches along the whole west coast of the country (from Angola in the north to South Africa in the south, some 1300kms of shoreline), while the Kalahari Desert runs along its south eastern border with Botswana.
From the coast to the east and from the south to the north, there are many varied climates, ecosystems, plants and animals and very few people, so you really have the sense of being in a country of wide open spaces.
Namibia really is a bit of a smorgasbord for those with an appetite for travel. Windhoek, the capital (population 325,000), is a young and vibrant emerging African city which offers visitors a idiosyncratic taste of city life, with vibey restaurants and bars, art galleries and ample shopping opportunities.
Other prominent towns include the coastal settlements of Walvis Bay and Swakopmund, which are a must for visitors to Namibia. Walvis Bay, although an industrialised port town, has great adventure sport opportunities on offer, from fishing, sand-boarding, paragliding, kayaking, kite-and-windsurfing to quad-biking.
And then there's the surfing: Donkey Bay and Skeleton Bay prove that what Namibia's coastal waters lack in terms of temperature, they more than compensate for by offering surf aficionados some of the best barrel waves in the world. https://surfeuropemag.com/features/the-worlds-7-longest-surf-rides/
The beautiful Walvis Bay lagoon is also a designated Ramsar site, perfect for twitchers from afar. Expect a riot of flamingos, pelicans and many other endemic bird species.
The spectacular dune belt that runs between Walvis Bay and the quaint town of Swakopmund is the swooping and ever-changing (not to mention very photogenic) sea of sand that Namibia is known for. Swakopmund boasts beautiful German architecture which harks back to colonial days at the beginning of the last century. The Germanic influence is strong so stocking up on schnitzel, beer and strudel is definitely the thing to do in Swakopmund.
But really, what Namibia offers visitors is the opportunity to experience the wild, whether in the dry, ragged south of the country or the more temperate, subtropical north. North of Swakopmund, all the way to the border with Angola, is Namibia's Skeleton Coast, home to withering shipwrecks, huge dunes and amazingly adapted fauna, such as the desert-adapted lions and elephants. Doing off road tours through this nature reserve is not for the faint-hearted, but it is absolutely a trip that should rank at the top of everyone's bucket list. That should go hand-in-hand with visiting some of Namibia's famous nature reserves, with Etosha National Park being the most popular destination. There are other, lesser-known parks too, such as the Khaudum and Sperrgebiet Parks, among a host of others.
Namibia is a big place: with 825,615km² waiting to be explored. There's absolutely no reason for anyone to run out of things to see and do. It has a well developed road network, good mobile telecommunication coverage, and above all, hospitable and very proud citizens who'd love nothing more than to show you around.
How is best to get in touch with you?
I am on LinkedIn and occasionally Facebook, and you can easily reach me by email (neill.thompson@basenjitransport.com) or Whatsapp (+264-81-6523829). Namibia is one hour ahead of GMT. Of course, I am also contactable via the Cross Ocean network.
Thank you.