Dr. Tim Merklein
Managing Director/CFO
First off I would like to ask you about the background and ownership of Rhenus Project Logistics. Where does the name come from, when was the company established and who owns it?
Rhenus Project Logistics is the project cargo forwarding and heavy-lift specialist within the Rhenus Group, which is a family-owned logistics company with a global footprint. Rhenus Project Logistics employs about 120 people in sixteen countries worldwide and is managed by Tobias König, Carsten Schröter and me. The name Rhenus relates to the Latin word of the river Rhine; a river that always played an important role in the history of the Rhenus Group since its establishment in 1912.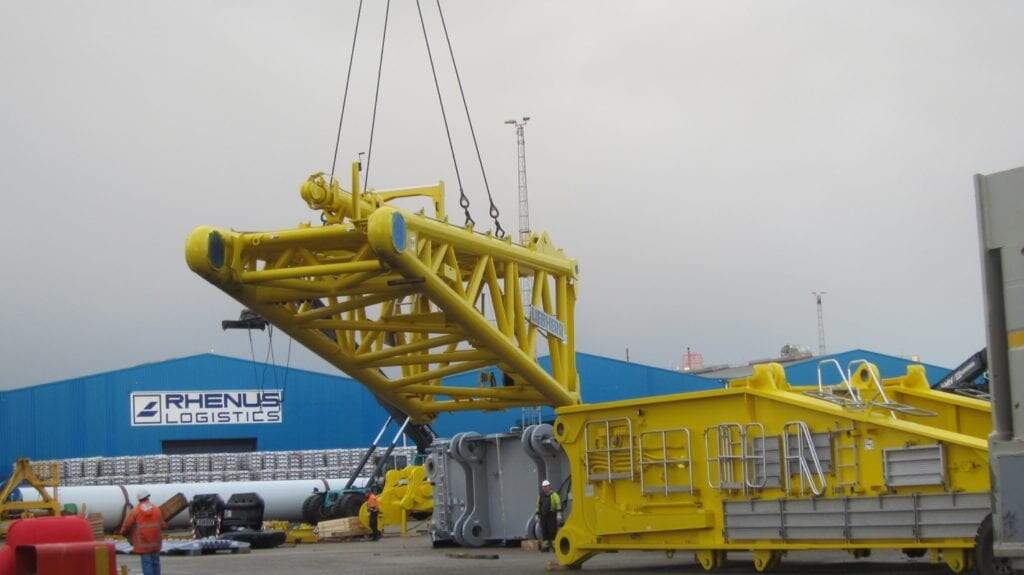 Germany is an industrial giant in the world and subsequently there is a lot of business to get in Germany. However, I believe that you are also very active overseas, so can you elaborate on where your wholly-owned offices are located overseas and are there any particular markets when you feel that you are particularly strong?
You are right. Many decisions for international projects are still made in Germany and the current economic development is positive for the whole project cargo market. Since most projects are overseas, Rhenus Project Logistics is operating with its own offices in sixteen countries worldwide. One of our core markets is North America, where we recently established an office in Chicago in addition to the existing offices in New York and Houston.
In Western Europe, we have our main offices in Germany, Switzerland and the UK. Beside that we have a strong presence in India and all over Asia (Thailand, Indonesia, Vietnam, China, Japan), but also cover the CIS region with our owned offices in Tashkent and Moscow. Our big advantage is that most of our team members have known each other for many years and cooperation often goes hand in hand. This year we did a project in the US, where the teams of Rhenus Project Logistics USA and Switzerland performed exactly in the same set-up like in a similar project four years ago. It is not only the global coverage– it's what you make out of it in a multicultural team.
Even though you are a sizeable company, there is still a lot of competition out there. Tell us in your own words why you believe that Rhenus Project Logistics is a good choice when it comes to moving a project involving heavy and OOG pieces?
The project logistics market has undergone major changes in the last few years and competition increased significantly. Customers often reserve themselves the right to book their individual transport services directly with the carriers and trucking companies. They expect added value from the freight forwarders and a partner that solves their problems before they actually occur. We have dedicated project managers that usually and handle a project from quotation until the final delivery to job site. Anonymity is a no-go in our industry and we always ensure that there is a single point of contact during the whole project phase.
Our global coverage definitely helps to bring a project to success, as we are very flexible, even setting up teams in remote locations to suit the needs of a project. A big plus for us are the assets of the group. As Rhenus has its own terminals, inland waterway and short sea vessels, we can include these into our transport concepts.
Besides that, Rhenus Project Logistics offers additional services like technical consulting, overall project management apart from the transport order itself and customer-specific IT solutions. We are strongly investing in IT solutions for our project forwarding activities and recently started to cooperate with a start-up company to set up a web-based process management platform as an alternative to the common usage of Excel sheets and Email status reports.
Could you provide us with some examples of projects that you are particularly proud of having handled recently?
Every project is unique and we are always proud when the cargo arrives safely and the customer is satisfied. But there were definitely two projects this year which made us particularly proud.
For a petrochemical project in Texas, Rhenus Project Logistics delivered numerous shipments from worldwide locations to the job site. Below is a video of transporting some heavy items from South Korea to La Porte. On arrival at Houston, this shipment was transported by barge and self-propelled modular trailers across land to the construction site. The total project was around 70.000 freight tons.
Another project was for a construction company, where we organized the shipments for a mobile cement plant and several hundred tower parts for a wind park project from Germany to Thailand. As this was one of the first mobile plants in this format and the project was very time-sensitive, we knew that there would be many obstacles to overcome. The added value we could present for the customer was our knowledge of the customs clearance process / BOI procedure in Thailand and the 24/7 coordination support of the project teams in Duisburg and Bangkok.
I noticed that you recently acquired several companies within the project logistics field. Can you tell us more?
In 2015 Rhenus acquired the KOG Group, which had made a name for itself in the field of project forwarding for more than thirty years. The network, knowledge and experience of the team members from KOG Group are the backbones of our project forwarding division. Together with the financial strength and global network of the Rhenus Group we are able to meet the future challenges of the industry.
When did you start your own career in project cargo logistics and is there a particular reason for making this choice?
I started my career in Rhenus in 2012 and entered into project cargo logistics when Rhenus acquired KOG Group in 2015. I worked for a construction company before and complex construction projects always fascinated me. What I find extremely exciting in our industry at the moment is that every partner of the supply chain is pushing the digitization topic pro-actively. For us, it will be one of the most important challenges to digitize our business processes and redefine the role of a modern project forwarder.
Could you provide us with your contact details so as to enable our readers to get in touch with you?
My contact details are as follows:
+49 (0) 203 804 288
tim.merklein@de.rhenus.com