Interview with
Mr. Ole Schmidt
Vice President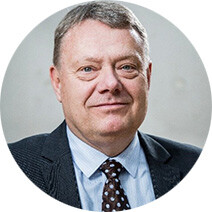 First of all Ole, could you please tell us about your own career in project forwarding and logistics? When did you start your career and what made you choose a career in this line of business? How many years have you been at DSV and what are your responsibilities there today?
I started working in freight forwarding in 1979 and grew into international trading and logistics. I have been dealing with project freight forwarding since 1986 and it has remained ideal and motivating for me thanks to every day being different, business wise. The interaction with stakeholders during the stages of pre-planning, bidding, kick off, execution, and the closing of single projects really work with my mindset. I have been working for DSV since 2000, but considering merger and acquisition I have, in reality, been in the same company since 1984.
Renewable energy is a major part of project cargo these days, as 'green' is fashionable and in high demand, leading to a lot of project cargo transportation worldwide. Is DSV Projects involved in moving renewable energy projects around the world?
Yes, DSV Projects is heavily involved in moving renewable energy projects and has been active in this sector since the very beginning. We are dealing with on and offshore wind projects and all their related components. We are also involved in solar energy projects and many other different types of green energy projects. For quite a while, the large volumes of WTG components have made up the majority of project cargoes globally.
Many forwarders call themselves project freight forwarders and many have a focus on 'green' projects. In your opinion, what makes DSV stand out as a strong alternative for shippers to consider?
Well, DSV is a growing GLS and a full-service provider. Personally, DSV Projects are ISO 14001 having a focus on the environment. We're a strong player in more than eighty countries with a lot of success in gaining market share. We are fast and client-orientated, focusing on verticals, supply chains and growth through local empowerment with the right attitudes in all aspects of logistics.
Do you think project shipping has changed in recent years? I hear from the market that more and more demands are being placed on the shoulders of the project freight forwarder. Is that something that you can confirm?
I agree that the market is more transparent today. Clients and project forwarders have learned their lessons over the years and, subsequently, agreements are stricter and more detailed these days.
How do you choose which ship-owner to use? Is it always just a matter of price, or do you also have other considerations to think about before choosing?
No. DSV Projects vets its subcontractors and we have a clear supplier code of conduct and other procedures in place internally and externally to approve the right partner(s) for a job. Price is a driver, but there are other drivers. Again, it all depends on the set up, situation, quality and risk assessment.
On average, how many travel days do you have a year?
If I look back, I see that I've been on a lot of business trips throughout my career. I've been to meetings and inspections in at least seventy-five countries and many of those countries I've visited twenty to fifty times, so I estimate I've had at least fifty days per year of travelling abroad.
What do you like most about the job?
Every job is different and being a part of a successful company makes me proud. It makes my day to be responsible for a growing, dynamic team with a clear vision for the future.
There seems to be a trend in the market lately, whereby ship-owners either buy freight forwarders or claim to have their own freight forwarding department. Do you see this becoming a threat to the independent project freight forwarder in the future?
So far, we have managed to present ourselves as a valuable proposition in the market without having assets. We are navigating against all tiers of competition. Ship-owners' logistics departments cannot cover the globe and markets shift all the time, so of course it can be a threat, but there are factors. Some of the multipurpose owners have done their own multimodal heavy lift operations for some time. I know that some clients are demanding that the owners do door-to-door contracts, but it will require vast investments.
Thanks, Ole. Finally, what's the best way to get in touch with you?
Ole Schmidt
DSV Air & Sea A/S
Projects
Hovedgaden 630
DK 2640. Hedehusene
Tel: +45 43 20 34 34
Mob: +45 28 15 14 34
E-mail: ole.schmidt@dk.dsv.com