Interview with
Mrs. Marna Edmark
Vice President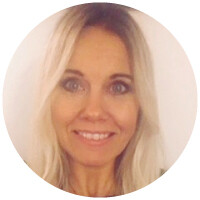 Firstly Marna, could you please kindy explain what type of company Ekman is and what you ship around the world? Could you also enlighten our readers a bit about the history of Ekman & Co?
The Ekman family founded its first business in 1663, selling iron and timber and in 1802 Ekman & Co AB was incorporated. Ekman was one of the pioneers in Swedish production and export of pulp and paper and the first Swedish trading house to operate in China, when opening an office in Shanghai in 1914. Through the years Ekman has operated in various businesses and in the early 1980's business focus shifted to forest related products.
Ekman is a global sales and marketing organization strategically aligning buyers and sellers of forest products around the world. We make international trade easy and profitable for partners in more than 100 countries.
With global presence and local excellence, we add value throughout the business process by offering competitive purchasing, strong financial solutions and efficient logistics. Ekman has more than 300 employees in 40 offices worldwide and handles around 4.5 million tons of forest products every year.
What kind of quantities do you ship in a year and do you mostly use breakbulk or container vessels?
We ship approx. 4.5 million tons of pulp, paper, bio and recovered materials. The majority of these are shipped in containers and some by bulk and trucks. The Ekman Pulp Division is the world's largest independent pulp trader, present in all major geographic areas.
As a shipper, do you find it useful sometimes to utilise freight forwarders, or do you prefer to deal directly with shipowners?
That all depends on what the contracted terms are, as well as the final destination. In certain parts of the world we can only use forwarders and in others only carriers. But in order to be flexible and always maintain the best service towards our customers, we utilise both forwarders and carriers.
There are many shipowners out there, though there are not as many of them sailing in alliances or groups. How do you choose which shipowner to use?
Our nominations are based on rate levels, service, local representation and availability.
Marna, please tell our readers how you ended up as V.P. of logistics in Ekman & Co and how come you chose a career in logistics in the first place?
I started at entry level in the import department of P&O Containers immediately after I finished my studies. I then worked my way up through different positions within shipping, freight forwarding and co-loading companies. Before I joined Ekman & Co, my last position was as export department manager at Geodis. During my years in shipping, I have worked in Rotterdam and, more recently, in New Delhi for 2.5 years as a Trade lane Manager. My main experience is in Operations and Sales.
What do you like most about your job?
The wide spectrum of work duties, involvement in all sides of the business and the fact that I don't know what kind of logistics challenges each day will bring.
In your opinion, what has changed over the years? What do you think of the approach of modern freight forwarders and shipowners towards you, the real shipper?
During my years in freight forwarding, one change that I've noticed is that freight forwarders and carriers are working more towards sustaining a relationship with their customers. Freight forwarders offer more value for their customers, such as complete supply chain solutions, 4PL etc.
Do you have any good advice for youngsters looking to become active in logistics on the shippers' side?
Be patient and learn the basics. Also, be open to working in different areas of the logistics business in order to create understanding and gain knowledge and experience.
How to get in touch with you?
Marna Edmark
Vice President Logistics
Ekman & Co AB
Visiting Address: Polhemsplatsen 5, SE-411 11 Gothenburg, Sweden
Postal Address: P.O.Box 230, SE-401 23 Gothenburg, Sweden
Phone: +46 31 750 55 32
Mobile: +46 705 22 03 96
www.ekmangroup.com