In this Issue: Rhenus Project Logistics |Travellers Club – Voyages en Cargo by CMA CGM >>>
---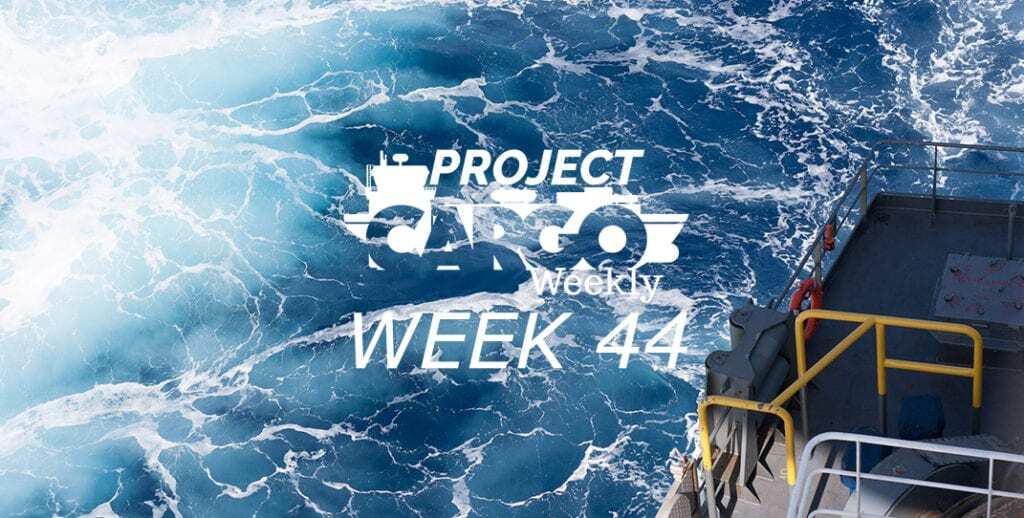 Dear friends,
It's Thursday November 1st 2018 and hopefully we're in your inbox again. I normally reflect on some facts of life in my editorial and I have received many acknowledgements for it over the past few months. When push comes to shove, I suppose we are all similar one way or the other and, although no-one goes through life without ups and downs, I believe it's out duty to live our lives to the fullest as long as we have them.
Seldom does a week go by without a disaster or tragic accident happening, mostly recently the crash of the Lion Air jet off Jakarta, Indonesia, a country which I remember fondly from my time living in Lombok from 1997-2000. So, we never know what's around the corner and perhaps that's for the best, because if we did then we couldn't focus on living now. Living now and not letting your life pass you by is something that I am focusing a lot of my energy on. Perhaps it comes with age, I am not sure but I am told that, as with good red wine, we mature with age, although my wife and likely ex-wives would beg to differ as they all seem to claim that I am still a teenager.
'Living your life whilst you have it' also means doing what you can whilst you're physically able, which leads me to something that one of our interviewees today reflects upon, i.e. the possibility of travelling as a passenger aboard a cargo ship. Now, naturally many of us have experienced travelling as a passenger on cruise ships and being asked by the ever-present American whether our home countries (in my case, Denmark) are in up-state New York…or if we speak English there. Normal cruise ships were never an interest of mine however, as I've always preferred sailing on cargo ships since my first time in 2005. I bought a ticket from Malta to Khor Fakkan aboard the CMA CGM Berlioz, a giant in those days of 6500 teu (today only a feeder).
I have since travelled almost every year, mainly with CMA CGM but also once with Hamburg Sud and primarily to/from Asia or South America, passing both the
Suez Canal
and the
Panama Canal
. With the kind permission of my then wife and my long-term partner in the Martin Bencher Group back then, I cherished the freedom on board, as well as the peace, tranquillity and potential to spend time relaxing and reading. I also enjoyed the occasional interaction with the crew, be it on deck, on the bridge or in the engine room. I was always questioned about the availability of on board internet and how I can stand to be without it, but there is progressively internet on board most ships. Still, you can't surf like most are used to, filling your mind with empty news, blabbing politicians running for re-election or stories of scandals and misuse of funds in the public administration of our tax dollars. Watching a sunset on board a giant container vessel after the customary five o'clock drink before dinner, either alone or with someone you love is, for me at least, the definition of total happiness.
Now, returning to business this week as we all must, we have selected an interesting and well reputed company in Germany today. They put forward the case that, despite their size, they are certainly more than able to cater for smaller companies in need of project cargo solutions. We then finish off with shipping news and trade intelligence as well as the usual wise words.
Until next week, I remain,
Yours sincerely, Bo H. Drewsen
Rhenus Project Logistics – Germany
Interview with Dr. Tim Merklein
Managing Director/CFO
First off I would like to ask you about the background and ownership of Rhenus Project Logistics. Where does the name come from, when was the company established and who owns it?
Rhenus Project Logistics is the project cargo forwarding and heavy-lift specialist within the Rhenus Group, which is a family-owned logistics company with a global footprint. Rhenus Project Logistics employs about 120 people in sixteen countries worldwide and is managed by Tobias König, Carsten Schröter and me. The name Rhenus relates to the Latin word of the river Rhine; a river that always played an important role in the history of the Rhenus Group since its establishment in 1912.
Travellers Club – Voyages en Cargo by CMA CGM
Interview with Ms. Véronique Touze
Directrice
Would-be passengers often ask about food, accommodation, on-board internet and where they are allowed to go. How would you respond to that?
Three meals are served a day. They are included in the cost of your cruise, prepared by the ship's chef and served at set times in the officers' mess. These daily meetings allow passengers and crew to chat in a friendly and convivial setting. You will be able to get to know the officers and hear their fascinating tales.
The cabins on the cargo ships are generally spacious (from ten to forty square meters) and each is fitted with an en-suite bathroom plus toilet, a double bed or two single beds, a sofa, a desk and one or two portholes.
For washing clothes, most container ships provide laundry facilities, including washing machine, dryer, iron and ironing board. Sheets and towels are provided and a steward will keep the cabin clean. Passengers are in charge of leaving their cabin in good condition at the end of the cargo cruise.
Featured Project Shipment
Monaragala Project – Sri Lanka
Editors note:
Sri Lanka is a great place to visit both for business and as a tourist. There also are ample project cargo movements within and to/from the country as can be seen here. Provided by Aitken Spence/Mr Balasooriya….
Clark Spence & Co Ltd received a power plant project inquiry from their agent in China in early June 2018. The cargo for the project was shipped in 23 X 40HC and 5 X 40OT containers from Shanghai to Colombo. The commodity was mainly Turbine-Generator sets and steel. Clark Spence's scope was to arrange clearance in Colombo and deliver the cargo to consignee's job site in Monaragala (265km from Colombo), de-stuff the cargo carefully from the containers and place them accordingly. For this operation they used a 45mt crane, a 10mt fork lift, a 6mt fork lift, 5 skilled laborers and two experienced supervisors. With great team work, coordination and time management shared between the customer, the customs clearance department, the transport department, the operations team and the site office, the projects was successfully completed within 3 days, meeting the requirements of the customer.
http://www.aitkenspence.lk/
Air Charter Service helps to fly in more than 600 tonnes of relief goods to Indonesia
Editors note:
I visited Ujung Pandang (Makassar) once when I lived in Indonesia. A big beautiful island but many islands are prone to Tsunamis.
Over the past few weeks Air Charter Service's global offices have been sourcing aircraft to carry relief goods to the region. Dan Morgan-Evans, Group Cargo Director for ACS, said: "The 7.5 magnitude earthquake and subsequent tsunami caused widespread damage to the Sulawesi coast of Indonesia – tens of thousands of homes have been destroyed and there are hundreds of thousands of people now homeless. The death toll from the natural disaster has now exceeded 2,000, with many thousands of people still missing. Our US, Asian and European offices have all been heavily involved in the humanitarian effort since, on behalf of our clients.
'Pink Lady' in the Port of Hamburg – ONE container shipping group's first containership in novel magenta livery calls in Hamburg
Editors note:
ONE has arrived in Hamburg with their first pink colour giant container vessel – must have raised some eyebrows along the River Elbe.
With her striking magenta colour design, she's a real eye-catcher in the Port of Hamburg. With a length of 320 metres and slot capacity of 8,102 TEU (20-ft standard Containers) Ocean Network Express – ONE shipping group's 'ONE Continuity' may not be among the biggest containerships ever seen in the Port of Hamburg, but her unorthodox colour scheme has everybody staring and cameras clicking like mad. "We are delighted to be able to welcome and to clear ONE's first containership in the new corporate livery here in Hamburg," said Jan Holst, Director Germany & Central Europe.
Wallem supports Polish tall ship's call to Hong Kong
Wallem Ship Agency was appointed to handle the recent call of the full-rigged Polish tall ship, the S.V. Dar Młodzieży to Hong Kong.
The tall ship arrived in Hong Kong on 26th October 2018 and was berthed at China Merchants Wharf until 29th October. This stop in Hong Kong marked an official one on the ship's round the world journey which will see it visit 21 ports in 18 countries.
Von Taube Named As Director, Round The World Liner Service – Zeamarine
ZEAMARINE, a new global leader in the transport of project, breakbulk and heavylift cargo, has announced that Kai von Taube will assume the role of Director, Round the World (RTW) Liner Service effective Q1 2019.
Sembcorp Marine wins two renewable energy engineering contracts
Singapore's Sembcorp Marine has been awarded two separate contracts worth S$200m ($144m) for renewable energy engineering solutions.
Ausdrill-Barminco JV continues contract success in Africa
African Underground Mining Services (AUMS) has been awarded a $US375 million ($529 million) underground mining services contract at AngloGold Ashanti's historic Obuasi gold project in Ghana, West Africa.
Heading down south: Lee and Man Paper expands into Malaysia
Hong Kong's biggest paper maker is opening a new HK$5.1-billion production plant in Malaysia, as it looks to build on its growing presence in Southeast Asia and meet China's increasing demand for paper.
Joint venture: Pakistan, China firms to build $200m glass manufacturing complex
Deli China and JW SEZ Group have joined hands for establishing a $200 million modern glass manufacturing complex in Pakistan for the production of premium, export-quality glass products.
Honduran Power Project Announced
MAN Energy Solutions has won a contract to set up a combined-heat-and-power (CHP) plant for Progressive Energy, the energy arm of the ElcaTex Group in Choloma, Honduras.
Editors note:
COSCO is a huge company and I had the pleasure of working for one of their agencies from 1984-1995. They recently had one of their breakbulk vessels calling Europe but skipping Suez and using the Northern route north of Russia….most impressive.
Editors note:
View of Stockholm just taken during departure onboard mv Viking Mariella bound for Helsinki, Finland
Quote and Proverb of the Week
"The quality, not the longevity, of one's life is what is important"
Martin Luther King Jr
"If you drink the country's water, you should obey the country's laws"
– Ancient Tibetan Proverb