Interview with
Mr. Christopher Fernandes
Sales Manager
Christopher, first of all tell us about yourself. What is your nationality? When did you arrive in Kuwait and what originally made you get into the shipping and logistics business?
I was born in a small state of India named Goa, which is known for beautiful beaches and much laid-back life style. I was raised in Kuwait from 1965, did part of my education in Kuwait and then completed it in India.
I came back to Kuwait after completing my studies in 1983 and had always looked at joining the air industry. That got me to join Alghanim Freight and I progressed through positions as documentation clerk, team leader in import (air and sea), export (air) supervisor and project coordinator.
I then moved on, joining the airline industry (1989) at Air France and handling import documentation and counter sales. In 1993 I joined Emirates SkyCargo in cargo operations and sales, moving up to become the carrier's cargo manager. It was a long journey in which I handled EK-cargo over twenty good years and finally I got my present position with Fast Logistics in 2013.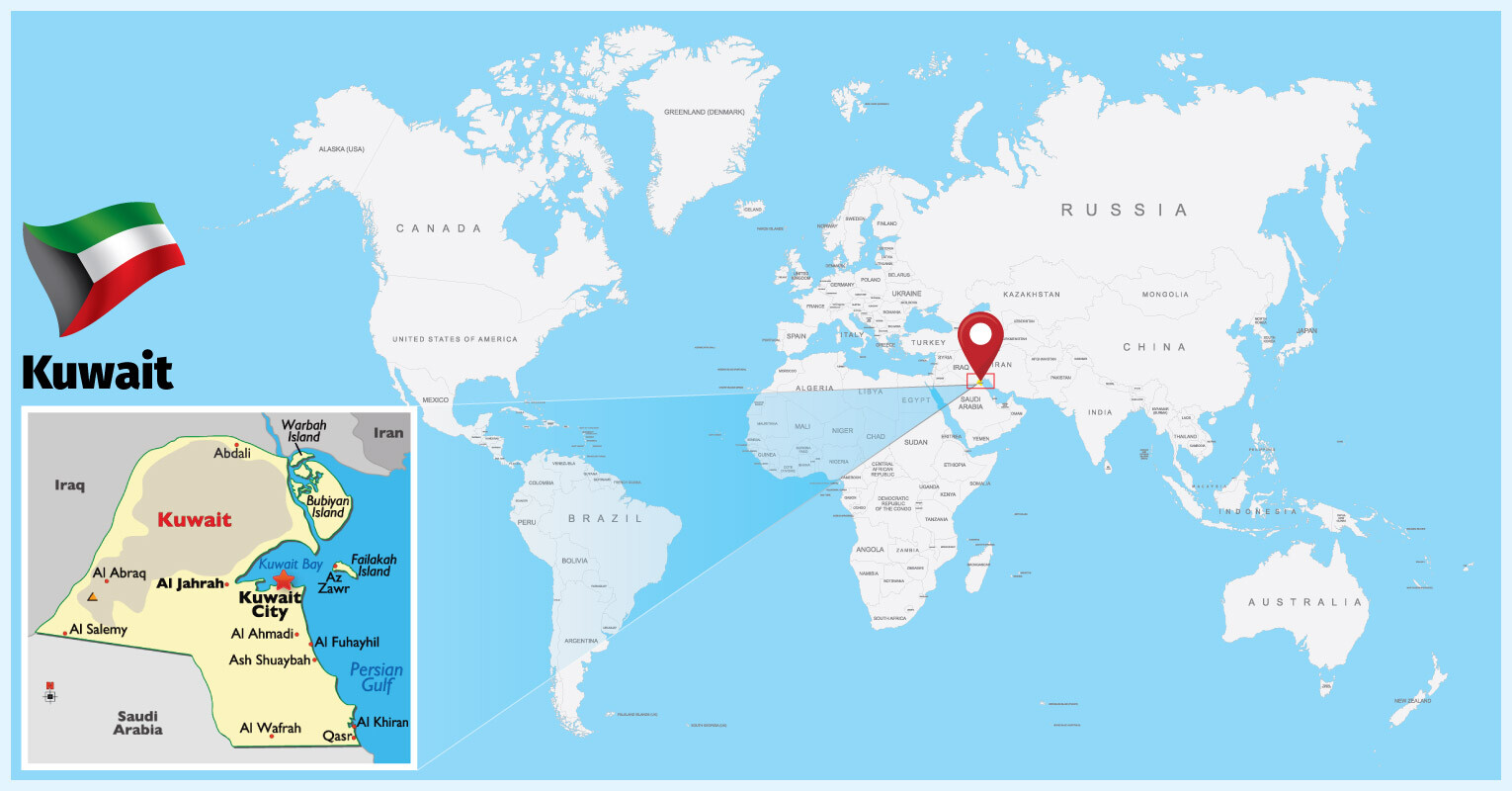 Kuwait is a small country and I suppose many people around the world still remember the Iraq/Kuwait war where the Americans intervened. How about the current situation in Kuwait? In the current political climate, with whom are Kuwait friendly on a political and business level?
I was in Kuwait during the invasion on Aug 2nd, 1990. It's an oil-rich but tiny country, flanked by powerful neighbours in Saudi Arabia, Iraq and Iran. Kuwait's oil reserves make it one of the world's richest countries. It's a conservative state with a Muslim majority and the US as an ally. Kuwait stands out from the other Gulf monarchies for having the most open political system. Tensions have persisted between parliament and the which is cabinet, controlled by the ruling Al Sabah family and the government is facing increasing calls for radical political reform from the opposition.
The recent period has been less contentious for Kuwait politically than previous periods, but more challenging economically. Faced with falling oil prices and growing state expenditures, resulting in a looming budget deficit, the government tried, rather unsuccessfully, to implement economic reforms. This included cuts in subsidies and public sector wages, shifting employment to the private sector, diversifying sources of income and attracting foreign investments. However, the government's attempts to implement these policies incited strong popular discontent. One of the most vivid examples was the three-day strike of oil sector workers, which effectively paralyzed the country's most vital industry. As a result, most of the government reform measures could not be fully implemented. Meanwhile, the government was able to launch a record number of new and long-awaited development projects that had previously been delayed (e.g., the Al Zour North Power Plant, the Clean Fuels Project, Kuwait International Airport, etc).
Kuwait maintained strong international relations with most countries, especially nations within the Arab world. Its vast oil reserves give it a prominent voice in global economic forums and organizations like the OPEC. Kuwait is also a major ally of ASEAN, and a regional ally of China.
Do you have experience in handling project cargo? Could you provide us with a few examples of such cargo that you have moved?
Yes, I have personally handled projects for clients such as Bechtel Oil, Gas & Chemical and Al Tameer. This is going back to 1985, 1991 and 1992 respectively.
At Fast Logistics we have completed the following projects:
Doha Link Project – Sheikh Jaber Al Ahmad Al Sabah Causeway
Transportation of Cranes and Bridge Building Equipment
Moved from Shuwaikh Port to Doha Link Project site
850T Straddle Carrier – 161 Packages 1358410 Kgs / 5272.81 Cbm (Equipment Used 14 Flat Beds and 39 Low Beds)
Fast Logistics' scope of work:
Being over size and overweight with odd cargo size, equipment had to be pre-arranged and organized accordingly for loading coordinating with the shipper.
Road survey was conducted on bridges, highway and in line with the heavy load vehicle timings, with the coordination of the traffic department and Ministry of Interior for smooth movement of our trailers from port to site.
Meeting the deadline of the project is our core responsibility.
Thanks to our years of experience in handling projects, execution and planning with international parties and local authorities and eliminating all obstacles, it took three working days to move 1,358,410kgs / 5272.81 Cbm. This project added another feather to Fast Logistics' cap.
Transportation and loading of 6" Steel Pipes
Transportation and loading of 6" Steel Pipes
Similar to the above for Contractor Petco Kuwait
Special Movements
87 live animals from Kuwait zoo to North Korea
Horses from Kuwait to Amsterdam (Charters)
Kuwait is a seaport. Can you please tell us more about the port and also about who calls there directly on a regular basis?
Kuwait ports play an important role in the country's export and import trade. The port authority of Kuwait runs the seaport, which is operated by the government of Kuwait. The port authority of Kuwait provides a safe and efficient transportation system that ensures safe trading in the ports and improves the economic prosperity of the country.
Shuaiba port is located in the Al-Ahmadi area, about forty-five kilometres south of Kuwait City. It's dedicated to container handling and has four berths equipped with seven container gantry cranes, each with a capacity of fifty-six tons. the oil pier has a water depth of sixteen meters. There are two small sea craft and barge basins located at the port.
Shuwaikh Port is an urban industrial area within the Al Asimah Governorate in State of Kuwait. A number of Kuwait's ports, educational institutions, hospitals and offices are in the area. The major cargo ports are in Shuwaikh Port. In 1985, almost three thousand people lived in Shuwaikh.
Shuwaikh's container terminal is located northwest of Shuwaikh port, over an area of 260 thousand square meters allocated for receiving containers, whether for import or re-export. The terminal is equipped with electrical outlets for receiving refrigerated containers and these outlets use a sophisticated electrical system that ensures the safety and hygiene of refrigerated foodstuff.
The ports authority has allocated some berths for container handling and equipped each of them with two gantries, reach stackers and empty container handlers.
All major shipping vessels call at Shuwaikh port.
The port encompasses sixteen closed warehouses with total area of 170,323 square meters and total open storage area of 485718 square meters.
What about customs clearance in Kuwait? Is it difficult?
Over the years, the Kuwaiti economy has progressed and became more liberal towards imported goods. The Kuwaiti market expanded rapidly and the need for new goods has grown every day, leading to more import. As for Kuwait customs clearance papers that you must acquire, there are several. They are all issued by the Public Authority for Industry (PAI) and they're designed to ensure conformity for all regulated products as well as forming the Kuwait Conformity Assurance Scheme.
The Scheme consists of:
Taking random sample items from imported goods to verify compliance.
A Technical Inspection Report acknowledges that all items comply with those regulations that are relevant and are approved by national/regional/international standards.
The TIR is obliged to cause no complications for shipments in Kuwait, which means customs clearance should not be a problem.
All imported and regulated products must acquire by a TIR.
The required documents include:
Original Invoice + Three Copies
Original Certificate of Origin
Original Packing List + Three Copies
Original Airway Bill / Bill of Lading
Certificate of Conformity
Companies must hold Import License
Companies to be Registered
Payment Government Electronic Payment System
Are there any places in Kuwait that would be good for a would-be tourist to visit?
At its heart of Kuwait City sits the Grand Mosque, which is known for its vast interior and chandeliered dome. On the waterfront, the late nineteenth century Seif Palace features a neo-Arabic watchtower and manicured gardens. Nearby, the Kuwait National Museum explores history and features science shows at its planetarium. Souk Al-Mubarakiya is a vast food and handicraft market.
Some other places to visit include Kuwait Towers, Liberation towers, Green island, Sadu House, Sheikh Jaber Cultural Centre, the Kuwait Zoo, the National Museum and Historical Vintage classical Cars Museum.
How is best to get in touch with you?
Mobile: +965 99738635