Interview with
Mr. Esben Flinker Noergaard
Vertical Lead, Special Cargo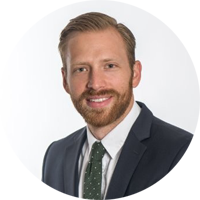 Maersk is well known globally, so I'd like to focus on a certain area, i.e. your services into the East Africa, specifically the Horn of Africa. With a focus on Djibouti and Ethiopia, can you enlighten our readers a little about your services from China, Southeast Asia and Europe?
To Djibouti, we have weekly services from both China and South East Asia, as well as from Europe. From northern Europe and the Mediterranean, your cargo reaches its destination with only one transshipment (Salalah or Algeciras) and transit times are roughly between fifteen and twenty-five days.
Cargo from Southeast Asia takes around twenty days to reach Djibouti with one transshipment (Jebel Ali or Salalah). From China it takes slightly longer (about thirty days).
As always, there are many possible port combinations and our global network with weekly sailings allows us to serve our customers from many different origin ports.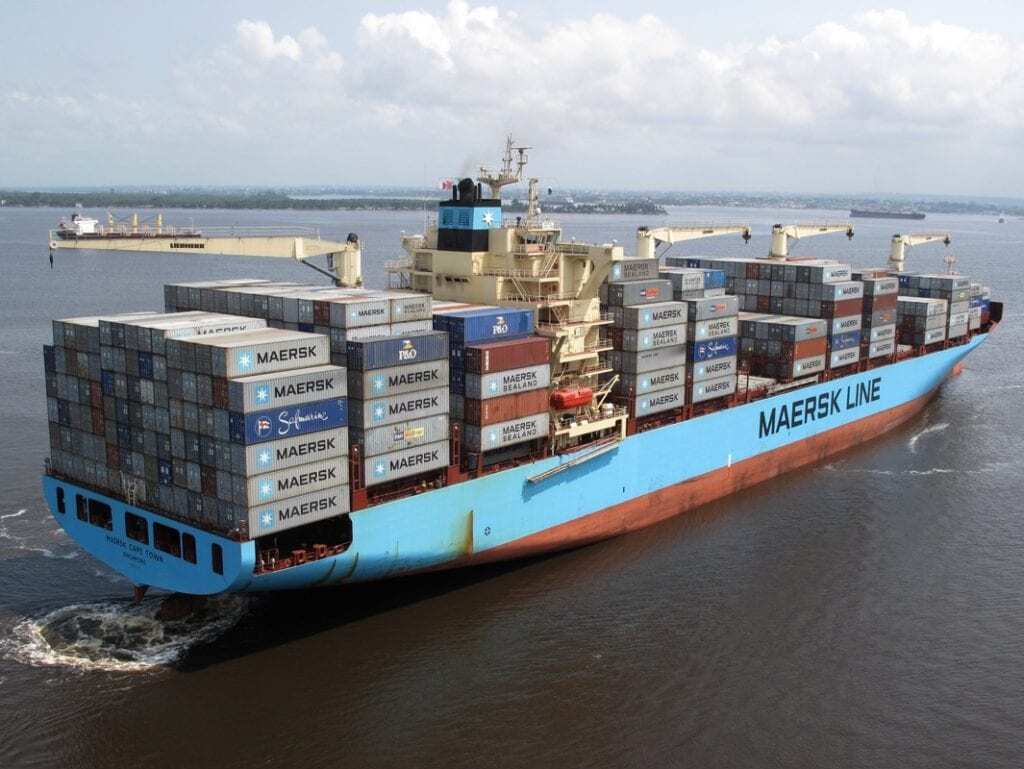 Are you able to accept OOG and breakbulk cargo into Djibouti? Also, are you able to organize inland transport to Ethiopia?
The short answer to your questions is yes. For ocean transportation, we accept both OOG and breakbulk. In fact, our customers can request rates online for both.
Inland to Ethiopia operates more on a case-by-case basis for OOG (and breakbulk). We are always asking our customers to approach Maersk Ethiopia directly for advice, as the customs clearance to Ethiopia in particular is governed by specific rulings. You can read more on our website via this link: https://www.maersk.com/local-information/ethiopia
Could you provide us with some examples of OOG or breakbulk cargo that you have shipped into East Africa?
Yes, certainly. We recently moved a number of trucks on flat racks to Djibouti. Besides the ocean transport, Maersk also was in charge of the loading, lashing, blocking and bracing of the trucks onto flat racks.
Many of our customers appreciate the additional services we can provide. Together with our high service frequency and reliable schedule, Maersk provides a very competitive alternative to the conventional Ro-Ro and break-bulk carriers.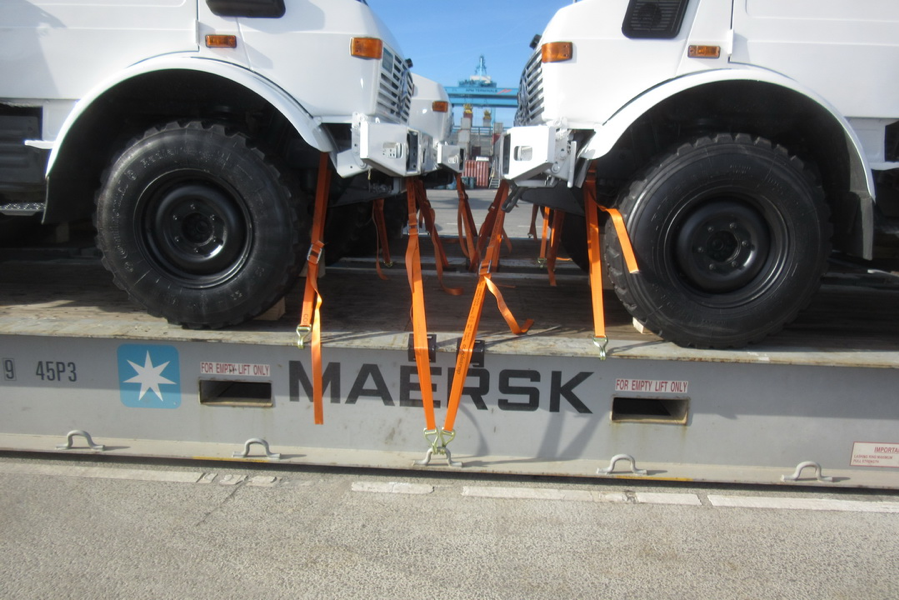 I can also give you an example of this 35 mt propulsion module we moved as break bulk from China to Mombasa. The way we handled it was to load it using a bed of flat racks and position the piece athwart of the vessel. An easy operation, but of course we treat every operation with utmost care.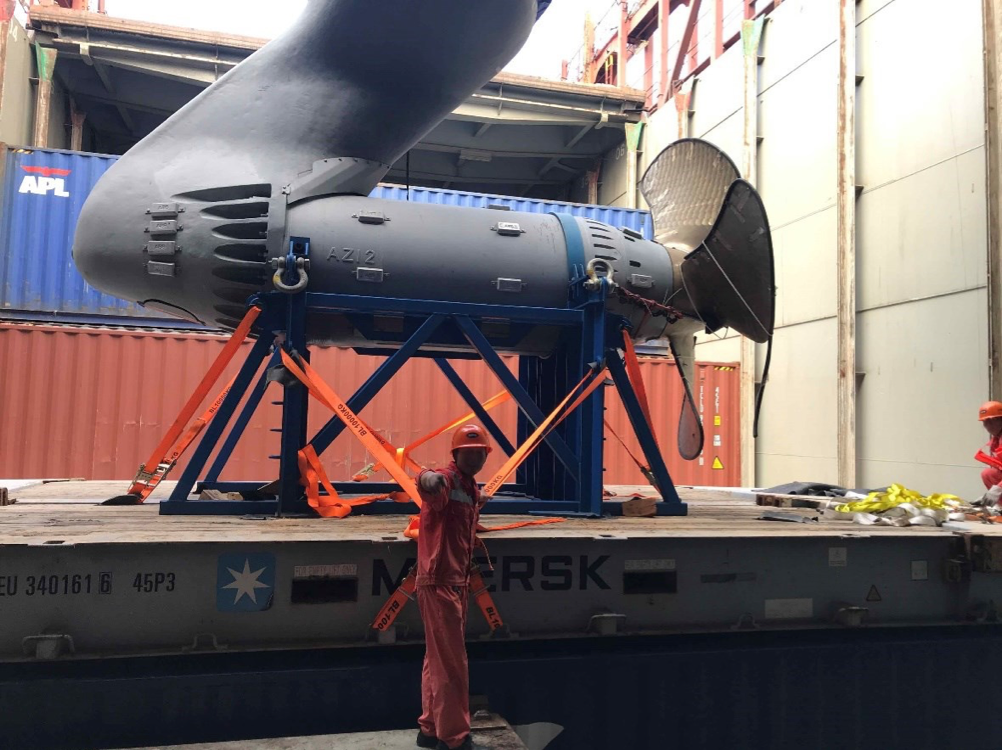 Do you also serve ports in Sudan and Somalia? Can you tell us more?
We offer services both to Sudan and Somalia. In fact, we recently launched our new bi-weekly feeder to Mogadishu from Salalah, which takes about five days.
As to Djibouti, all major Northern European ports are connected to Port Sudan via Saudi Arabia and take around twenty-five days. The Mediterranean ports are slightly faster with a transit time of twelve to twenty days, depending on the origin. With only one transshipment you can get to Sudan from Ningbo, Shanghai, Xiamen and Yantian. South East Asian ports connect in Singapore, from which Sudan is only one transshipment away.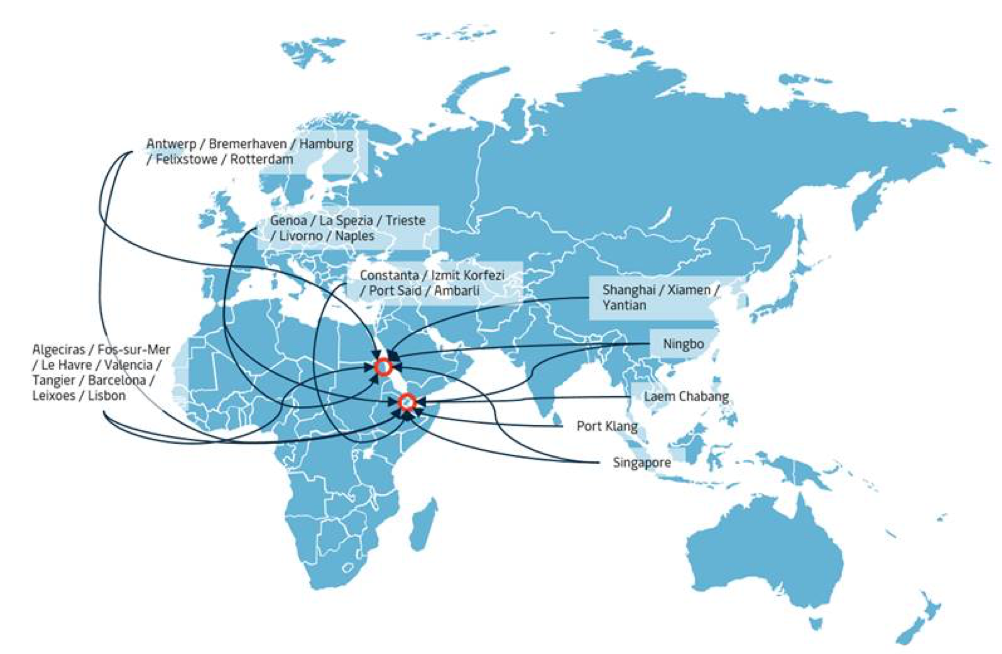 In order to get a quotation from Asia, Europe or North America into East Africa, especially if:

– customer is located in Southeast Asia
– customer is located in China
– customer is located in The Mediterranean
– customer is located in Northern Europe
– customer is located in North America

Can you tell us whom to approach?
We want to make it just as easy for our customers to request rates and book special cargo as it is to book regular dry cargo. Therefore, we are constantly increasing our online capabilities and urge our customers to go online, where they can request rates and place bookings 24/7, no matter where they are located. Just follow this link:
We are also very happy to interact with our customers via email and phone, of course. Our customers can either reach out to their local sales representatives or approach one of our regional special cargo team members who can then guide them.
Customers in Africa can reach out to Francisco Soriano Morancho at francisco.soriano@maersk.com.
Customers in Europe can reach out to Daniel Meewes – daniel.meewes@maersk.com
For customers in Asia Pacific it is Ivy Fei Fei Zhong – ivy.fei.fei.zhong@maersk.com
For customers in USA it is Kalliopi Pahountis – kalliopi.pahountis@maersk.com
For customers in West Central Asia it is Morten Berg Thomsen – morten.bergthomsen@maersk.com
In order to save time, can you tell us what you always need in order to make a quick freight indication?
Again we always urge our customers to go online for quotes. That way they will get the quickest response. On our website they just need to fill out a simple form and by doing that it's much easier for us to pick up the shipment details.
As mentioned earlier, customers are also able to request rates over email, it will just take a little longer for us to reply.
Maersk has been frequently in the news recently in particular concerning the new strategy going forward. Will that generally affect your relationship with freight forwarders?
Our ambition is to become the global integrator of container logistics. We are building more product offerings and creating more ways to serve the needs of our customers, many of whom are forwarders. Customers (including forwarders) will be able to choose Maersk to handle a larger scope of the logistics chain incl. inland, lashing and customs clearance to name a few. The immediate benefits for them are that they save resources, time and costs. In fact, this valuable proposition is directed at forwarders and, in fact, many of our initial wins this year have come through cooperation with our forwarding customers, as we have been able to work together to add value for the end-customer.
Providing additional logistics services is not a new direction in the industry in general. Many carriers have been providing these services for many years on a smaller or larger scale. Carriers have also been owning forwarders at the same time as forwarders have been acting as carriers for many years, running ships and even owning ships.
So, to answer your question, I think our direction will have a positive effect on our relationship with our customers (incl. forwarders) as they will have more products from which to choose; products that will ease their everyday lives and create more certainty for their logistics chains.
What are the advantages of considering using Maersk as carrier into East Africa?
Maersk is the most reliable container carrier and we offer fixed weekly products from all main regions. We are very dependable and can be trusted as we stick to the rates and products we offer. We have been operating in Africa for more than fifty years and, with our own agencies and offices across East Africa offering strong local differentiators, we can assist the customer should any issue occur.
For our customers, we have made it very easy to get a quote and book cargo online. This is available for both Out-of-Gauge and In-Gauge via Maersk.com. Our customers can even combine their OOG and IG bookings with their standard dry bookings to cater for projects containing all types of cargo. Making these features available to our customers is a sign that Maersk understands the importance of project cargo and shows how much focus there is on this sector.
Another sign of Maersk understanding the importance and sensitivity of projects is the fact that all Out-of-Gauge cargo has rolling priority. This really creates security for our customers and helps them deliver their projects.
Security in the operation itself is important, but security in pricing is also very important. For Out-of-Gauge cargo, we have a standard thirty days' validity on all quotes. If you get a quote from most of the conventional carriers, you'll most likely receive the quote for a specific sailing. With a quote from Maersk, you can use that quote for any sailing within those thirty days. This brings true value to the planning of your shipments.
Another major strength of booking special cargo with Maersk is our equipment availability. We have one of the largest and most modern fleets of special equipment in the industry, something that gives our customers comfort in us and in our ability to deliver as promised.
How is best to get hold of you?
You can get a hold of me via email esben.noergaard@maersk.com.
Other than that, feel free to reach out to any of my colleagues in the regions mentioned earlier.