Interview with
Mr. Muhammad Faqih
Managing Director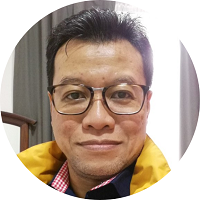 First, could you tell us about the history of Samudera Group? I understand that you are both a shipowner and a logistics provider?
Samudera Indonesia Group is known as the largest shipping and logistics group of companies in Indonesia. Founded on 13th November 1964 by Mr. Soedarpo Sastrosatomo, Samudera started its business as a shipping company and international shipping agency. Since that time, Samudera has grown and developed into more than one hundred subsidiary companies in six different businesses, being Samudera Shipping, Samudera Ports, Samudera Logistics, Samudera Shipyard, Samudera Property and Samudera Services.
Established on 28th October 2003, PT Silkargo Indonesia (SILkargo) is one of the subsidiaries within Samudera Logistics which is focusing its business in freight forwarding and logistics services, including project logistics. Working as a logistics service provider, SILkargo has been able to manage both containerized general cargo services as well as oversized and over-dimension cargo and project cargo.
Who are the owners of the Samudera Group?
Samudera Indonesia is publicly listed on the Indonesian stock exchange, yet the majority shareholders are the family of Mr. Soedarpo.
Indonesia is a huge country and consists of thousands of islands. Does Samudera have offices in most places, or from which offices do you normally control project cargo logistics?
Indonesia is also known as the largest archipelago in the world, with more than 17,000 islands spreading out almost 4,000 miles from East to West between the Indian and Pacific oceans. More than 270 million people live in the country and they are concentrated on the five biggest islands: Java, Sumatera, Kalimantan, Sulawesi, and Papua.
Samudera has its own offices in the main cities and main ports of Indonesia to control its operations. Some locations have a specific purpose, such as Palaran in Samarinda, East Kalimantan, which is a container terminal owned and operated by Samudera. Another is in Sorong, West Papua, which is a service company in port management and logistics for BP Tangguh, and so on.
The centre of project cargo logistics management is in Jakarta, but the execution is always collaborative. We involve branch offices and subsidiaries on the front line to deal directly with the cargo and all related parties. Being a large group of companies with complete logistics services and facilities, we always shop within the group first and collaborate among business units within the group to provide a seamless service to our clients under a single name: Samudera.
Could you provide us with some information on your experience in dealing with project cargo?
In the last decade, Indonesia has been speeding up the development of facilities and infrastructure. This involves not only government projects but also private sector projects, due to the increase of new investment and the expansion of the industry. Government projects are focusing on electricity, seaport/airport development, road/toll road, etc. while private sector projects are more various. Some sectors which have most projects are oil and gas, mining, agroindustry, manufacturing, and constructions, among others.
Samudera Logistics, which consists of several business units together, has vast experience in handling oversized and project cargo in many sectors, ranging from electricity, oil and gas, manufacturing, and so on.
Tell us about the main ports of Indonesia being used for project cargo and where do you see the most development of your large country taking place?
Generally, all main ports and international ports are capable of handling project cargo. They are Tanjung Priok Port, Jakarta, Tanjung Perak Port, Surabaya, Tanjung Emas Port, Semarang, Belawan Port, Medan, Batam Port, Panjang Port, Cilegon Port, Balikpapan Port, Makassar Port, and Sorong Port, Papua. Some private ports also have a good capability for project cargo, such as the BP Tangguh Port in Papua, the Krakatau Steel Port in Banten, etc.
Being a developing country with more than 5% economic growth, the central development of Indonesia is in Java Island which is home to most of the population. To this day, electricity networks, toll roads networks and industrial areas are some of the development agendas on Java Island. But in the last five years, government attention is shifting to the eastern part of Indonesia that is still underdeveloped when compared to the western part, where you can find the more sophisticated facilities and modern infrastructure. The government want to close the gap by boosting development in the east. Infrastructure is the main priority, while private sectors are also being encouraged to develop modern industry in the east. Mining and energy sectors are big in the east and they are now building facilities such as smelters and oil refineries.
What can you tell us about customs clearance in Indonesia? It used to be cumbersome I remember but how about nowadays?
Customs bureaucracy is making a lot of progress and they've done a lot of reformation programs by promoting young and committed officers to the frontline, so as to cut off the so-called 'old, lazy and corrupt' officers whom often make things difficult and cumbersome when it's supposed to be easy.
The modernization of customs by electronic data interchange (EDI) has been implemented for more than a decade and, as of January 2019, all the EDI processes in all customs offices in Indonesia can be conducted via the internet. This system is promoting ease and fast processing, as well as reducing face-to-face or physical interaction between the customs officers and importer/exporter/customs broker. This will eliminate the possibility of corruption in clearing the cargo.
The most important thing is that you must make sure all documents required by customs are in place on original forms before you submit the electronic data. Indonesian customs also still require the original packing list and invoice with stamp and signature. If all these are properly completed, you will get a Green Channel response within hours. The Yellow Channel will require you to present all original documents to the customs office and, if all is good, release will be granted within hours too. It's only the Red Channel that still requires face-to-face interaction with a customs officer in the cargo inspection process. Generally, the Red Channel can take five to seven days' processing to release the cargo.
Finally, tell us about yourself. When did you start your career in logistics and what made you choose this career?
After graduating from the university in 1993, my goal was to work in the mining or oil and gas industry because I had studied Geology for five years. Yeah, Geology, ha-ha. But nobody knows what will be happen in their future.
In short, as a fresh grad, I also applied for a position in Samudera, just to try and fulfil my curiosity. I got that position, as a junior staff member in the company while I still looked for opportunities that I was aiming for. But I enjoyed my work at Samudera, where the company assigned me to its freight forwarding unit. It went on and on and on from there and made me love the job even more. After three or four years, I decided to stay at Samudera indefinitely because of the environment and the opportunities I was given to develop my skills and abilities, as well as the exposure given to the managerial level.
Being a logistician is rewarding in terms of self-development and gaining various experiences in handling various cargo. Travelling to many places, including remote areas, for project cargo is pretty much what I was looking for when I first considered working in mining or in oil and gas fields in the first place.
Samudera is the first and maybe the last company I'll work for. After twenty-five years in the logistics business, I think this is one of the most interesting industries for your career. It will challenge you to be creative and find the best solutions for your clients, by which I mean fast, easy, economical yet safe and secure service.
What's the best way for our readers to contact you?
Silkargo Indonesia / Samudera Logistics Contacts:
Managing Director / Muhammad Faqih
Muhammad.faqih@samudera.id
Commercial Director / Faris Aidid
Faris.aidid@samudera.id
Finance Director / Indra Yuli
Indra.yuli@samudera.id
Project Logistics Manager / Ari Kristianto
Ari.kristianto@samudera.id
You may wish to check for more details at our website: https://www.samudera.id