Interview with
Mr. Albert-Jan Ars
Commercial Manager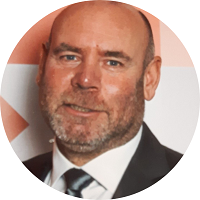 Tell us about the history of Katoen Natie?
Katoen Natie was founded in 1854 by four working partners, whose first activity consisted of cotton reception. A ship was discharged in the harbour by captain and crew, assisted by locally recruited stevedores. Once the crane brought the goods on the quay, they were received by the guild. The guild worked on commission for the buyer of the goods. Katoen Natie [cotton guild] worked in its infancy for the cotton-processing industry. The guild received the bales of cotton and handled their storage, weighing, sampling and distribution.
Katoen Natie quickly diversified its range. It handled the receiving of other goods: jute, coffee, iron, steel, fruit, tomatoes, etc. In the years following World War II, the organization started new activities: storage in its warehouses, transport, expediting and customs declaration.
In 1986 Katoen Natie took the step into the water with its acquisition of Seaport Terminals, a large Antwerp stevedoring company specialized in general cargo and containers. This acquisition was followed by that of fifteen other stevedoring companies that were all integrated into the parent company Seaport Terminals.
In the nineties, the specialized services for the petrochemical, chemical, automobile industry and major distribution were added. In 1995, Katoen Natie invested for the first time abroad with a branch in Sarralbe (France). After Sarralbe, investment abroad rapidly expanded, with additional locations in all parts of the world. Katoen Natie is now a global player.
In 2000, the activities were divided into customer-oriented business units. Katoen Natie works with this structure, to the great satisfaction of our customers. Today, Katoen Natie is a global supplier of value-added logistics and applied engineering solutions.
Antwerp is a big and versatile port. What makes Katoen Natie stand out as the ideal breakbulk terminal?
At the Port of Antwerp, Katoen Natie Port Operations owns and operates two deep-sea terminals and one barge terminal on the right and left bank of the river Scheldt. High flexibility and productivity in a safe working environment are our main drivers to perform a variety of services. A team of well trained, motivated and highly productive people is ready to take care of your cargo, with the emphasis on quality. Katoen Natie is present with stevedoring services at the Port of Antwerp at the following terminals: berth 1227, berth 345 and berth 1510. All terminals are well equipped with mobile and gantry cranes, hoisting material for a wide range of goods, extensive fleet of forklifts, RoRo berths, container freight stations, rail connections and large storage capacity. With our newest mobile harbour cranes, we can offer up to 416mt lifting capacity (in tandem lift) for heavy lift cargo.
Can you provide us with some examples of the project cargo that you have handled?
OPTARA project for total reception and handling of finished modules coming from Spain up to 1.200mt unit weight
Providing storage space long term indoor and outdoor
Handled by RoRo and LoLo
Unloading barge through floating crane onto a vessel
Import ex China delivered through BBC vessels
Unloading of modules onto quai
Reloading into barge towards Germany, destination coal power plant
There is a big focus on moving wind turbines and related renewable energy equipment nowadays. Some might say that 'green' is a new religion. Do you have experience in handling project cargo for renewable energy?
Katoen Natie is investing worldwide in solar panels and windmills to install on our terminals. As I write, more than 300,000m2 of warehouses are covered with Solar Panels. Operations-wise, we have handled millions of solar panels through our other business units like commodities and consumer goods. The target for 2020 is to erect windmills on each terminal on the right bank, eg. Quai 345 four pieces.
Katoen Natie has been handling various windmill projects over the past few years. In the summer of 2015, Katoen Natie was responsible for the port operations of the project "Wind aan de stroom", wherein thirteen windmills were discharged from multiple vessels on our left bank, terminal 1227. Also, we directly handled Project Héron in 2016, consisting of three windmills.
Furthermore, during 2017 and 2018 we had numerous projects via forwarders, including six windmills that were installed on another KTN inland terminal in Antwerp. During the installation, a promotional video was made, which can be seen here:
Over the years, multiple smaller windmill projects have passed through our terminal on the right bank 345 as well. We've also seen the discharging of vessels as well as barges and reloading on both barges and trucks.
Do you have regular feeder connections to and from Antwerp and other parts of Europe including inland Europe by waterway?
Katoen Natie does not own vessels or barges, but through a large network of long-term strong relationships with agents, forwarders, expeditors and shipping lines, we can connect Katoen Natie easily with every country in Europe.
Can you provide warehouse space for projects going via Antwerp for either import or export? Can you generally provide a certain free storage period for transhipment cargo?
Requirements for port logistics are becoming more and more intense. On one hand, customers have become more demanding, but on the other, the distance between production and consumption locations has become longer. This means that distribution has become more global and more complex, whilst environmental and economic pressure is increasing. This means that our customers are constantly looking for more cost-efficient, reliable and sustainable solutions.
The mission of our company is simple: create maximum added value through investing in assets. Katoen Natie creates maximum value by providing tailor-made, full-service logistics and engineering solutions to a key number of customers all over the world.
Our purpose is unambiguous. All our efforts and investments are geared towards offering better services and smarter solutions to our customers. We will continue to enhance their performance and reduce their cost. We use all our knowledge, experience and invention to do so.
Terminal 1227 is located on the left bank at the Vrasenedok, right opposite the Kieldrechtsluis. The quay length of 1.330 meters allows us to accommodate five handymax vessels at the same time and with a surface of 1.160.000m², of which 350.000m² is covered, space will not be the bottleneck. Katoen Natie continuously invests in new equipment.
On top of our comprehensive range of slinging material, the currently available machinery consists of:
2 x 208-ton Liebherr 600 mobile crane (416 tons in a tandem lift)
1 x 140-ton Liebherr 550 mobile crane
2 x 68-ton ship-to-shore Kocks gantry cranes
12 straddle carriers & 5 container stackers
The terminal is accessible by truck and by rail and we offer a barging service for further transport of your cargo.
Terminal quai 345, our deep-sea terminal, situated on the right bank at the "Vijfde Havendok", has a quay length of 1.800 meters, which means it's possible of welcoming seven handymax vessels simultaneously. It has a surface of 193.000m² of which 55.000m² is covered, giving us more than enough storage space.
The equipment available at this terminal includes:
2 x 208-ton Liebherr 600 mobile crane (416 tons in a tandem lift)
1 x 140-ton Liebherr 550 mobile crane
1 x 100-ton Gottwald mobile crane
1 x 63-ton Fantuzzi mobile crane
2 x 45-ton PPM stacker
Connectivity here is guaranteed as well, with easy access to the highways and rail access on the quay. Of course, barging service can be arranged.
And next to that on terminal quai 1510:
A barge terminal on the Scheldt, ideally situated just before the Kallo Lock.
Equipped for container handling
350 meters quai length
Container yard of 23.5 ha
Katoen Natie is a big organisation. Whom should we speak to for a quote?
We work with the following email address:
Commercial.PortOps@Katoennatie.com
E-mails sent to this address will be read and handled by a team of enthusiastic team of experienced customer oriented persons. Located as well on left bank and right bank all specialized in the different domains of Port Operations: by the following people, who will prove a quote:  
Jeroen Blanckaert, 
Veronik Leysens
Hans Durinck,
Albert-Jan Ars