Interview with
Mr. Elias Abou Jawdeh
Senior Manager – Commercial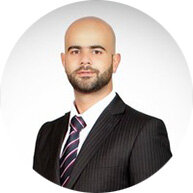 Qatar has many projects ongoing and coming up, kindly elaborate on the services that you can provide, shall we say, overseas project freight forwarders and customers in Qatar.
Qatar is well known in the region for its Oil and Gas project expertise. Milaha has played a major role in many industrial projects with global logistics requirements. With extensive project experience and diversified capabilities obtained throughout the years of operation in changing environments, Milaha is able to offer a complete solution for project cargo – be it onshore, offshore or both. From air and sea-freight forwarding, to land transport and warehousing, we give our clients engineered door-to-door, logistics solutions, as well as offering specialized equipment and skilled labor for managing warehousing & distribution and oil & gas facility yards of major upstream and downstream energy companies. Milaha is THE Qatar project forwarder; when it comes to project cargo and tailor made logistics solutions for the oil & gas industry, we are the preferred forwarder that every EPC can count on.
What can you tell us about the ports of Qatar. Do you have several available ports handling project cargo? I recall personally that I once handled project cargo destined for Mesaieed. I think our readers would like to know about the different ports, or sections of port available in Qatar to handle project cargo.
Qatar currently have 3 major ports with main focus commercially on the newly inaugurated "Hamad port". The port is managed by Qterminals which is a Milaha Joint Venture (Milaha has 49% share). The decision of which port to use is usually cargo determined when it comes to projects and of course the proximity to the final destination. Messaid port on the other hand receives all project cargo destined to Messaid industrial city strictly and in the North of Qatar, Ras Laffan port receives cargo destined to Ras Laffan industrial city.
The General cargo terminal in Hamad port is around 190,000 m2 with a capacity of 6.3 million freight tons and has a berth length of 1,200 meters.
Is the customs clearance procedure efficient in Qatar?
The customs procedure is done on a single window system where all the documentation is presented digitally. This makes the customs process extremely efficient and reliable.
What kind of heavylift cranes are available in port?
The general cargo terminal has a crane capacity of 100 tons and from the land side Milaha's fleet of cranes range from 100 tons to 550 tons capacity.
Could you perhaps provide us with some pictures of project cargoes that you have handled in Milaha?
We recently had a project to move a boiler for one of our customers and Milaha provided the service ex-works Europe to laydown on foundation in Messaid in Qatar, you may find the picture of the Milaha team who handled the project.
How to get in touch with you?
You may reach Milaha through all digital channels; chat on our website, LinkedIn, Facebook, Twitter, and other social media platforms. You may, of course, also contact me directly at EAboujawdeh@Milaha.com and I will be delighted to answer all your questions.