Interview with
Mr. Christopher Schnieders
Regional Director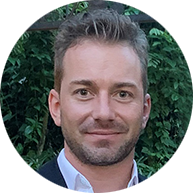 First of all, Christopher, how did you end up in Vietnam? How long have you been there, and when did you, in fact, start your career in shipping? What led you to choose this career in fact?
In 2005, I completed my bilingual studies at the Academy of Economics in Bremen. At the same time, I did an apprenticeship as a shipment merchant with Hansa Meyer.
After the successful completion of my studies, I worked in their Project Export Department for South East Asia. From day one, I was very eager to work abroad. Six months later, Hansa Meyer won a big Siemens contract to deliver the main equipment for a 2x 750MW CCPP in Ca Mau, Vietnam. I got my chance and was asked if I would like to support the Vietnam office in the execution of this very challenging project. A day later I said yes, and five months on, I found myself in HCMC [Ho Chi Minh City].
The first year was tough, as I was on the jobsite in Ca Mau 24/7. I had to coordinate the discharge of the arriving heavy lifts from vessel onto barge in HCMC, barging up the Mekong Delta to Ca Mau, roll off at jobsite jetty, shifting to foundation and foundation placement of 20 heavy lifts, including transformers ranging from 120 up to 350 tons and generators and gas turbines.
Basically, I arrived in Vietnam without any field knowledge, and 1 ½ years later, I successfully completed a crash course in project forwarding on site! That's how it became my bread and butter, and it paved the future for me staying and seeking a professional career in my industry in Vietnam. That is now exactly 14 ½ years ago.
Please elaborate on the history of FLS in Vietnam and FLS overall as I believe your headquarters is outside Vietnam? Who are the owners of FLS?
In late 2010, Torbjoern Larisch approached me. We were friends from the time he was living in Vietnam, before he pursued his career with FLS and moved to Thailand.
We sat together on a rainy Saturday afternoon in HCMC, and over some beers, he asked me if I would be interested in opening FLS Vietnam, and the rest is basically history.
FLS was founded by Martin Haeberli in 1993. Thirteen years ago, Martin was looking for a successor of his very well-established business in Thailand. He took Torbjoern on board in order to progressively step back from the daily activities, ensuring to leave his business in good hands.
In 2016, Torbjoern completed a management buyout of the FLS Management together with four other individuals, including myself. Torbjoern as the CEO is the majority shareholder of the FLS Group which is now officially headquartered in Singapore. Martin remains our Chairman until today and still advises the senior management of the company.
In 2011 FLS Vietnam was the 2nd office for FLS and the first expansion overseas. Today, we have offices in Singapore, Malaysia, Vietnam, Indonesia as well Taiwan, Australia and USA. In addition, some further regional expansions are in the pipeline.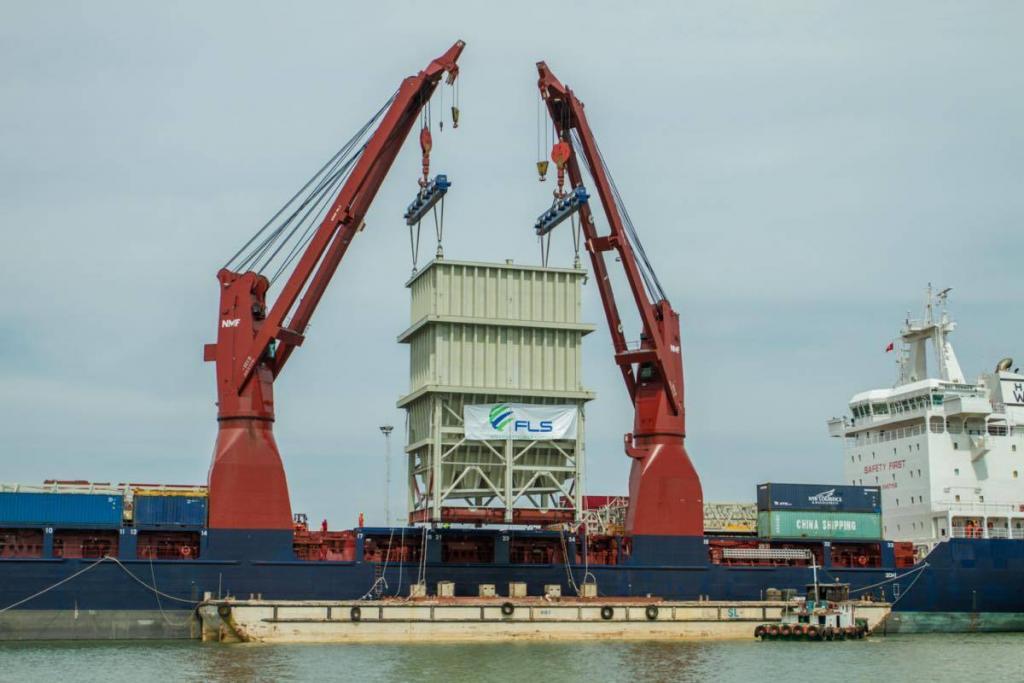 With a focus on Vietnam, could you provide us with a few examples of project cargoes that you have handled either in or outbound?
From the very first beginning, we were focusing on export cargo, having built up a very strong and close relationship with Vietnam's fabricators and shipyards from the north to the south.
In our view, traditionally-run project forwarding companies headquartered in Europe focusing on import projects in Asia had become a bit of an outdated and an obsolete concept. We saw great need to consult and support fabricators when they won new orders from overseas. This started with seaworthy and efficient packing. Hence we established our own packing team. In fact, this gives us access to the actual cargo way before the transport inquiries are on the market. We also realized an increased need of our clients requiring basic engineering services. So the next step for us was to employ our own team of full time engineers, who are working hand in hand with our project managers in the office and on the ground, enabling us to supply AutoCad drawings, stability lift calculations for the marine floating equipment we are handling, stow and lashing-securing plans.
This helps us a lot to establish first contact, gain trust, and team up with clients at the earliest budgetary stage, working side by side throughout the process until the client wins the actual job. For us, it's also a great sales tool. We acquire a lot of new business via our knowledgeable Operations Team and via our references of executed business.
Currently, we are executing a job for a local fabricator to deliver door to door the entire rooftop structure for a combined cycle power plant complex in the Great Lakes in the greater Chicago area. At the contract award earlier this year, we were discussing two similar jobs with a good business partner in the US. By winning the job from our Vietnamese client, we were able to offer super competitive freights, secured all 3 projects, and bundled them up under a very nice COA into the US Gulf of approximately 50,000 revenue tons with an established MPP carrier.
We are also regularly handling marine floating units of fishing trawlers, tug boats, catamarans and crew boats out of Vietnam to all over the world. This has, in fact, become one of our specialties. Last week, we loaded a 63m long – 800 metric ton river cruise boat at Vung Tau anchorage for Brazil which will be offering super luxury river cruise tours on the Amazon River. And two weeks ago we handled the biggest and heaviest single piece in history of FLS: Shifting a 110m long – 1500 metric tons shiploader from erection area within Phu My port to alongside vessel on 96 spmt axles. We supported the client and Jumbo with a pretty special and customs made set-up to install the enormous lifting beams before the actual lift.
So, FLS Vietnam is very diversified and versatile in its business activities. We never rest and always look for new business opportunities.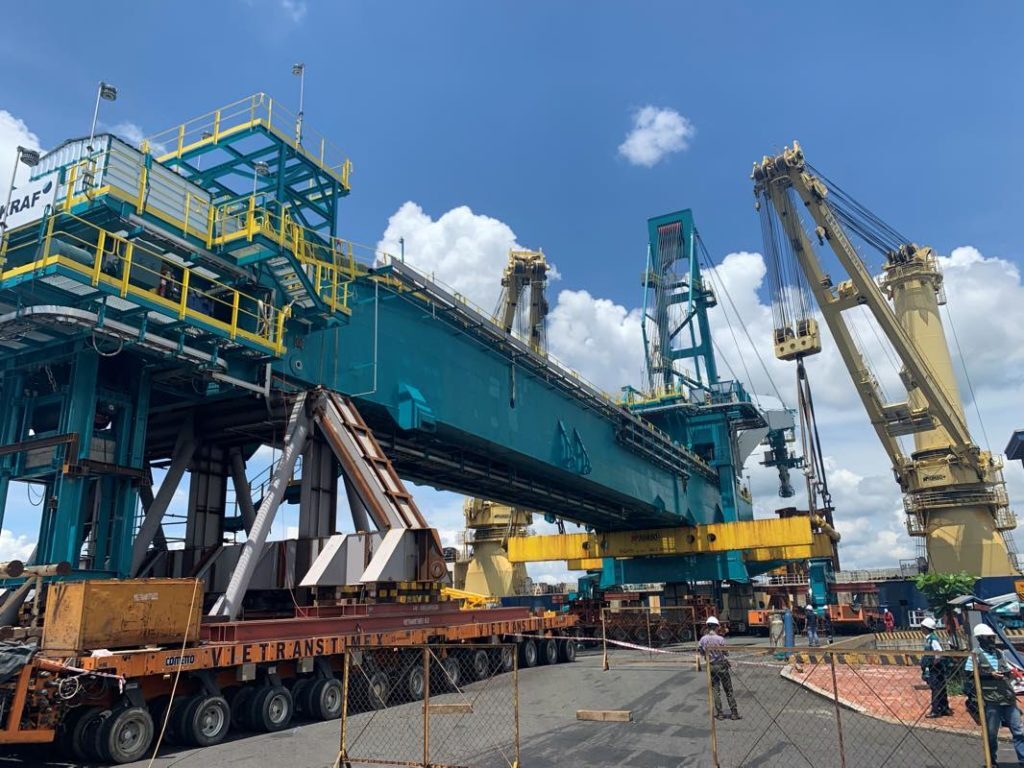 Vietnam has a very long coastline. Elaborate if you will on the ports available and mainly used for the movement of project and oversized cargoes. Any pro's and con's on either of the ports in your view?
The main port in the north is Haiphong with its several terminals. In the south its HCMC ports, Phu My and Vung Tau ports. All these ports have dedicated anchorage positions. For us, loading alongside from the barge is a very popular operation. It is also a great way to get around congested terminals, as this is an increasing concern of the ports in the south at the moment but nothing that can't be handled. It's just a good way to reduce the operational and potential commercial headaches. In some ports, you have sloppy and careless stevedores, for which we have our own manpower—welders and stevedores. This is another value added service we can offer our clientele, that arose out of necessity.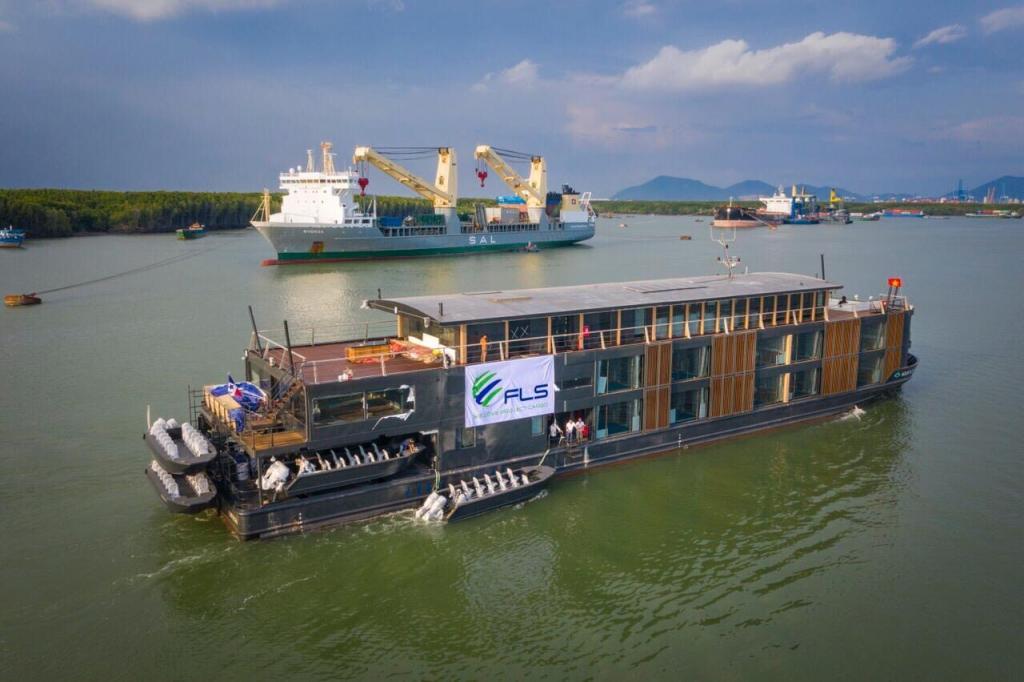 Is Vietnam, in fact, a socialist country or is it very business oriented nowadays, being one of the Asian tigers?
You still feel the socialism in the north, whereas the south is as open business oriented to the west as it possibly can be. For some years already, it has been said that Vietnam is one of the Asian Tigers, but I always observed this being more related to commodities which can all be shipped in containers. As we have a very specialized set up, I have never felt it being so busy as since last year. This also has something to do with the ongoing trade war between China and the US which means more and more clients and engineering companies are moving their fabrication orders to Vietnam.
We have not felt any negative impact of COVID-19. Instead, it's the other way around. It's by far the busiest year since our office opened9 years ago. Partly, this is due to our matured operation and established set up over the years, and now things fall into place, based on the dedicated and hard work of the last decade.
Is it difficult for foreigners to get residence and work permits in Vietnam, and are you, in fact, allowed to own property there being non-native?
It used to be easier in the past to get a residence card and work permit. Nowadays, a temporary residence card is valid for 2 years instead of 3. Foreigners who hold a valid local contract with a representative office or a limited liability company are entitled to apply for a temporary residence card. In order to apply for a work permit, you need to submit a university degree and/or proof you are an expert in your field. As such, your expertise can not be sourced from the local employment market.
As a foreigner, you are allowed to own apartments either under long term lease or under SPA (sales purchase agreement). However, the apartment projects have a certain quota for foreigners that can own units in each of the specific projects. Typically, the quota is 30/70 for foreigners/citizens. This makes it more expensive to buy a unit with foreign papers as the supply is limited. As per law, foreign individuals are not allowed to own land in Vietnam, and therefore can't own a house under a foreign name.
What is next for you in your career? I believe FLS are expanding in Asia?
Next month, we are moving office as our current space has become too small. We have just hired another German expat to strengthen our team and to support our growing workload. By the end of the year, we will have fully implemented the FLS Chartering Desk to streamline our constantly increasing chartering activities in the group. The chartering desk will be incorporated under our Vietnam set up.
Also we have successfully introduced a new business unit under the brand FLS Logistics in Thailand. FLS Logistics is run completely independently from FLS Projects as a separate FLS product and covers contract logistics in the automotive, food and chemical industry, warehousing and Multi Modal Connections.
The launch in Thailand has been a great success, so we are currently fine-tuning a business plan to do the same in Vietnam. We do not want to reinvent the wheel but just put the proven FLS management concept on a new product. Our flexibility, lean structure and fresh management approach gives us access to a lot of logistics business which bigger players fail to secure or are not even interested in. This service operates separately, is being managed independently, and does not interfere with our project network.
How would it be possible for our readers to get in touch with you?
My contact details are:
Christopher.schnieders@fls-projects.com
+84 98 658 0829
https://fls-projects.com/