Interview with
Ms. Anna Larsson
Communications Director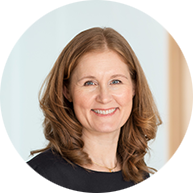 Who is the World Shipping Council (WSC), and when did you start this organisation?
World Shipping Council is an organisation that represents liner shipping in dialogues with governments, the IMO and other stakeholders to find actionable solutions for some of the world's most challenging transportation problems. WSC was formed in 2000, and our members are container, roro and ro-pax carriers from all over the world, representing over 90 percent of the global liner vessel capacity.
Our staff are experts in maritime environmental, safety, security and trade matters, and we have offices in Washington, Brussels and Singapore.

What is the main objective of WSC?
The World Shipping Council's goal is to be the unified voice of liner shipping, shaping the future growth of a socially responsible, environmentally sustainable, safety-focused and secure shipping industry. Some of our current focus areas include the decarbonization of deep-sea shipping, where we are working with policymakers and other organisations to ensure regulation and resources that will drive real progress, as well as a number of initiatives to improve the safe handling of containers on board ships.
There is an increased focus on anti-competition behaviour, and some of the government regulators, mainly the EU, US and China, have voiced opinions and reservations before about "shipping conferences" and "shipping alliances". Do you also work to influence government regulators in this regard?
We work on the regulatory aspect of competition compliance to ensure free and fair competition. One of the tools that liner carriers have long used to increase efficiency and to reduce carbon emissions is to share space on their ships. In addition to increasing efficiency, this practice allows more carriers to provide more services to more customers than they otherwise could. Clearly, consistent regulation in this area is crucial to creating efficiency, transparency, and legal certainty.
Do you allow only shipowners or liner shipping companies to be members of WSC? And are you focused mainly on the lines carrying containers?
All liner shipping companies serving international trades can apply to become members of the World Shipping Council. Our membership today runs across container lines, roro and ro-pax carriers.
Who are members already of WSC and what is the current membership fee per year?
Our members are:
A.P. Møller-Maersk (including Maersk Line, Hamburg Sud, Safmarine, SeaLand)
China COSCO Shipping Corporation Ltd. (COSCO) including OOCL
CMA CGM Group (including ANL, APL)
Crowley Maritime Corporation
Evergreen Marine Corporation
Hapag-Lloyd Container Line
HMM Co., Ltd.
Independent Container Line (ICL)
Kawasaki Kisen Kaisha Ltd. (K-Line)
Korea Marine Transport Co., Ltd. (KMTC)
Mediterranean Shipping Company (MSC)
Mitsui O.S.K. Lines Ltd. (MOL)
NYK Line (NYK)
Ocean Network Express (ONE)
Wan Hai Lines Ltd.
Wallenius Wilhelmsen
Yang Ming Marine Transport Corporation
Zim Integrated Shipping Services, Ltd.
Membership dues are based on the annual operating capacity of the carrier. If any readers are interested in becoming members, please get in touch, and we will provide more details.
When did you join the organisation, and what is your own background (if any) in shipping?
I have just recently joined the World Shipping Council, starting at the beginning of this month. My focus will be global communications for the organisation, with a base in Europe. It's a really exciting time to join, and I am particularly enjoying the opportunity to contribute to the WSC work towards progressive and actionable environmental regulations.
I have a shipping background, working for the roro carrier Wallenius Wilhelmsen for the past 12 years—most recently as Head of Corporate Communications and prior to that in several senior communication, marketing and sustainability roles.
How is it best for our readers to get in touch with you?
You can find out more about the World Shipping Council at https://www.worldshipping.org/ , and the best way to reach us is to email info@worldshipping.org. You will find me on LinkedIn here https://www.linkedin.com/in/annasblarsson/