Interview with
Mr. Hatem Bouricha
Vice President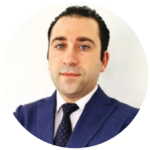 First of all, Hatem, please tell us about the history of your company, and can you tell us who the owners are?
Agence Maritime Mohab is owned by Mr. Abderrazek Bouricha, CEO who took over the company from his father. This makes Mohab a family-owned company created in 1972.
Mohab started as a shipping agency in Sfax and performed some of the most challenging project cargo shipment for various multinationals in Tunisia.
When Mr. Abderrazek took over the company in 1983, he developed Mohab to be one of the top 5 freight forwarders in the country. First, he expanded the company and opened offices in different areas in Tunisia such as our office within Tunis Carthage Airport « TUN » since we were nominated to IATA in 1995. He also constructed both bonded and private warehouses for logistics and supply chain management.
Being a freight forwarder in Tunisia did not stop the company from also representing shipowners. Mohab was representing Andrew Weir shipping before they were absorbed by HSUD, which we still represent through Tunisia Intership as a shareholder.
Since I joined the company in 2014 as BDM, the main interest that has fascinated me was project cargo logistics. I have dealt with many breakbulk shipments in different continents such as Tunisia – Libya – Algeria and met important, key persons in the project cargo field with whom I have been supporting since that time.
Tunisia has several ports. Could you elaborate a bit on the different ports available and the ones mainly used for project cargo?
Below, you can find the main ports used for project cargo along with the nature of equipment to be used and the final destination:
La Goulette: RORO carriers (Mafi equipment needed for the job).
Rades/Tunis: Actually, Rades and Tunis are the same port and the main port in Tunisia. This port would be used if needing special equipment containers for project cargo.
Gabes / Zarzis: Mainly used for project cargo going to Algeria or Libya.
Other ports to be considered: Bizerte Port / Sousse Port
Do you have experience in handling project cargoes? Could you perhaps provide our readers with a few examples of projects you have handled?
Yes, of course. Project cargo is the cherry on the cake for freight forwarders, and I have always admired the way we can arrange for perfect coordination and solve multiple issues in order to have a smooth movement of goods.
Here below I can name few projects and provide some photos as well:
• Arabsat Station (NEC)
• Cement project at Jebel El Ouest
• Siemens (Sidi Salem Barrage)
• Tool Manufactory in Jerissa
• Water Plant in Zaghouan
• Huawei Equipement (3G project implementation)
• Halliburton in gauge and out of gauge material (Import/Export) North Africa
• 15 years of supporting Oil & Gas companies for their import/export within Hassi Messaoud – Algeria
• Rades Bridge performed in cooperation with Taisei Corporation & STFA Yatırım Holding A.Ş
• Power Plant in Sousse with Siemens & Kraftwerk Union // Capacity of the Project – 153 MWe
Is customs clearance a problem in Tunisia?
Customs clearance in Tunisia is a very easy process if all documents and involved parties are in full regulations. The standard lead time is 3 to 4 days from arrival of goods to accomplish customs formalities. On the first day, you submit the declaration within the customs system. On the second day, you arrange a customs visit, and on the third day, you pay duties & taxes and pick up the goods.
Are there floating cranes available in Tunisian ports generally?
Unfortunately, there are no floating cranes in Tunisia.
Tunisia, as a country, is kind of sandwiched in between Libya and Algeria. Could you tell our readers a bit about the relationship of Tunisia with both countries? Is there a good business relationship with both? How about transhipment via Tunisia into both countries—is that possible and is it being done actually?
Yes, Tunisia is a great partner for Libyan and Algerian neighborhood. This partnership is both related to economic and business relationships and also to friendship and social interactions and activities that are more or less common in the North Africa Region, including Morocco, Egypt & Mauritania.
Transhipment of heavy and OOG cargo using Tunisia as a transit country till final destination in Algeria or Libya is very common and has supported many refineries in the south of Algeria.
The reason is that the northern area in Tunisia and Algeria is mountainous and moving big pieces becomes a real challenge. We've made a small study for a special project in south Algeria which shows that by going through Algerian port, the civil work would be more expensive than the transportation itself (although we cannot assess exactly the final amount). However, by using a southern Tunisian port like Gabes or Zarzis, this would significantly improve the cost effectiveness of the project and make it much easier to perform.
What made you start your own career in shipping and logistics?
When I actually knew most of the shipping glossary at the age of 15 years old
.
You know, when your father has been into shipping & logistics his whole life and you are there to learn from his experience, this gave me plenty of confidence to keep on running the family business with him.
Having my Masters degree from Plymouth University has also helped me a lot in my professional career.
How is it best for our readers to get in touch with you?
Please feel free to contact me at the below email / mobile number:
Email: hatem@am-mohab.com
Mob: +21629900135
https://www.am-mohab.com/