Interview with
Ms Kristy Gao
Vice General Manager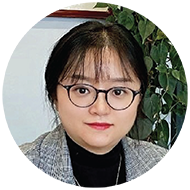 When was the company Ba-Shi established in China? Who are the owners?
Ba-shi Yuexin was started in 1989. We are a private, limited company with three shareholders.
Can you tell us about your organisation and offices in China?
Our Headquarters is located in Shanghai. We have branch offices in Qingdao, Beijing, Shenzhen, Ningbo, Nanjing, and Hefei.
Do you have experience in handling project cargoes, and if so, could you provide us with some examples of cargoes you have handled?
Yes, we have. We are the contract logistics supplier of many government-owned corporations such as the Algeria China Power Construction Granary Project and the Congo Copper Hydrometallurgy Project.
Can you also arrange inland transport via Qingdao to other parts of China? Have you done this before?
We can also arrange inland transport via any port in China to another region of China. We have been doing inland transportation for quite a while.
How about customs clearance in China. Is that difficult? How is the situation nowadays?
It's easy to do customs clearance in China now. Customs clearance now implements electronic clearance. It reduced the customs clearance procedures. Also, the operation is simple and efficient which saves a lot of resources for customers.
Are you currently a member of any networks?
We are a member of Cross Ocean Air & Sea Project Logistics Network and WCA.
How about the COVID-19 pandemic situation in China right now. Is it serious in Shandong province?
After the COVID-19 pandemic last year, the Chinese government implemented a strong control policy, and we resumed normal production and work within a short time. There have been no new cases in Shandong for the last two months.
How is it best for our readers to get in touch with you?
My contact details are below:
Kristy Gao
E-mail: gaocaixia@yuexinlogistics.com
Tel: +86-532-85709252
Mobile: +86-17663982812
Skype: kristy_china@yeah.net
Wechat: 13969610770
WhatsApp: +86-17663982812
Zalo: 17663982812
Website: www.yuexinlogistics.com