Interview with
Ms. Monique Smit
Owner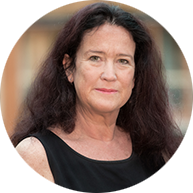 When did you buy your houseboat, and if I may ask out of curiosity. How much did it cost? How much did you spend on fixing it up, and what would you say that maintenance cost per year approximately?
I bought the ship in 2017. I'd like to keep what it cost private, but on average, houseboats in Holland cost as much as houses. I would say I spend on average 10.000 euro a year on maintenance and improvement on the ship.
How big is it? What is the length,and how many sleeping places are there?
It's a Spits. They are almost 40 metres long and 5.20 wide. There are 3 apartments in the ship: 2 in the hold and 1 in the wheelhouse. I live in the smallest apartment in the hold. The big apartment sleeps 7 people. There's a big living room, 2 double bedrooms each with their own ensuite bathroom and a berth for 2 in the living room. The wheelhouse is a lot smaller and sleeps a maximum of 4 people.
I understand that you currently live on the houseboat in one of the apartments. That means that you look after the "hotel" yourself so to speak.
Yes, I live in the smaller apartment in the ship's hold, and I do everything for the rental myself. The best thing about that is that I welcome my guests personally, and I'm always there if they need my help.
What is the biggest difference, in your view, between a "normal hotel" and a houseboat"?
Sleeping on a ship is very special. It always moves a little because of the movement of the water. Even though I'm located in the centre of the city of Rotterdam, it's the sound of the waterbirds you wake up to in the morning.
How would you explain the location of your houseboat to the people booking a room? How far to shopping, restaurants, and the railway station?
The location is perfect to explore the city. Everything is within walking distance: the cube houses, Markthal, Witte de Withstraat with all its bars and restaurants. And if you want to use public transport, the train and metro station are 5 minutes away on foot. But the best is, of course, that there is a water taxi stop opposite the ship!
From which countries do your guests normally come, Europe/Asia percentage-wise, and how would you characterize the difference between the guests generally?
My guests come from all over the world. They come for the great architecture in Rotterdam or for big events. In general, my guests are delighted to be in such special accommodation. I get people of all ages: from families to groups of friends. Overall, I've noticed they're happy that there's a possibility to cook. People from Asia especially appreciate that. And because there's a supermarket 2 minutes on foot from the ship, it's easy to buy the things you like to eat or drink.
Are you happy to live on a houseboat, and what does it mean as a way of life?
I'm very happy and wouldn't want to live anywhere else. The ship itself, the location, I'm very lucky. I've never worked as hard as I do now because I also have to paint the ship every year etc. But it's totally worth it.
How is it best to get in touch with you to make a booking?
I have a website houseboatrotterdam.com and you can find all the information there. I'm also listed on booking.com and airbnb.