Week #33 | 13th August 2020
Dear Readers,


It is Thursday the 13th of August and we are back again here at PCW.
I had another quick trip to Denmark last weekend. This time not for family reasons but for friendship reasons, and although COVID-19 is here, I did manage to meet up with a friend of mine from the Danish ship owner Ocean7 as well as a compatriot from IOL Logistics in Asia who similarly was "stuck" in Denmark due to the virus.
We had originally planned to meet in Antwerp to test the best French food and wine there, but those plans were scuppered. So, we decided to meet at DK-Svendborg which is a beautifully-located city in the middle of the small kingdom. It is famous though for its roots in shipping—where a name like AP Moller Maersk comes to mind. Having lived abroad for most of my years, it is always a pleasure to return home and be with good friends speaking your own native language. Although it sounds like we are speaking with a potato in our mouth to most, it was nice.
On the world trade scene, things are developing rapidly and since the US election is getting closer, the anti-China rhetoric (fair or unfair) is in high volume. The latest concerning Hong Kong is that the special trade status that the city has enjoyed is now being revoked and that will no doubt be dealing a blow mainly to the locals. See more here.
Trade sanctions are also in place against Iran, Cuba, and North Korea—and perhaps coming soon to a place near you. The problem in our view is, and has always been, that trade sanctions more often than not hit the average person in the street more than it hurts any decision makers, but of course, it's a good sound bite in any election.
It also seems that Joe Biden has emerged from his basement to nominate, finally, his candidate for vice president, so now we know who the contenders are for this the most important job in the world. If her capability matches her looks then they are assured of success.
A terrible explosion happened in the port of Beirut last week (read more) and more about this obvious tragedy in the shipping news below.
On another note, I spoke with a couple of contacts in shipping (both sea and air), and as a wise man once observed: "One man's pain is another man's gain". It would seem that many ships are indeed fully booked on some trade lanes, but the great winner of all are the ones who are experts in airfreight. With those rates going through the roof due to the lack of alternatives, it is obvious that there will be more yachts in someone's marina soon.
Overall though, I am sure that if there is a "man upstairs", then the scales will be balanced one way or the other in life.
Oh yes, I almost forgot in these times of political correctness it would, of course, also be prudent to say a "woman upstairs"… I am confused by most of this and believe a lot of it is undue noise in a world where we DO have other pressing problems now. You have to be really careful whom you "offend" nowadays and that includes many journalists who have seldom been outside the secure cafe life here in the west. Many journalists though are being hunted and are the true unsung heroes in an age when free speech is often under attack. Let us see where we end up. One thing I do recall was the number of China experts—or experts that I had to listen to when I lived there—most of whom had never paid the country a visit, let alone lived in it. Some would call it the "tyranny of experts"—which also is the title of a readable book by economist William Easterly!
On the shipping front, I managed to get first of all a most interesting interview with a company located on an island famous for Corleone and olive oil but also for great wines and friendly people, and the place is Sicily in Italy. We speak to a local provider of ports and logistical services on the island. Then, we stick around in Europe and re-visit the country of beautiful women, nice design, and men who hardly say a word, and that is Finland. The local company there that we spoke to before reminds us about their services both into but also out of and via Finland to Russia. Finally, for those of you who like to listen whilst jogging, resting, or similar to interesting business people in shipping, we remind you about a lady we spoke to in Gothenburg, Sweden who started a shipping podcast. I am confident that you will test out listening to some of her podcasts that are available freely on her app.
And apart from reminding you of all that, we, of course, provide you with shipping news, trade intel, wise words and featured picture & video of the week.
We wish you a SAFE and a very happy weekend to come.
Until next Thursday, I remain,
Yours sincerely,
Bo H. Drewsen
bo.drewsen@projectcargo-weekly.com

Promospedit – Sicily, Italy
Interview with
Mr. Marco Spano'
Area Manager
When was the company Promospedit established in Italy? I can see from your excellent website that your main office is in Sicily.
The company was established in June 2019 on the eastern coast of Sicily exactly in Syracuse. We are located a few kilometers (about 30) from the city of Augusta where the petrochemical center, the port, and the commercial area inside the port are located. It is a strategic point in the Mediterranean.
VR Transpoint – Helsinki, Finland
Interview with
Ms. Kirsi Liflander / Mr. Antti Pursiainen
Sales Director – Road Logistics / Sales Manager – Rail Logistics
What are the main services of VR Transpoint in Finland? Please explain in detail about services you provide domestically in Finland.
VR Transpoint is an experienced, diversified and skilled logistics provider – both on rail and road.
We offer rail logistics services, domestic road logistics services, as well as international road logistics services in the Baltic region, CEE region and Russia, to answer the importing and exporting industry's needs. Efficiency and flexibility to logistics are provided by combining rail and road transportations into one smooth concept. This is what we simply call "Rail & Road".
The Shipping Podcast
Interview with
Ms. Lena Gothberg
Host and Producer
Lena, first of all tell our readers a bit about your background in the maritime industry. When did you start your career?
I entered the maritime industry in 1990 when I became a marine insurance broker after having studied law at the University of Lund, Sweden. I continued to do that until 2000, when I changed table and became an underwriter for hull and machinery insurance at Codan Marine, heading up their business in Sweden. After that I was involved in business intelligence as a Secretary-General for the Institute of Shipping Analysis.
Explained: What happened in deadly Beirut Explosion
Editor's Note:
A terrible explosion took place in the port city of Beirut last week. Here is one of many videos which emerged just after and it shows the horrific power and scale of the explosion. Aside from the tragic loss of life and the thousands of wounded it will be a long time before Beirut can return to normal. Let us hope it will return to a better normal than before…
Beirut Explosion Casts Harsh Light on International Shipping Rules
Editor's Note:
Regarding the Beirut explosion mentioned above a bit more has been investigated about the origins of the cargo, by which mode of transport it came to rest for several years in the port area of Beirut. Here is an interesting article from Nikkei. I should say, however, that flags of convenience do not always mean that ships are poorly maintained or even old, so all newspaper articles should be read with a critical eye for detail. Still, the following article is informative.
Major Drug Bust at Port of Hamburg
Editor's Note:
From North America to Europe it's incredible that we cannot come to grips in our so-called well developed societies with the demand aspect of the drug trade. If there was no demand there wouldn't be these massive drug busts involving street values of millions of USD each time. From shipping to airfreight to smuggling overland the drugs trade is certainly a lucrative business for some but at what cost? Read more from the "catch" published by the port of Hamburg.
Customs officials in the port of Hamburg recently made one of the port's largest drug busts. They discovered more than 1.5 tons of cocaine hidden in a container arriving aboard a ship from South America.
Dan-Gulf Shipping Announcement
Editor's Note:
Dan-Gulf, with a native Dane at its helm, is ceasing business. They had a good name in the project cargo trade mainly between US Gulf ports and the Caribbean and North part of South America and although things come and go in life as so also in shipping we regret that they now are a name of the past.
Dan-Gulf will finalize all their current commitments for ocean contracts, and accounting / operations departments will remain open to wind down the companies activities including collection of outstanding invoices due, you know who you are! Dan-Gulf will maintain current telephone number and address until the end of August 2020.
Metso Outotec to Supply Primary Crushing Stations for a Mining Company in Russia
Metso Outotec will deliver two primary crushing stations for a mine located in the Russian Far East. The EUR 23 million order, which has been booked in former Metso Minerals' Q2 2020 orders received, will be delivered by Metso Outotec Corporation (formed when Metso Corporation and Outotec Oyj completed the combination of Metso's Minerals business and Outotec on June 30, 2020). The commissioning of the equipment is expected to take place in 2023.
USA/Faroe Islands – WWF Invests in Faroese Kelp Farming Firm
The latest round was led by a $850,000 investment by the World Wildlife Fund (WWF), enabling Ocean Rainforest to scale farming operations, utilising its novel farm technology designed to withstand the demanding conditions of the North Atlantic. The company recently secured permits to continue cultivating seaweed in the Faroe islands until at least 2032.
Olavur Gregersen, CEO of Ocean Rainforest, announced: "This investment by WWF and others will allow Ocean Rainforest to deploy new farms at scale, enabling the company to meet the growing demand for its products. But most importantly, it is an affirmation of our sustainable approach to cultivating seaweed in our ocean waters, improving people's wellbeing, and making a unique and positive contribution to our blue planet."
Dutch-Based GNT USA Selects Gastonia, North Carolina, for Food Processing Operation
Netherlands-based GNT USA, Inc. agreed to purchase approximately 49.24 acres at Apple Creek Corporate Center in Gastonia, North Carolina. The company plans to construct a $30 million food processing operation.
Alpha Projects & Logistics Project Movements August 2020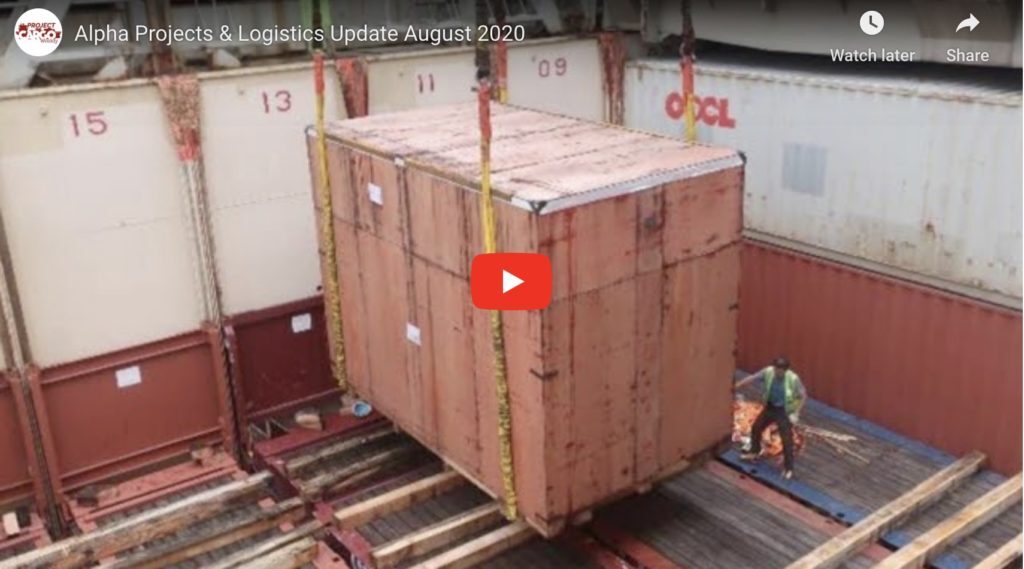 ALPHA Projects & Logistics
Website: https://alphapnl.com/

Discharging of Straddle carriers and STS Cranes in the Port of Stockholm / Norrvik
Editor's Note:
We taxpayers hope that the investment will pay off and that global trade will get back to normal urgently.
Editor's Note:
I was in Beirut alongside in July 2017 onboard CC Andromeda. Exactly where the CC Lyra was on the day of the explosion. I was also downtown for a medical checkup and a great lunch with the local CMA CGM shipping operations manager. PCW pays tribute and honor to those who lost their lives & were wounded in this tragedy last week and we hope that a better tomorrow is in store for all Lebanese!