Week #38 | 17th September 2020
Dear Readers,


It is Thursday the 17th of September, and we are here again.
I was never very clever in IT, and I just barely manage to use my mobile to take photos and make some movies, but gradually, I have learnt using Google photos to make some albums from my memory bank which mainly include a lot of trips as a passenger onboard containerships. Here is a beautiful collage of some of the best shots taken during a trip from Hamburg to Callao via The Panama Canal exactly 8 years ago and as you can see from the shots there are some incredible views out there on the ocean! We disembarked the container vessel mv Lutetia on charter to Hamburg Sud. My business partner, Cody and I had a great trip onboard, and we have just decided, virus permitting, that we will be taking a trip again in 2021.  
The year 2012 was the year when I left the Martin Bencher Group and the year when I started CLC Projects Group—which now also encompasses Project Cargo Weekly. At that time, it seemed befitting to take the 30-day ocean trip from Hamburg to Callao via the Panama Canal to refresh my mind prior to starting a new "project".
I also came across a picture that shows the start of my drinking career. See the shot here (a picture from the mv THYRA TORM alongside in Durban in 1967 where I am sitting on the lap of the Norwegian bosun and to the right, a picture of the crew hanging high painting whilst we were anchored outside Durban. No wonder AA got a client in the undersigned for some weeks at least 🙂
The older we get, the more I believe we reflect, and the strange thing is that I seem to be able to remember clearly what happened 20 years ago and, but I cannot remember where I just put down my glasses…sound familiar? There is, of course, a lot one can do to slow down aging such as exercise, a healthy diet, and so on, but no one can beat time as it goes on relentlessly. Eventually, you will ultimately succumb to the forces of time, so after years of deliberation, I have come to the conclusion that it is better to live and do something today instead of planning for a day that may never come.
Hence, the new booking in 2021 of yet another containership trip, and this time it will be the CMA CGM Volga from Singapore to Piraeus via the Suez Canal and the Black Sea.  You may see a short video from the vessel here.  We will be a total of 4 passengers who all know each other. Would you like to join our friendly group? There is still room for one more as the vessel has 5 passenger cabins available. Contact me if you could be interested in joining an epic trip from Asia to Europe!
No editorial would be complete without my own opinion on what has happened in the world, but strangely enough, I don't have much to comment on this week.
The mv Maersk Etienne is finally on the way whilst the fate of the migrants onboard is still unknown, and the latest is, of course, that the refugee camp of Moria went up in flames last week, leaving some 11000 people or so to the forces of nature. If anything, it has further underscored the inability of long-term planning by the EU but also of the "big business" and money involved in people "smuggling." There is probably no one solution for it, but what's the point in having politicians or being part of a club if it's only for talking? The result is a group of the highest paid speakers that I have heard of recently.
The US election is also coming closer, and the rhetoric on both sides is becoming ever more shrill. Again, it beggars belief that there are no better choices available. Still like the famous actor Clint Eastwood once said in a movie: "Opinions…? Everybody's got one." (Although he DID use another word, but I am politically correct, of course).
The virus is still with us. It now seems that much of the world is looking to Sweden for standing out and not just because of an excessive amount of crime, shootings and double standards in our country but also for what seems to be a better COVID-19 strategy. Inevitably, lockdown cannot be sustained, and countries that were in this mode are seeing a great spike in cases. Time will tell!
Shipping-wise this week, we start off in a great port located in a country where flowers, specialist shipping, and penny pinching is famous worldwide, and the country is The Netherlands. We have an interesting interview with the Port of Rotterdam, and you will find that they DO know their business and DO have something to be proud about there!
We then visit the city of Norrköping, Sweden and speak to a rather less known project freight forwarder called Frontlog. They have been remarkably successful in developing the transport of housing modules – big time – from China and Malaysia to Sweden. It shows that the size of a company doesn't always guarantee success. Rather, having the right people, innovative minds, and less arrogance in management can often beat the "big boys."   
Finally, we dig into our archives, and we republish an interview from a country vilified, especially by the US, but famous for a long history and clever people but not for country management, and the place is IRAN. Pishbar is a project freight forwarder, and the owner, I believe, even lived in Sweden for a while, as do many of his countrymen/women nowadays, most of them entrepreneurial.
We of course finish off our newsletter with shipping news, trade intel, featured video and picture of the week.
Until next week, we remain,
Yours sincerely,
Bo H. Drewsen
bo.drewsen@projectcargo-weekly.com

Port of Rotterdam – Netherlands
Interview with
Mr. Twan Romeijn
Business Manager Breakbulk and Offshore, Port of Rotterdam Authority
First of all let me ask you Twan, the Port of Rotterdam is world famous. Does the port really need to "sell" itself?
Good question Bo. I believe that the Port of Rotterdam is known worldwide. Being the largest port in Europe, facilitating thousands of companies, handling millions of tonnes of cargo and generating thousands of employment possibilities, it actually sells itself.
However, the port is also a very dynamic area which changes constantly. Next to this, the economic market conditions also change constantly which have an impact on trade lanes, transport types, goods being transported and handled. As the Port of Rotterdam, we try to adapt to this by setting the right conditions in terms of infrastructure, strategy and ambition. Sharing these possibilities and ambitions helps us by maintaining our good position in the industry and provide room for future growth.
Take, for instance, our ambition to become the number one breakbulk port in Europe. I strongly believe that this is not yet known by the whole supply chain. About 2 years ago, we first shared this ambition and started to actively invest in the breakbulk industry, conduct business development activities, and bring companies together to do business. This resulted in an increase in volumes being handled in 2019 and an increasing number of vessel visits. It is our ambition to further stimulate this and to attract more breakbulk activity to the Port of Rotterdam.
Frontlog – Norrköping, Sweden
Interview with
Mr. David Osterstrom
CEO and Founder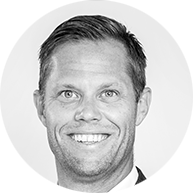 First of all, please tell us about the history and ownership of Frontlog?
Frontlog AB was initially an offspring of Österströms Rederi AB, a shortsea shipping company that serviced the European forestry and steel industries with some 40 vessels, and was then sold to Transatlantic. Two years ago, we got involved with SIBS AB, a Swedish real estate group, and now it's turned into our main business.
The SIBS Group builds prefabricated, modular houses in Asia, and the group comprises all functions of the value chain – from land acquisition and development, to production, logistics, construction and property management – and Frontlog is managing all the logistics and shipments for them. Frontlog is owned by myself and the real estate group, with myself holding the majority ownership.
Pishbar International Logistics Co. – Tehran, Iran
Interview with
Firstly Hamid, please tell us a little about your own story. When did you start working in logistics and what made you choose this as a career? Also, I understand that you actually lived in Sweden for a while?
I found my future in logistics through my uncle. When I was a child, he owned ten to twelve trucks that operated over the Khorramshahr/Tehran and Iran/Europe routes during the Shah times. I liked his job but working in logistics required me to study in Sweden. I lived in Sweden from 1983 to 1993 and planned to study an engineering discipline at university, but our consultant suggested that I study transport engineering at Chalmers University of Technology in Goteborg. He said that studying that subject would involve learning business techniques that would be helpful.
I came back to my country in 1993 for family reasons and started to work in a railway organization. I worked in rail for two years and then went to Sousanguerd, a company that owned 350 reefer trucks. Their main activity was shipping frozen meat and chicken from Bandar Abbas to newly independent and formerly Soviet (CIS) countries.
In 2000, I bought Pishbar from my father's friend and I am still working there today.

UNCTADstat – Statistics and Infographics
Editor's Note:
UNCTAD is a United Nations Organisation, and they recently published some interesting global trade statistics. You might find it to be interesting reading if you are in shipping, and this link and its extensions provide some valuable intel.
Discover a selection of key facts on this page which contain all infographics published on UNCTADstat social networks.
Germany Launches Indo-Pacific Strategy with 'Key Role' for India
Editor's Note:
Further on the evolution of global trade AND the possible change of trade patterns and trading partners, read this latest article from Nikkei about Germany seemingly trying to put a damper on their dependence on China. Let us see how long it will last…if true, but if true and if the US has luck in cornering China more and more, there may be a significant change in shipping patterns and volumes.
Germany, current EU president and Europe's biggest economy, has launched its Indo-Pacific strategy with India that is expected to play a key role in Berlin's outreach in the region where China's aggressive foreign policy has rattled countries.
Cyprus Papers: Secret Migration of China's Rich, Led by Asia's Richest Woman, Revealed in Leaked Documents
Editor's Note:
Shipping is closely related to Cyprus. So is "Russian" shipping—as you know from earlier reports on the registered owners of the vessel that arrived in Beirut with DG cargo that exploded a few years later. But Cyprus (like Malta) also being part of the EU sells passports now for cash, and this apparently invites "business" people to the island, some of whom no doubt want to expand and develop the shipping industry of Cyprus further—legit or not so legit. That the EU does not currently (it seems) welcome the needy but have options for the not so needy is an understatement.
More than 500 Chinese people obtained European Union citizenship in the island nation of Cyprus between 2017 and 2019, including Asia's richest woman, according to leaked documents obtained by Al Jazeera's Investigative Unit.
CMA CGM Boxship Sets New Size Record for U.S. East Coast
Editor's Note:
Although we in PCW are not in favour of "statistics" news, still it is impressive when a giant container vessel that we are used to seeing generally in Europe and Asia now also increasingly starts to call on the US East Coast. Here is the latest call of CMA CGM's Brazil
The container ship CMA CGM Brazil is making her way down the U.S. East Coast, setting regional records with each port call. At 15,072 TEU in capacity and 1,200 feet in length, the vessel would be an everyday sight in Rotterdam or Shanghai, but she is the largest container ship ever to call on North America's Eastern Seaboard. With recent investments in dredging and higher STS cranes, many American container ports are now ready to serve vessels in her size range.
Dongfeng's Subsidiary Starts Constructing New Auto Parts Factory in Shiyan
Knorr-Bremse DETC Commercial Vehicle Braking Technology Co.,Ltd. (called "Knorr-Bremse DETC" for short), a joint venture between Germany's Knorr-Bremse Group and China's Dongfeng Electronic Technology Co.,Ltd (DETC), celebrated on August 18 the first spade cut for a new factory in Shiyan, Hubei province, where Dongfeng Motor's auto parts industrial park is located.
Dedert International Supplies MVR Evaporator to Roquette in France
Dedert International, specialists in drying and evaporation technology, has been selected by Roquette, a global leader in plant-based ingredients for food, nutrition, and health markets, to provide a mechanical vapor recompression evaporator for the plant proteins market in Vic-sur-Aisne, France.
Mercedes Gets Big Electric Van Order from Amazon
Amazon says it's buying 1,800 electric delivery vans from Mercedes-Benz, the biggest such order for the German automaker to date.
Goldwind Australia Awarded $10m Grant Funding for Hybrid Dispatchable Renewable Energy Project
Goldwind Australia Pty Ltd has been awarded a $10 million grant for a hybrid dispatchable renewable energy project under the NSW Government's Emerging Energy Program.

Power up logistics: DHL supporting Livent Corporation in Latin America
Editor's Note:
DHL Industrial Projects, one of the leaders in large scale project freight forwarding, recently undertook a major project in South America. South America really does have some remote spots which these incredible pictures will show you.
DHL Industrial Projects, a unit of DHL Global Forwarding that manages complex project logistics, deep sea chartering activity and heavy-lift cargo, has been supporting Livent with the expansion of its production facility in El Salar del Hombre Muerto in the province of Catamarca, Argentina. This includes international shipments, ocean charters for prefabricated modularised cargo, airfreight, storage, and domestic inland transportation for one of the biggest providers of lithium compounds and leaders in lithium extraction. Prefabricated modules and other materials are transported from Asia, North America, and various locations in Europe. DHL was chosen as the partner of choice for this project, owing to its experience in previous projects in Latin America and excellent service level.

Arriving Fremantle, Western Australia
Editor's Note:
Arriving into Fremantle onboard a containership in 2019, exactly 60 years since my father was there on a tanker, was indeed an experience. Here is a bit of footage from that event when I was a passenger onboard CMA CGM Georgia.

Editor's Note:
In short, a fantastic picture and a lucky take here of the COSCO Shipping vessel mv Tian Hui in the port of Gavle, Sweden 7th of Sep, 2020