Week #48 | 2nd December 2021
Dear Readers,


It is Thursday the 2nd of December and we are here again.
This past week has seen a flurry of activity, mainly in dealing with travel agents, cancelling bookings for the Antwerp XL Expo that regrettably was delayed (again) to October 2022 due to the unpredictability of the COVID19 pandemic.
This means events are being deferred, and a range of countries are now shutting their borders (again) mainly due to what is known to be a new strain of the virus. Zoom and Teams meeting fatigue is taking over and small wonder because they just cannot replace the real thing.
I managed though to see my son from New York and daughter from London in Denmark last week where we said our goodbyes to my father and their grandfather, and although he is still with us, meeting up for what will inevitably be the last time was paramount. But my children had to run through hoops and tests to make the trips happen—not to mention the expense, too.
In pandemics and crises there are winners and losers. If we relate it to recent events in shipping, I saw that an organisation of smaller shippers had lodged a major complaint against the shipowners. These shipowners, greedier than ever it seems and with the little respect some of them have left for any shipper whatsoever, reserve that small amount of respect for the global shippers in exchange for long-term contracts. It will have a knock out and knock on effect for many a business owner around the world with job losses as one of many consequences.
Still supply and demand is part of the system we adhere to, and we should not forget the couple of decades where shippers big AND small could "horse-trade" between the shipowners, pushing rates further and further down until it was cheaper to send a container from Hamburg to Shanghai than Hamburg to Southampton (almost. So perhaps it is in some ways now that the pendulum swings back. But it is also a slap in the face towards some greedy shippers, outsourcing not only their production capability but also their brains ultimately to the Far East, meaning that we can hardly produce anything at home in that of a consumer goods nature shall we say.
I've got a wooden flag here on my desk in Sweden, and turning it upside down it says: "Made in China" as you can see here: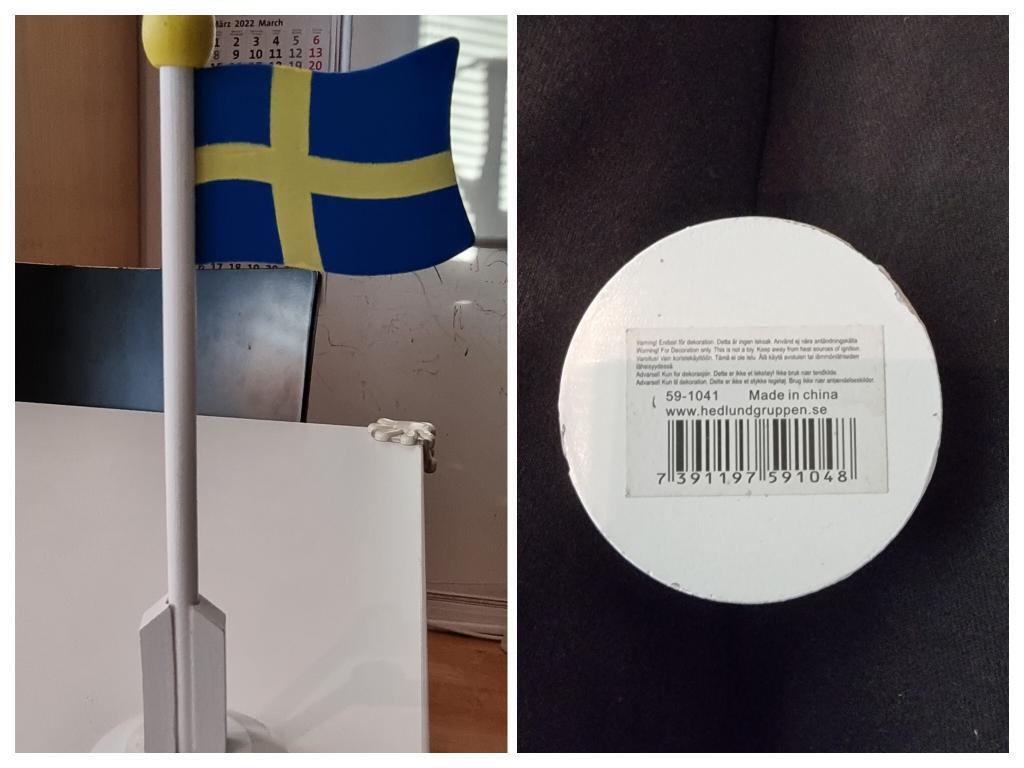 Even more ironic is that one of the major export items of Sweden to China is sawn timber, and one of the products we get back is our own flag. Yes, much more could be said about this, but it does tell me that something is out of whack overall.
Yet, in these, the greenest periods of time in which we are pushed constantly to think green and do the sustainable thing in our everyday life, we ship products back and forth in endless supply chains that now are stretched to the limit—also in part due to a lack of foresight from many incapable and short-sighted politicians. Of course, short sightedness is nothing new in our modern democracies where the glue on the parliament seat lasts 4 years only. But as I always say, there is always room here in Europe for "stowaways" in the European parliament where the gravy train, travel circus between Brussels and Strasbourg keeps on relentlessly. No mentioning here about "green" or "sustainable" – double standards indeed right? See the following video (from 2019) to learn more.
On balance, of course, I am sure that pork barrel politics in the US inside the Washington D.C. beltway exists, too, and there is no doubt that much legislation is being influenced by "lobbyists" or special interest groups. It is often very interesting to watch how some lawmakers later on take up "connected" jobs after their political career comes to an end. Bottom line networking and relationships seem to always trump capability and skill. Perhaps it is just a fact of life to reckon with!
On the shipping front we today start in the country of the conquistadores, good food and wine, and a country famous for the siesta, and it is of course Spain. We speak to a middle-sized project freight forwarder called Asercomex, and they tell a compelling story.
We then cross the Straits of Gibraltar to a country famous for mountains, history, and "play it again Sam", and here I speak about Morocco. MLK International, a freight forwarding company established recently, tells us what they can do for you in the Kingdom of Morocco.
We finally head east to a location known for decades as the "lucky country", and it is Australia. Perth/Fremantle is one of my favourite spots in the world, and if I hadn't moved to Stockholm in 2013, it would have been Perth. Yet, one thing you gotta remember is the distance from anywhere to Perth is huge. Still food, beauty and nature-wise rewards abound. A local project freight forwarding company, XS Global Logistics gives us a hint of what's going on "down under".
We, of course, provide you with shipping news, trade intel, featured video and pictures of the week and remind you about wise words. Also, feel free to download our app and remember that we have 2 issues left (on the 9th and 16th of December) before our holiday break until the 13th of Jan, 2022.
Until next week, we remain,
Yours sincerely,
Bo H. Drewsen
bo.drewsen@projectcargo-weekly.com
Asercomex – Spain
Interview with
Mr. Julian Adamez Soto
Logistics Manager
Could you tell our readers a bit about the history of Asercomex?
Asercomex was founded in August of 1996. This year is our 25th anniversary, so it is a special year for us. Our CEO and owner, Ignacio San Millán Valdivielso opened Asercomex as a custom broker agency. One year later, the Logistics Department was added to develop the forwarding services. Since its founding, Asercomex has grownup so much in terms of its services.
Today, we can offer our clients full service, door-to-door into the logistics flow. Actually, we have the AEO authorisation that, as you know, is actually very important mainly for custom purposes, and as our company has our own customs department, we can give the best custom services in our country. We also have IATA authorisation for air shipments, and for sea freight we have a strong relationship with every shipping line directly. For road transport we count on a strong network with transport companies. Since these companies have worked with us for a very long time, we have full confidence in them, and we can do a capillary distribution in our country and Europe.
MLK International – Morocco
Interview with
Ms. Ghizlane Rhioui
Freight Forwarding Manager
Morocco is famous for many things including the movie Casablanca. Can you clarify for our readers about the ports available in Morocco mainly for project cargo freight?
The Port of Tanger Med is the largest in Africa by cargo capacity and is one of the top harbours of Morocco. It runs an industrial hub for international and regional companies and works with 54 projects and hosts over 750 companies. Some of the top firms that operate from the industrial platform include Bosch, Emirates, and Adidas AG. Other than the industrial hub, Tanger Med also operates large automobile manufacturing plants run by several reputed firms. Some of the top car companies that run operations out of this port are Nissan and Fiat.
The Casablanca Harbour Complex is an artificial seaport and the largest port in Morocco. Currently operated by Marsa Maroc, it is divided into a commercial port, a fish port, a marina, and a shipyard. As one of the largest cities in Morocco, Casablanca is connected to the ONCF rail system and the major metro cities.
Situated in central Morocco and near the Souss River, Agadir Port is an important trade harbour in Morocco. Today, it is used for mining exports, fishing, and tourism. Agadir is a port frequented by tourists visiting the famed Moroccan beaches.
Video Interview
XS Global Logistics – Perth, Australia
Cosi Cristodero, Managing Director at XS Global Logistics was interviewed by Bo H. Drewsen, Editor in Chief at PCW
Swire Projects, Nordic Project & Finance Sign Charter Agreement For Long-Term Mpp Heavy-Lift Vessels
Editor's Note:
Swire Shipping, that now has a much clearer identity Worldwide under the very name Swire Shipping with subsequent activities, is on a roll and has chartered several new MPP vessels for their projects division.
Swire Projects (the Projects Division of Swire Shipping Pte. Ltd.) and Nordic Project & Finance have signed an agreement for the long-term charter of six Multipurpose Heavy-lift vessels. The long-term charters include 4 x 12700dwt and 2 x 19600dwt MPP vessels built between 2007 and 2011. The vessels will be delivered to Swire Projects from December 2021 as they complete their current charters.
PIL Back on Track, Repays Creditors Ahead of Schedule
Editor's Note:
The renowned Singapore based shipping line PIL (Pacific International Lines) with a proud history and founded by Mr Y.C. Chang. I actually met him in Singapore in 1986 when they were taking over some Ove Skou vessels from Denmark and we (Triship) were representing some chinese middle men. Glad to see they are digging themselves out of a hole in great part thanks to the incredibly strong freight market.
Further evidence of just what a record year it has been for container shipping comes from Singapore, where one liner, which came very close to financial oblivion last year, is now coming out of its debt workout early doors.
Ice-locked Russian Arctic Towns Might Not Get Needed Supplies
Editor's Note:
You know what the real estate broker always tells you right ? he says location, location, location! now reading this article makes you appreciate your own location not that far north doesnt it ? seems global warming is still on hold in some parts of the world…
Quickly accumulating sea ice along the Northern Sea Route is creating a potentially critical situation along Russia's east Arctic coast. For several weeks, a number of ships have been trapped in thick sea ice.
Höegh Awarded "Shipping Line of the Year – Multipurpose Vessel Operator" in India
Editor's Note:
Renowned roro carrier Hoegh Lines received an achievement award in India recently. Knowing them from many contacts and businesses worldwide I dare say that it is well deserved.
On 18 November, the 11th Maritime and Logistics Awards (MALA) was held in Mumbai, India. The prestigious event has carved a niche for itself as the definitive recognition of excellence in the Indian Maritime the Logistics sector.
Vietnam's VinFast to Launch Bigger EV Models for America, Europe Markets
VinFast, Vietnam's homegrown automotive maker, will launch the global premiere of its newest two electric vehicles at the Los Angeles Auto Show beginning on Nov. 19.
The unveiling of the bigger and smarter SUV models VF e35 and VF e36 in the big family or compact executive and executive categories respectively at the 10-day event will mark an important milestone in VinFast's global expansion as it grows its presence in North America and Europe, said the budding start-up.
Energy Vault Wins Storage Deals for 1.6 GWh to Support SAF Projects
Energy Vault Inc has signed a deal to provide 1.6 GWh of energy storage as part of multiple sustainable aviation fuel (SAF) projects developed by DG Fuels LLC in North America.
More specifically, the customer will deploy Energy Vault's gravity energy storage systems in conjunction with a solar photovoltaic (PV) facility. The renewable power output will support HydrogenPro water electrolysis for both hydrogen and oxygen feedstock production.
EDPR Invests in 2.2GW Singaporean Floating Solar Firm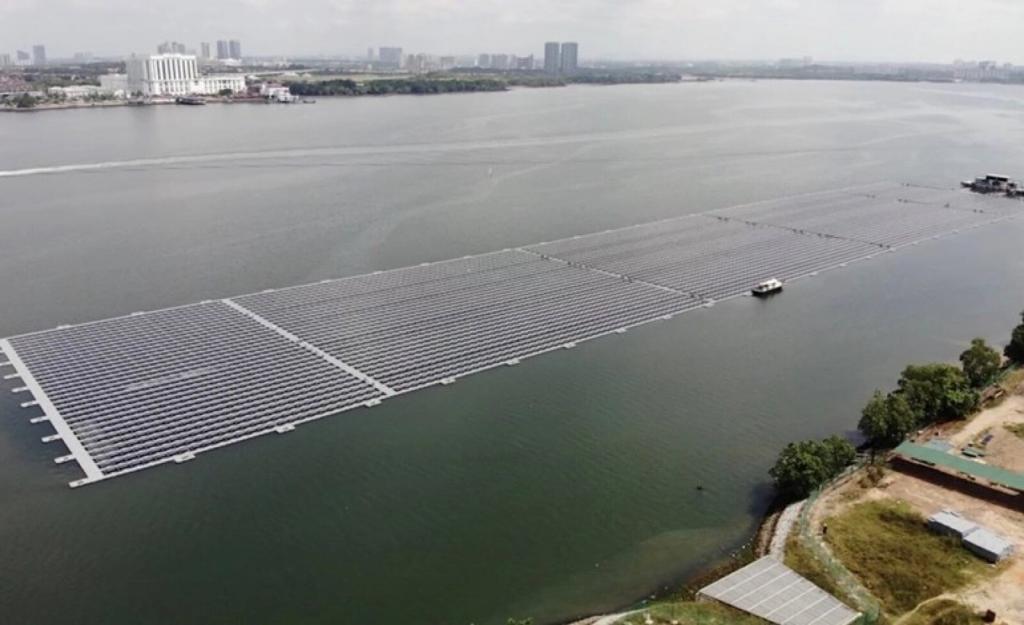 EDPR is investing at a time when Sunseap is expanding its footprint in the region, in particular with a 2.2GW project to build a floating photovoltaic farm and an energy storage system in Indonesia's Batam island.
It designs, develops, manages and operates power plants that generate electricity from renewable sources and has a presence in 17 markets in Asia, Europe and America.
Nofar Energy and Electrum to Develop Renewable Projects in Poland
Israel-based green energy company Nofar Energy has signed an agreement with Polish independent power producer (IPP) Electrum to build 1.25GW of renewable energy capacity in Poland.
What America's Supply-Chain Backlog Looks Like Up Close
by the Wall Street Journal
Editor's Note:
Further on the enormous backlog outside the ports of the US West Coast mainly LA/LB. An interesting drone video here showing the enormous traffic jam up close.
Editor's Note:
Hutchison Port of Norvik is on a roll again within a short timespan the Port has been handling project cargoes using its giant STS cranes to discharge cable drums. Quite impressive and do take a look at the below photos. For further information about the capabilities of the port email Alexander Johansson.